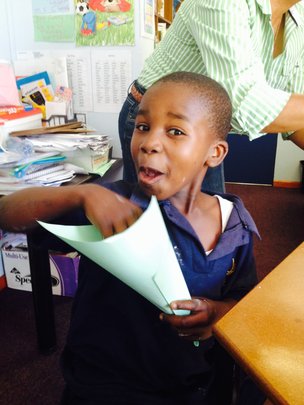 Chi Nguyen is an In-the-Field Representative with GlobalGiving who is visiting our partners' projects throughout Southern Africa. Her "Postcard" from her visit to Christel House International in South Africa:
On Wednesday, February 19th I was privileged to be a part of teacher Chamelle De Silva's popcorn party for her small remedial class of six. At Christel House, they give a certain amount of time for children who may be a bit behind the curve in certain areas of learning for small group work, just as they give a certain amount of time for children who are a bit advanced to engage in exercises that can challenge them a bit more.
I watched as the children used words such as "taste", "smell", and "touch" to describe the popcorn. I couldn't help but smile as I saw that they were practically salivating as they jumped up and down, watching the popcorn pop in the microwave.
The children earned this popcorn party because they were able to spell the word "because" using what they called a "rhyme" to help them:
Betty
Eats
Cake
And
Uncle
Sells
Eggs
When they finally received the popcorn with some sugar dusting in their green cones, it seemed as if they could not eat it all quickly enough. As they ate, they shared stories, and a debate quickly popped up regarding whether little Cwendi was 8 (he maintained that he was) or if he was really 7. Without them knowing it, teacher Chamelle provoked their critical problem-solving skills and teamwork for them to find out Cwendi's real age. (He is indeed 7, as he turns 8 in July). They concluded the lesson with a quick review of how to spell "could", "would", and "should". They dusted the sugar off their hands and ran off, bellies full of popcorn, to the playground to join the rest of their classmates - no doubt eager to share their most recent "lesson" with their friends.
I stayed behind to chat with teacher Chamelle, and I quickly found out that I would be hard-pressed to find someone who speaks so lively and passionately about her profession. She gave me example after example of her past lessons for the children with enthusiastic gestures and an enormous smile on her face. When I commented on how impressed I was with the creativity of the lesson plans as well as how the children responded to them (with pride in what they had learned and how far they had come), she told me:
"These children are told all their lives that they can't do this, they can't do that right. It's not about can't - it's about all the little differences in each child. If there is one thing that I want these children to leave Christel House with by the time they graduate, it's the self-confidence to just try."