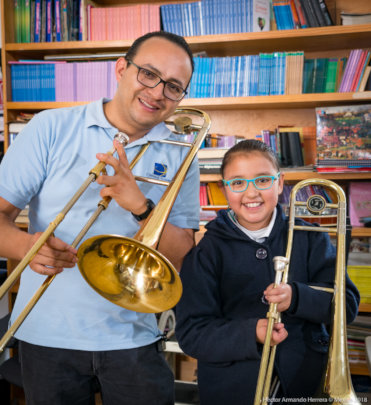 When the bell rings at the end of the school day at Christel House Mexico (CHMX), the learning doesn't stop. More than 360 kids (over half the school's students) stay to participate in a variety of after-school programs.
The after-school hours give struggling kids a chance to get remedial support in English, Spanish or Math. For others, it's a time toparticipate in soccer, basketball, yoga, music, dance,art, chessor robotics. Twelve teachers and staff supervisethe students. Macario Zamora, after-school coordinator, says the program keepskids off the streets and gives them the chance to develop new skills. "Students canlearn something they can't accessin their communities, like playinga musical instrument." Veronica A., a fifth grader, appreciates the after-school one-on-one lessons with teachers. "I learn and better understand the subjects," she says. Veronica's mom also approves. "I'm very grateful with the attention she receives after-school," she says.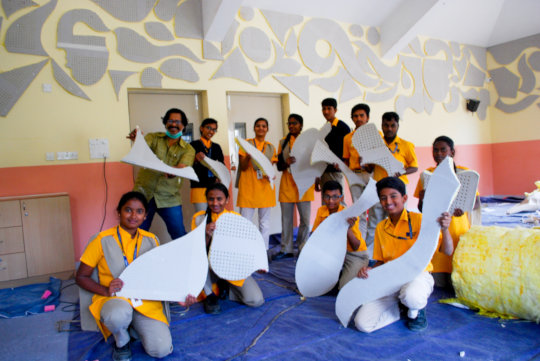 Christel House India CEO Jaison Mathew had long wanted to improve the acoustics in the Bangalore school's A/V room. He turned to students for a solution. Enterprising members of the 11th and 12th grade classes joined with art teacher Dhanaraj Keezhara to create a fix.
"We were able to apply our research-based knowledge of sound reflection and absorption to a create a 3D design," explains 12th grade student Pooja P. "It was an integration of science and art." The students researched materials and design strategies that reduce noise pollution and echoes. Then they used their artistic talents to brainstorm a result that would not only resolve the issue but add a pleasing visual element to the room. In just two weeks they designed and executed a 3D wall installation created with sound dampening boards and foam. A group of Christel House India parents lent their skills helping students cut and package the acoustic artwork. It was truly a community effort. The abstract wall mural is titled 'The Sounds of Waves' and has successfully reduced echoes. Dhanaraj shared his favorite part of the project: "The blending of art and science has both inspired and motivated the students."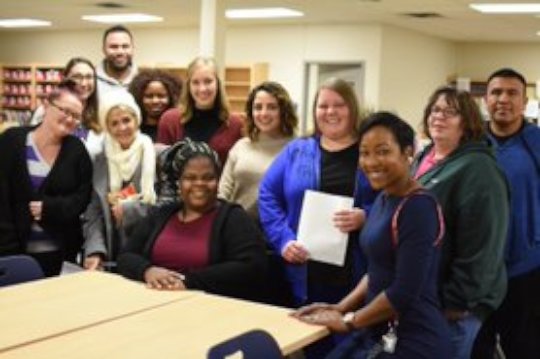 Parent involvement is critical to a child's success. At Christel House Academy West in Indianapolis, a new Parent Teacher Organization (PTO) has been launched to support the children. And the kids are getting involved too, with a new Student Government Association (SGA).Ms.Grundy, a kindergarten interventionist at Christel House and also a parent, says children at the school want to be heard. "They told me 'adults don't listen.'Well, students need to have a voice, too," she said. As the President of the PTO, she says kids and the new SGA will have a role. Dr. Penn, Assistant Principal, credits Grundy for leading the effort to bring kids, parents and teachers together. "I'm all about getting the parents involved.They are an integral part of making a school successful." Already the PTO and SGA organized a school Valentine's Day Dance and they are just getting started. With two daughters at Christel House, parents Josiah and Megan felt it important to join the PTO. "It shows the kids we're part of their future," says Megan. Josiah agrees. "As parents, we have to set a positive example."
WARNING: Javascript is currently disabled or is not available in your browser. GlobalGiving makes extensive use of Javascript and will not function properly with Javascript disabled.
Please enable Javascript
and refresh this page.