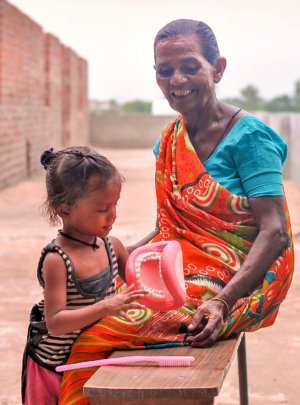 As the New Year is well under way, hundreds of parents and children in Vadodara have been learning together about the importance of water-health & hygiene through attending activity-based, hands-on workshops covering everything from germs and how they spread, to bathing, tooth brushing, clean water collection and storage, as well as water conservation. After each Workshop, the parents and children continue learning through a fun-filled community viewing of our DVD, created by Sesame Workshop in support of our program, followed by more games and activities. Don't take it from me – take a look at what the children and their caregivers had to say:
"We liked all the activities in the five days. We got to know a lot about cleanliness. My grandma also liked it. We hope this program happens again and again." – Student, Grade 6
"If each one follows the practices learned in these workshops then no one will fall sick and we can have a healthy India"
- Student, Grade 4
"This is my first time to attend a health and hygiene workshop. I am glad that I was able to share this experience with my son. - Mother of Grade 3 Student
"I learned from this workshop how to clean my body. I also found out that I have to save water because it is a limited resource." - Mother of Pre-school Student
While we are off to a good start in making an impact through education in India, we would like to expand our efforts through hygiene education in more communities across India - with your help this is possible! Join us - please help spread the word on how children and their parents can learn and create new, healthy habits together – creating hope for a healthier future!
Links:
While on a recent sustainability visit to Taek Village, a local resident who was sitting outside enjoying a glass of clean, safe water from the AquaTower with his wife and two children explained to us, "Clean water has now become our family partner. It saves us time and money - I collect water from this tower 2-3 times per week. We are no longer boiling water and have no more diarrhea caused by drinking dirty water like in the past. I feel convenient and enjoyable in collecting water from here. For more than two years I know that I have saved time and money that I previously spent and I cannot forget to say great thanks to the Global Giving donors for bringing clean water to my village."
Thanks to you, providing communities with access to clean water through the installation of AquaTowers has allowed for more time to be spent at school and less time home sick. This also means that you have enabled young children and women to spend their days getting an education, and therefore helping to create economic prosperity in their communities, instead of collecting water for hours each day.
Here is the impact you have made on an eleven year old student, "Nowadays I have enough clean water to drink and keep my hands clean because of the water tower in the school. I really like this water tower because it supports my study here. I could not be free from diarrhea or fill my drinking bottle to bring home if I was without this tower. Now I well understand about the importance of clean water and all my friends feel the same as well."
I never stop being amazed at the continued generosity and support of you, our donors, in providing those in need with one of life's basic necessities – clean, safe water. Thank you for being an important part of the solution in abolishing water poverty…one community at a time!
Links:
This year, parents and children in the communities where we work are learning together about the importance of water-health & hygiene through a series of hands-on workshops that include multi-media content provided by Sesame Workshop in support of our new community-based education program! Parents in the community, along with their children beginning at pre-school age, join our fun-filled workshops to learn about the spreading of germs, bathing, tooth-brushing, clean water collection & storage, and water conservation. In the past, support of our community-based program has provided hygiene education to communities in the Philippines and Colombia, providing education to hundreds of caregivers and children to learn and create new, healthy habits together! Here is what some of our participants have said:
"This workshop is unforgettable for my daughter and I because we gained knowledge about proper hygiene. This is something that I would share to my co-parents because we all want our children to grow healthy and germ-free." - Mother of 1st and 6th grade students
"I thought that I should wash my hands only before eating. I learned from the workshop that I should also do it after playing, handling garbage, sneezing, and using the bathroom" - 6th grade student
We would like to continue making an impact through hygiene education in our communities by extending the reach to India - with your help this is possible!
Links:
WARNING: Javascript is currently disabled or is not available in your browser. GlobalGiving makes extensive use of Javascript and will not function properly with Javascript disabled.
Please enable Javascript
and refresh this page.