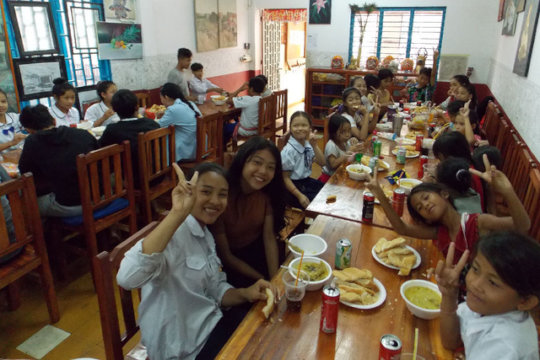 Global Giving update for February 25, 2019
Mark is currently in Phnom Penh visiting our programs and this is Mark's report.
On Saturday, February 23, our head dance teacher, assisted by a couple of her students, prepared a lunch of chicken curry, baguette bread and rice noodles for about fifty students and some of the staff of Champey Academy.
That afternoon the school's director and I made home visits to meet the families of six of our current students. One was the family of a student, a little 10 year old girl whose family which consists of her mother and two siblings and who live in a scrapwood shack that is suspended over a drainage pond in a neighborhood of central Phnom Penh. Alas, even this humble shack may be quite temporary as it is in a neighborhood which is increasingly being taken over by brand new high rise apartment buildings, but for now... this is their home.
This family of four ( three kids and mom) lives in a single room which, incredibly, measures barely eight feet square . There is no private bathroom and no kitchen. The children's father is in prison, serving a 2 to 3 year term for drug use and their mother struggles every day to support the family by selling birdseed - actually just cracked corn - in front of the Royal Palace.
During our visit to their home, the girl's mother told us that the child (age 10) had been so excited about the curry lunch which she would be enjoying with her Champey classmates the next day, that she had been unable to sleep at all on the previous night.
The immense value of a safe space
Although daily classes at Champey finish at 5:00PM, when I left the school at around 6:30PM on Saturday, there were many students remaining in the art classroom who were still working on their drawings and paintings and the dance stage was still filled with young students playing and laughing and enjoying the company of their classmates.
Let's put these simple snapshots in context….
Consider, for a moment, the story which the mother told me that afternoon of her daughter's excitement about the next day's 'curry party'. Think, for a moment, about the many students lingering at Champey long, long after classes had finished for the day. Both stories give voice to an important truth that Champey Academy of Arts, in addition to the many benefits of arts education which we offer our students, offers a safe space for many of our kids. Although their home lives are truly, utterly bleak, Champey also offers a safe gathering place where our students can, for just a little bit, remain after class in a clean, safe place to enjoy being among their friends and delay for a while , returning to the reality of crushing poverty and impoverished homes.
Our heartfelt thanks !
We want to extend our heartfelt thanks to the Elementary School Student Council at the Tokyo American School for their generous gift which will sponsor six curry lunches this year for the Champey students and staff.
Please keep in mind, when you see photos of our beautifully costumed dancers at the Raffles Hotel, or a display of the artwork of our talented students, it is easy to forget the challenging circumstances that many of our students experience each day. Their artistic accomplishments would be remarkable in a typical middle class community in the US or Europe. Consider, however, that these accomplishments are achieved by students who face remarkable adversity and great challenges. However, their personal standards of achievement are so high that we can easily forget the amazing accomplishments that our students achieve despite extreme adversity
Because of you, our donors...
None of this could be possible without the support of you, our wonderful donors. Please accept our heartfelt thanks and appreciation on behalf of our students and teachers for your wonderful support. We hope that you will continue with us on this exciting journey and continue your support our wonderful students and staff.
Barbara & Mark Rosasco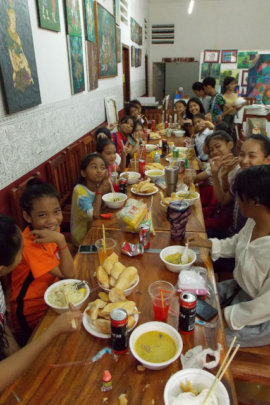 Links: