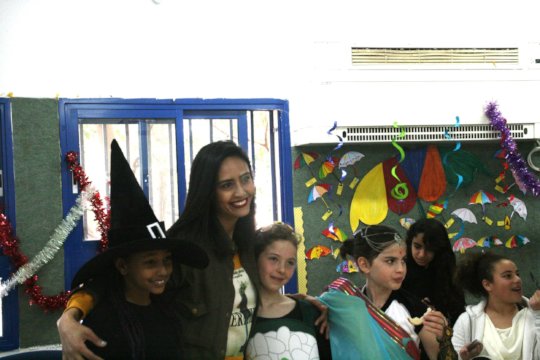 The Primary School- bilingual, multicultural and always stretching any boundaries of learning- is a finalist for the Ministry of Education's Prize for Excellency! The 5th grade class designed and built robots for the national competition in Robotics, Mathematics and Cybertech, making it to the finals! A steady stream of visitors watch Arabic and Hebrew-speaking teachers transform children's differences in language, culture and history into dependable problem-solving strengths.
The Primary School is being asked to assist other schools in learning the art of teaching language as a subject, while also using both languages while teaching special subjects. The school's unique approach provides all grades with rich learning opportunities for Holocaust Day, the Naqba, Memorial Day, Land Day, Ramadan, Christmas, Passover and always brings all parents together for community celebrations like Purim and Olive Harvest"
The joys of learning together across differences touches the families every day…
A Jewish 3rd grader was speaking with his grandmother about Memorial Day when he suddenly said,
" You know, I know about Memorial Day, AND I know it is also the beginning of Ramadan for my friends, but I think that for this year, I won't fast!"
His grandmother was amazed at her grandson's sense of solidarity with all of his classmates. After a short time at the Primary School, her grandson was removing barriers, welcoming difference and being true to his own identity.
With your support, one child, one family, one community at a time become healers of nations!