At the end of February and in early March, thanks to support from donors like you, the School for Peace will organize two new youth encounters for students from Nazareth and Givat Brener, and from Tel Aviv and Afola.
Each high school will send 30 participants, accompanied by two teachers (a man and a woman), so there will be 60 participants for each workshop. In preparation for the encounter, a senior facilitator from the School for Peace will meet students and their teachers at the school and introduce them to the workshop.
The youth encounter workshops are life-changing experiences for the young Jews and Palestinians who participate and they very often provide the youth with their first opportunity to meet the "other side."
We are so grateful for the help you provided to make these workshops happen and we'll make sure to keep you updated in the coming months!
Links: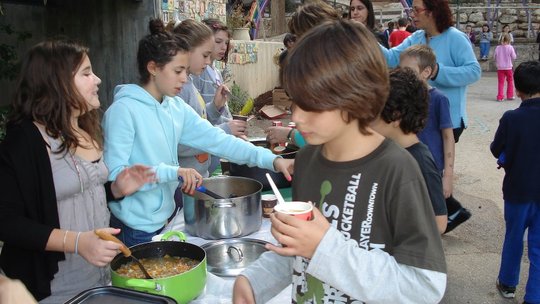 While the Muslim students were on vacation for Eid al-Adha, it is a tradition of Neve Shalom-Wahat al-Salam's elementary school that its pupils have a day consecrated to celebrating Winter. On this occasion the whole school gathered at 12pm on November 8, and ate some soup. There were a few batches of lentil soup and a few batches of vegetable soup. The 6th graders were responsible for making the delicious soups, and all grades and teachers took full advantage of it. Expected was a rainy day, but it turned out to be a very sunny day, and pretty warm too. So the Winter Day felt like summer!

Ira, 1st grade teacher, accompanied by Guy, Drama teacher, during the last hour read to the 1st graders. They read the famous Israeli ancient story of "Honi Ha-Meagel" about the one year long lack of rain and a man who walked in a circle in order for it to rain.
November is also "Democracy Month" throughout the national school system in Israel, in conjunction with the anniversary of the assassination of Prime Minister Yitzhak Rabin. At the school, the teachers also incorporate the commemation of the Deir Yassin massacre.
Links:
Because of financial difficulties, the School for Peace reduced the number of its youth encounters to 3 or 4 over the school year. But it is currently conducting a program in Human Rights for Israeli and Palestinian youth, in partnership with the organization Care in Ramallah, West Bank.
This dialogue program includes human rights aspects and youth is trained to observe everyday situations from a human rights angle. Groups wrote reports and brought them to the relevant authorities. The idea was to train them to think critically about human rights and to take action.
There are two parallel groups, one in Israel and one in the West Bank. The two groups will soon meet and share their experiences.
Thank you for your support: it make the School for Peace's programs for youth possible!
Links:
WARNING: Javascript is currently disabled or is not available in your browser. GlobalGiving makes extensive use of Javascript and will not function properly with Javascript disabled.
Please enable Javascript
and refresh this page.