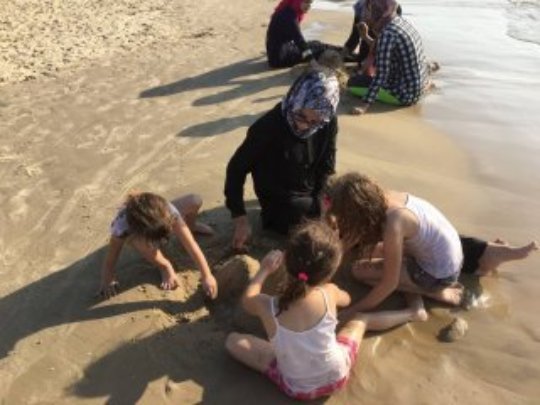 Wahat al Salam - Neve Shalom, was founded on the principals of equality and peace between Jews and Palestinians and for years has been developing innovative programs to advance these values in the region.
In keeping with our mission in the past years, members of WAS-NS have conducted various voluntary activities, among them: sending food and medical supplies to Gaza, providing needed medical treatment and transporting those in need of treatment to hospitals in Israel. Our programs have also helped develop NGO staff in Palestine and we have worked together in different programs and projects.
On Thursday, August 25 we were privileged to host a group of 35 children, their mothers and 3 fathers, from the village of Bil'in, Ramallah district, for a day of fun and relaxation.
Most of the mothers are single moms and work at "Threads of Change", AWC-Arab Women in the Center, a project which helps Palestinian women make a fair living through embroidery and needle point.
After obtaining for them a one day entry permit to Israel, members of of the community took a bus to the Bil'in Crossing to welcome our guests for the day and bring them to WAS-NS. The day's events began with a visit to the Primary School, the School for Peace, the Pluralistic Spiritual Community Center and a meeting with the young people from the Nadi youth program. Besides WAS-NS, the day's program included a visit to the Ramat Gan Zoo, and to Jaffa…. to enjoy the beach and swim in the Mediterranean before crossing back home to Bil'in.
After their tour of Wahat al Salam-Neve Shalom, the group sat together and talked with us about our original plan to have a summer camp program and the fact that Bil'in didn't agree to send them for a long period out of fear that something bad might happen to them here. On hearing this, one of the Bil'in kids stood up and said, " What? You want to tell me that we were supposed to come to this amazing place for a longer period of time and you were worried? I can't believe it. What is more frightening; the army and the demonstrations at the wall every week, or being here? Next year we are coming for longer!".
We'll look forward to having them…