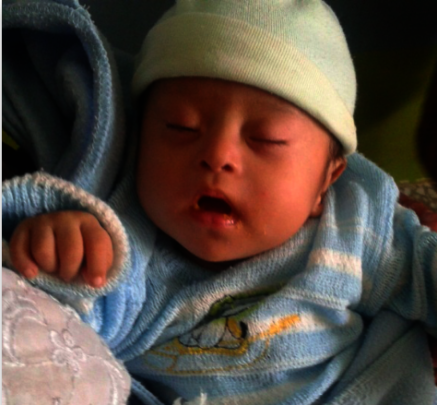 Carlitos is the second son from two young parents who were looking forward to their second child. His mom takes care of the children at home and she takes Carlitos to all his appointments. His father is dedicated to work for wages with the neighbors and working at the cornfield.
Carlitos was born at home with a midwife but as time went by his mother noticed that the breastfeeding was not the same and also that he was not growing the way he was supposed to.One day he got sick and he was taken to see a doctor in the town. The doctor told the Parents that Carlitos had Down's Syndrome. He also had cataracts in his eyes and doctor said that he needed surgery, they also detected a heart murmur in Carlitos and the family was very impressed with the news , they didn't take him back to the doctor.
From that first contact with the doctor the mother and the family did not know that to do with Carlitos so he could grow normally , so the mother began to give him oatmeal but Carlitos had trouble eating it. The family was desperate because they saw that other children of Carlitos' age were growing very well and besides that they had never heard of Down's Syndrome .
Also they were concern about what people In the community was muttering. The family, especially the mother, began to be indicated by people in the community because they believed that when a mother gives birth to a "special" child is because she is suffering consequences from something she did wrong earlier in her life.
All this had the family very tense to the point that they were trying to hide Carlitos at home and stopped attending church and community activities so they wouldn't be not to be pointed out.Carlitos mother knew from a friend about Wuqu Kawoq and looked for the offices to ask for help to understand what was happening with her son. When they just arrived to Wuqu Kawoq Carlitos, was 10 months old and in severe acute malnutrition since his diet was inappropriate for his age so he was immediately referred to the center of Tecpán for nutritional recovery where he recovered very quickly.
Since then Carlitos has had nutritional follow-up in home visits which include growth monitoring, supplementation, dewormer, formulas Nutrition and education, his mother has received nutrition classes from the program. Regarding the Down's Syndrome , he also had medical follow-up since he was 10 months with periodic medical checkups, laboratories and medications, it ruled out the heart murmur and performed eye surgery for cataracts, in addition to the placement of an internal lens which has helped him improve his view.
As time went by the family understood, how a child with Down syndrome develops, how to stimulate him and how to nurture him properly. The family is very close now , the mother says "Carlitos has the support of his paternal and maternal grandparents, his aunts and uncles, he is a very dear child who has been taught to overcome many obstacles in life"
Carlitos currently lives at his grandparents' house with his parents his older sister and his little brother, Esmelin who is the older sister is her teacher she says, since what she learns in school she teaches to her little brother. Ana, the mother says she wants her son to grow well and get ahead, tries to do everything as she is advised so that Carlitos can have a better quality of life.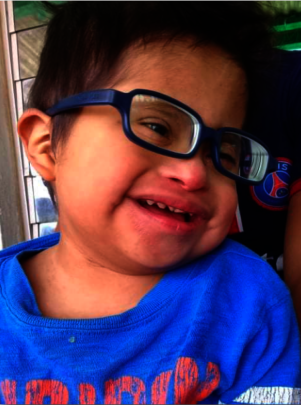 Links: