A central part of the community-based nutritional education that we are doing this year are classes on nutrition for women with young children. The idea is to provide women with up-to-date nutritional information, and to give them a forum to ask questions, clarify misconceptions, and support each other's efforts to improve the health of their families.
WK core staff and I have spent much of the last three weeks meeting with community liaisons in the 8 communities in which we will be rolling out these classes. Because stunting (being very short for one's age) affects as much as 100% of children in some of the communities that we are beginning to work with, many women are very excited to learn more about what they can do to help their children grow to their potential.
Last week, we inaugurated this limb of the nutrition education program with our first class in in one of our partner communities. Twenty-two women, from first-time mothers to seasoned grandmothers, laughed along as our staff led them through an explanation of how microbes cause disease, correct hand washing technique, the best way to store food without refrigeration, and low-cost methods to purify water.
Although there are many organizations in Guatemala that are working on nutrition, one unique aspect of our program is that whenever possible we use the first language of the community in our programming. The women in this community, for example, speak a mixture of Kaqchikel and K'iche. Our staff gave this class in Kaqchikel, and the women participated in either Kaqchikel or K'iche (or both!). Many women emphasized how much they appreciated being able to take part in a class where they could speak comfortably in their own language. Doing these classes in first languages meant that all women–not just the ones that felt the most comfortable speaking Spanish–were able to understand the materials and offer their own questions and ideas to the group.
We are looking forward to being able to bring these women classes in maternal nutrition, breastfeeding, complementary feeding, and nutrient deficiencies in the months to come!
Links: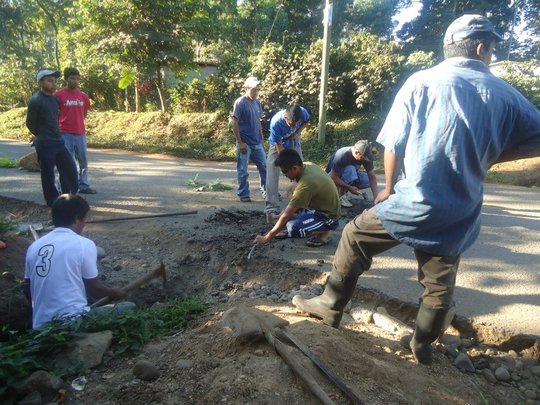 Dear Friends,
We are so happy to inform you that we are declaring the project to construct this clinic officially completed! As those of you who have been following along know, this construction has been a long process, and we've been already working out of the (partially functional) space for quite a while now, as construction has proceeded.
However, this week the last outstanding item - installation of the final drain pipes for the property under the town highway - was completed! This means that the clinic is now finally connected to all the municipal waste water services, and the project is a success.
Thanks you your support and generous donations, this new clinic will provide a comfortable and secure environment for providing health services to the 5 communities that it serves.
If you would like to continue to follow along with Wuqu' Kawoq, please follow this link, where you can sign up for our email list. Alternatively, you can visit our other projects on Global Giving here.
Thanks again for your support!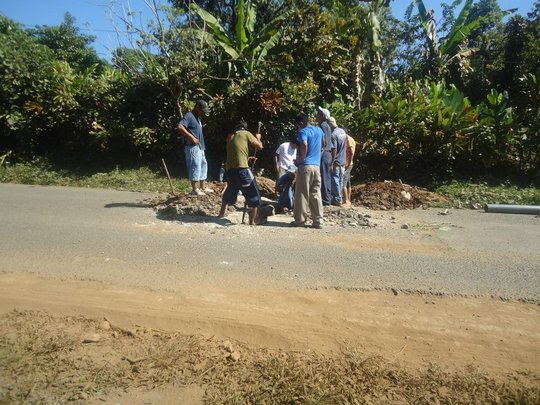 Links: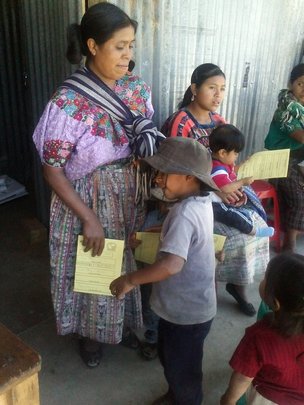 Dear friends,
Thanks so much for your ongoing support this year! We greatly appreciate it.
We wish you and yours a pleasant and enjoyable holiday season. If you are still looking for an end of the year giving opportunity, don't forget that it is easy to donate to any of Wuqu' Kawoq's projects through the Global Giving interface here. In addition to regular giving options, the interface also allows you to give holiday gift cards or donate in honor of a loved one, both great options for alternative holiday giving!
As the year draws to a close, I wanted to provide a brief research update from one of the community nutrition projects that you have supported this year. This project has been providing direct nutritional supplementation and medical care for children for 18 months now. In this time, based on new data that we just collected last month, we've seen that the rates of severe stunting have fallen by more than 40%. This reduction in stunting has occurred at the community level, including even the small number of children who haven't been always so regular at taking their supplements or coming to medical checkups. This means that the positive messages about child nutrition and coming together to combat this problem are really having an effect at all levels in the community!
Also, as the year draws to a close, we are just wrapping up analysis of our focused needs assessment survey that we performed over the summer, and to which I've alluded in prior updates. This survey, they results of which I'll share with you when the analysis is complete, are really pointing us towards some new opportunities in 2013, especially focused on improving dietary diversity and support for new mothers. Look for these changes and additions to our programming in coming months!
As always, thanks for your support, and feel free to email me with any questions at peter@wuqukawoq.org.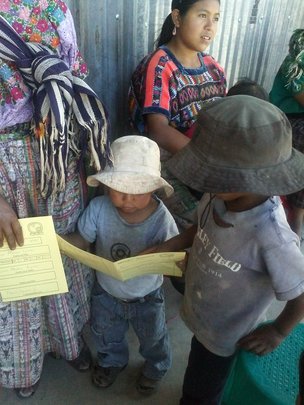 Links:
WARNING: Javascript is currently disabled or is not available in your browser. GlobalGiving makes extensive use of Javascript and will not function properly with Javascript disabled.
Please enable Javascript
and refresh this page.