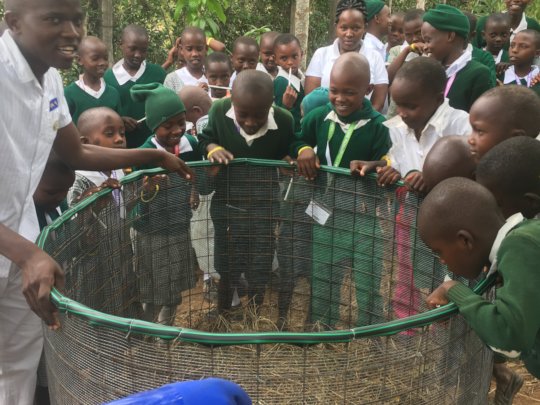 Picture this: you are 8 years old in 2nd grade and you need to use the toilet during school. You don't own shoes (nor do any of your friends) so you run over to the pit latrine. You open the creaky door and the inside is dark. You hear the buzzing of flies, you smell the stench, and you realize the person who used the toilet before you missed. But you really have to go, so you step in and do your business. This is the scenario for the 17,000 students in Kenya Connect's 55 partner schools.
However, this scenario is changing. Thanks to our new partnership with GiveLove, composting toilets have come to Wamunyu. The technology behind the composting toilets is simple and elegant. These low-cost decentralized sanitation systems use container based dry toilets and humanure composting approaches. Thanks to the training by GiveLove and a generous grant from the Gupta Family Foundation, Kenya Connect is installing composting toilets and bins and training teachers and students at two of our partner schools on how to use them. In addition, we are providing composting toilets and the accompanying composting systems to teachers, parents, and community leaders for them to pilot this environmentally sound program. In March we were thrilled to welcome a team from GiveLove including Founder and award-winning actress, Patricia Arquette, who came to film training and promotion videos. Patricia commented, "Kenya Connect is a dream partner due to the can-do staff and the amazing teachers and students willing to embrace the composting system."
Composting toilets means that harmful bacteria will no longer seep into waterways, waste will be created into rich nutrients for farming, and school children will learn the importance of clean sanitation to assist in environmental health. It also means that toilets do not smell, there are no flies and human waste is not on the floors.
Solar has also been a key component in Kenya Connect's programs. Our solar powered Learning Resource Center, opened in 2012, means that we are using clean and reliable energy to power the 30 computers in our lab. This results in students never missing our enrichment classes when the power grid is down in Wamunyu. The LRC also serves as a solar model for others in the community.
The power of solar also helps fuel our literacy program. Thanks to our rent-to-own SunKing Pico lights, students can read at their homesteads using the clean solar powered light. Surveys of students have showed that they are reading at a higher rate and using less dirty kerosene at their homestead.
Celebrating Earth Day isn't just one day a year in Wamunyu. Every Day is Earth Day and we continue to work towards making our programs environmentally sound and sustainable. More importantly, we are preparing students in Wamunyu to be future environmental heroes and stewards of the earth.
As a donor to Kenya Connect, we thank you for your continued support in helping us to expand and to bring new initiatives to break down barriers to education while providing enrichment programs to students and teachers. Your support means our community can become an environmental leader through thoughtful implementation of our many programs.