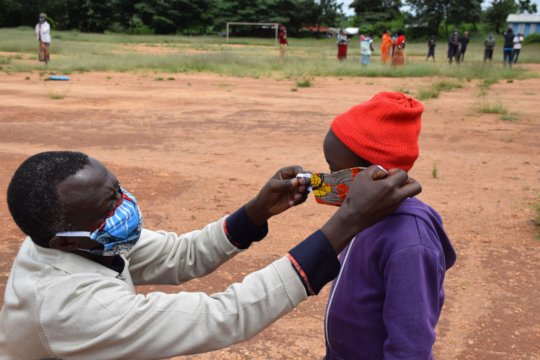 Why the number 8125? It's the number of face masks that have been created as part of Kenya Connect's strategy to keep the community safe. With deep connections in the community, our Visionary Co-Founder and Executive Director, James Musyoka, has led the staff in developing Covid-19 Prevention Programs for the Village of Wamunyu. Thanks to grants and donor support, 8125 face masks have been created by local women who make our Wings Poa Reusable Sanitary Pad kits. These masks are being distributed via our staff and Community Health Volunteers. Boda Boda drivers (motorcyle), Mama Mbogas (Market women), barbers and hairstyles, and students, parents and teachers have received FREE face masks. As the face masks are being distributed, our staff has provided Covid-19 prevention education including how to effectively wash hands, the necessity of physical distancing, and the importance of not gathering in crowds. With schools slated to open next week, Kenya Connect will be distributing even more face masks to teachers and students.
"Let me say, Kenya Connect, you continue to surprise us all the time with your action. The masks you gave us for the CHVs-- first responders-- have been extremely helpful. From the Office of the Governor, we really appreciate this donation of 700 face masks." Mark Nzomo, Mwala Subcounty administrator.
As a result of our nimble and swift response to the Pandemic, the ONE Campaign to eliminate extreme poverty featured James Musyoka in their. "Stories of Solidarity." We invite you to take 2 minutes to watch this thoughtful VIDEO on the importance of NGOs in fighting the Covid-19 coronavirus.
Over the years, GlobalGiving donors to Kenya Connect have ensured that we can deliver creative, necessary, and well designed programs that meet the needs of our community. We couldn't do it without you. Your vote of confidence allows our Kenyan team to provide enrichment and empowerment programs while being able to pivot during this unprecendented pandemic.
Next month we will be sharing more on the reopening of schools. We know that students will be excited to start computer classes, borrow books, and begin learning again,
On behalf of the students, teachers, parents, and community of Wamunyu, we thank you for donating to us.