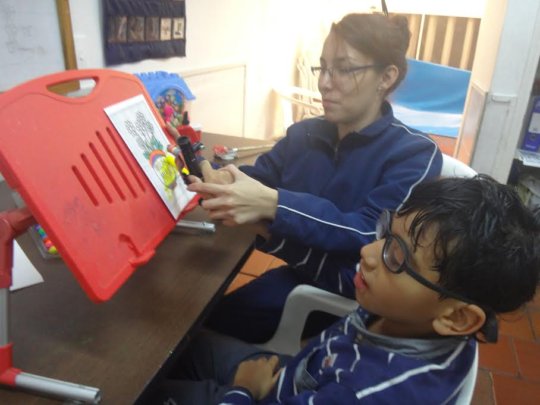 Thomas is 9 years old and has cerebral palsy.
During this semester, Thomas has received Integral Rehabilitation in the areas of pedagogical workshop and hydrotherapy.
In a pedagogical workshop, intellectual, conceptual, social, practical and occupational skills and / or competences were worked during the first semester of 2017.
As for intellectual abilities, Thomas manages to focus his attention for short periods, he is facilitated to follow simple instructions from daily situations with verbal reinforcement and initiates actions independently.
At the conceptual level he manages to recognize the vowels and consonants of his name.
At the level of logical-mathematical thinking, Thomas order numerical sequences upwards and recognizes basic geometric figures.
At the social level, Thomas has difficulty recognizing the rules; for this, was recommended to him to reinforce the resolution of simple problems of daily life and to request help when it is required.
At the practical level, he has achieved cylindrical grip with support technology, performs free trimming and colored inside a wide space with the help of support technology.
At the occupational level, it is necessary to reinforce and encourage actions that promote the initiation, stay and conclusion of activities and to value positively the orientations of adults in the execution of a task and / or activity.
On the other hand, in hydrotherapy, efforts have been focused on improving Thomas' posture and achieving the straightening and balance reactions in standing position seeking greater independence, also performing joint mobility activity to improve movements in the lower limbs .
Many thanks to all our donors for their support.
We invite you to become a recurring donor to increase our impact on the health of children with disabilities.