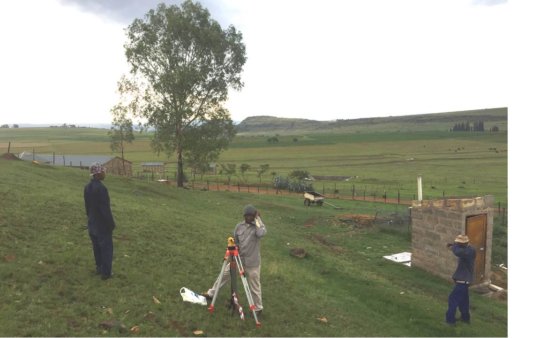 Hello and a happy February to everyone!
A quick update during an exciting week for STG - our previous Energy Access Fellow, Jordan Stephens, is landing in India this weekend to complete the installation of the pilot system you all watched get built and shipped there (through my email updates last year). Jordan will be in Pune for the next 8 days working with our partners at ATE to install the Lesotho-made PTC solar system at their validation site, where they will be benchmarking it against other commercial products and considering it for a line of new products for the Indian market. We're very excited Jordan was willing to re-join the team to oversee this important task, and we'll have photos for you of this trip in the next report.
In Lesotho we're steadily making progress on the Ha Makebe pilot microgrid. In the photo you'll see our team doing the site layout to mark the positions of the poles for the distribution wiring, and the poles were delivered this week! Slowly but surely the project is taking shape, and we'll be looking forward to flipping the 'on' switch hopefully in late April / early May - and we will be taking lots of photos so you can be right there with us to see this happen.
The last update is an interesting one for the future potential of funding minigrids across Africa. We were introduced to a young new group called the Sun Exchange, who have a unique model they would like to promote for raising capital to build minigrids (enough money that it is expensive for one person, but too little money to be attractive to most investors). They want to allow "micro-investors" to contribute to the space, for example each person buys one PV panel and earns revenue on selling the power generated by that panel; collectively together a group of individuals (coordinated by the Sun Exchange) can buy enough PV panels to power a whole minigrid. We're intrigued and partnering with them on a test of this business model to raise money for one of our communities in Lesotho. The project goes live online in March, and we are looking forward to lots of interest in this new model!
As always, thank you for your continued interest and for following our endeavors and progress along the way. I am personally grateful for the opportunity to see these projects come to life and enjoy sharing them with all of our supporters.
-Matt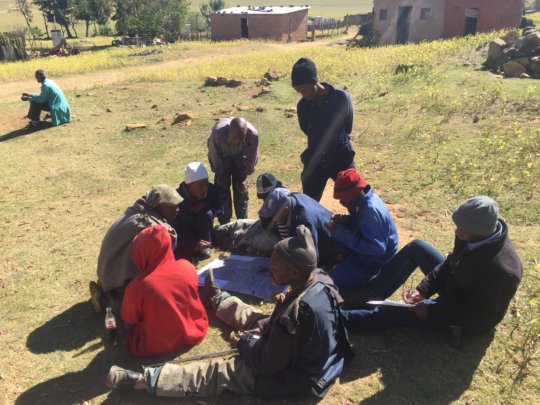 Hello again everyone,

Time for another update from Lesotho! It has been a busy several months, particularly on the planning side, so I thought I would take this opportunity to give you a window into the behind-the-scenes efforts required to design community energy systems.

This year we have been developing a portfolio of designs for about 15 off-grid communities in Lesotho, as part of an integrated initiative we are working on with the Renewable Energy Division of the government. Once approved and funded, we envision these will be the very first full communities served by STG power systems at that scale, and they will be managed by our Lesotho-based spinoff OnePower, which we have incorporated to act as Lesotho's very first rural energy utility. At the moment Lesotho is working through some changes to the regulations to facilitate this type of energy delivery (instead of requiring each home, school, and clinic to own and operate its own diesel generator or PV panels), but we have been busily preparing plans for the next steps at the same time.

The first step was identifying villages of an adequately large size (50-100 houses) that are within reasonable access of paved roads as the first potential customers. After this, we find the village on google maps and print out a large poster of the satellite image of the village, where we can see the tops of each building against the surrounding land (you'll see one of these images at the end of this email). Then our team heads out to the village to talk to people who live there, systematically identifying each building as a house, business, animal shed, clinic, school, or church and making notations about how many people live, work, or frequent each place. You'll see with this email our team at Makebe Village during that site survey, and the final photo shows the map with all of their annotations and labels.

We then use this information to estimate what size of power system such a village would require using custom microgrid design software called uGrid built by our team over the past few years, as well as developing an optimized (lowest overall cost) layout for how to connect all of the buildings with electrical wires. The last map image shows what we estimate this would look like for Makebe, where the green dots show you each customer (house or business) while the red and green lines show wiring paths. The yellow triangle shows where the power plant will be sited, which is actually right next to the Makebe school.

While each of the villages we have visited is special, I chose today to show you pictures of Makebe because the Makebe school is the site of our first pilot microgrid I have mentioned in the past, which we are rolling out in the coming months to have a fully functional demonstration in preparation for roll-out of full community systems. (The white outline will be the first step.) This month our team is putting the finishing touches on the tracking PV module for that installation, validating our GSM-linked electricity meters, and testing the backup power management, and I look forward to sending you photos of that installation in the next update!

Wishing all of you happy celebrations as we enter this holiday season, and sending many thanks from our team for your continued interest in and support for our work.

With gratitude,
-Matt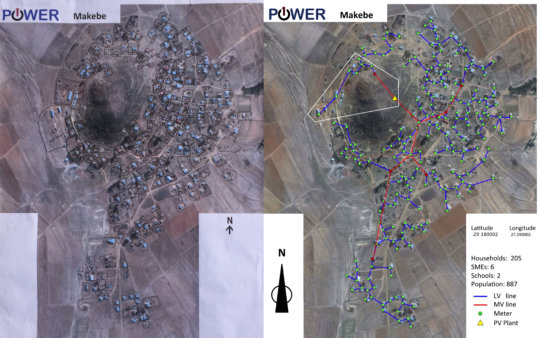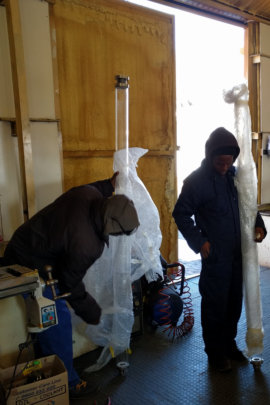 Hello again to all of you!
I'm excited to bring you more updates - this year continues to bring adventures and opportunities our way, keeping our team busy on all fronts. We are still deep in negotiations with the government and funding agencies in Lesotho about the best way to frame out mini-grid deployment in the country - very exciting stuff - and preparing for that work by pushing forward our test deployments of more hardware for remote monitoring of energy systems (will let us keep tabs on things at all of our project sites from one location in the capital), improving our mini-grid design tools by comparing them with real operational data, and developing our first school partnership project site where we will install the first Lesotho-designed tracking PV system.
But today I would especially like to highlight the efforts of our team in the design and building of our next-generation CSP (concentrating solar power) collector system, which is (as promised in my last update) on its way to India for installation at our partner's headquarters. One really exciting component I didn't get to talk about last time is that this new system integrates an glass layer around the main collector pipe to provide extra insulation around this very hot component. This helps keep the heat in the pipe, rather than losing some of it to the environment, which means the system is even more efficient and therefore cost effective. It is also something that virtually nobody does for systems at the small scale where we work - so I applaud the ingenuity and tenacity of our team in developing a cost-effective way to build this into our system design. It took them several months, so I wanted to be sure that effort was highlighted in this report with pictures attached! The next step is unpacking the box (I've attached a picture so you can see the custom shipping design our guys put together) when it arrives in Pune and collecting test data for a few months to validate functionality under the weather conditions there - if all goes well, we'll then be back in India next spring to help get a manufacturing line up and running!
One last note, I want to commend our team in Lesotho for being very generous with both their time and expertise. As one example, we often get visits at our workshop from groups of students, government employees, or individuals from companies around Lesotho who want to learn about what we do. Our employees routinely make an effort to share their enthusiasm and knowledge with visitors - as you can see in the last picture where Marcel is explaining our specialized CNC milling machine to a group of visiting students. It is great to see the excitement passed on!
Let me close with many thanks to all of you who continue to follow our work and support us. We recognize that life is busy, and we are grateful to be able to share our stories with you!
Very best,
Matt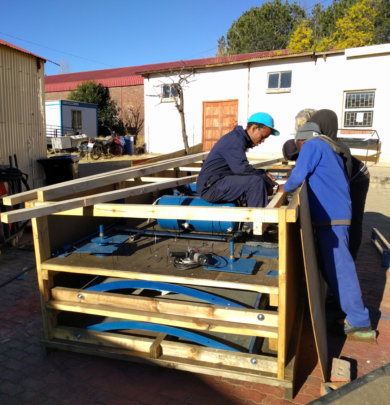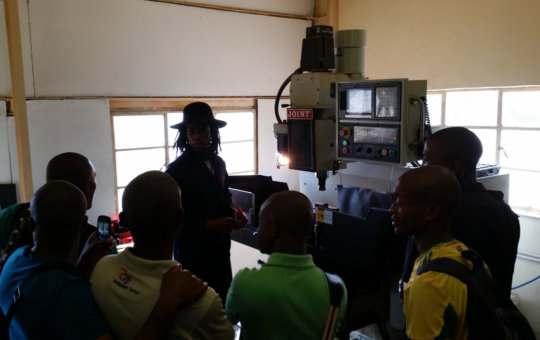 WARNING: Javascript is currently disabled or is not available in your browser. GlobalGiving makes extensive use of Javascript and will not function properly with Javascript disabled.
Please enable Javascript
and refresh this page.