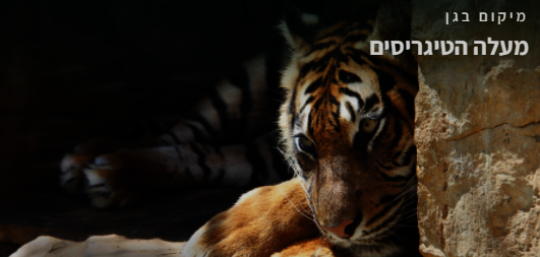 The Zoo has now been closed to visitors for five weeks during the second lockdown in Israel this year.

This means that again during one of the most popular times of the year at the Zoo, the Jewish High Holidays of Rosh HaShanah and Succot, the Zoo has been empty.

Obviously, this has had a devastating effect on the Zoo's income which is based mainly on ticket sales.
The faithful staff continues to care for the animals and grounds. Unlike in many other places, the Zoo's expenses do not go down significantly during these periods as there are still animals to feed and care for and maintenance to be done.

The Zoo, as the lead organization in the Israeli Zoos Association, together with the Ramat Gan Safari Park and other zoos in the country, has been lobbying in the Knesset committees and in the media to allow for the re-opening of the zoos under restrictions and protocols that allow for the safety of staff and visitors in during the covid-19 situation.
There are no new updates on the tiger front - they are enjoying the quiet at the Zoo at the moment.
Here are some fun facts about tigers:
The tiger has longer hind limbs than forelimbs, which allow it to leap.
Unlike most other cat species, tigers love the water.
Tigers are very powerful swimmers. They can cross rivers that are up to 5 miles (8 km) wide.
No two tigers have the same stripe pattern.
A tiger can eat up to 85 pounds(39 kg) of meat at one sitting.
Tiger cubs weigh only about 2.4 pounds (1 kg) at birth.
A tiger's eyesight is said to be six times better than a human's.
White tigers get their color from a mutation in their genes.
(Source: https://answersingenesis.org/mammals/purring-cats-and-roaring-tigers/)