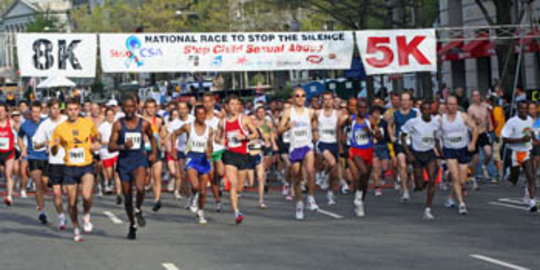 Boy, have we been busy!! So much to tell! We can't thank you enough for your past support that has allowed us to move forward on the following fronts:
• We hired Jacob Wilkins as Manager of Community Outreach and Development, and he hit the ground running, developing a Boys Program that utilizes ceramics to help boys process and heal, helping manage the To Kill a Kelpie play venues (see below) description and link), and he is working on the development of a new fundraising plan -- THANK YOU JACOB! The boys program begins in October. • We received a grant from Health and Human Services to bring an incredible play to the U.S. that was inspired by the Stop the Silence Campaign and performed to sold-out audiences in Scotland. To Kill a Kelpie will be performed in at least three venues across the U.S. next Spring -- so we're working hard to pull that together. See the link below. • We're also gearing up for the seventh annual Race to Stop the Silence, which will take place in downtown Washington, D.C. on April 23, 2011. Registration opens just a few days from now, on Oct. 1, 2010. The registration link is below -- please join us!! • Queendom TEA, our girls' program, is expanding, having added 5 new female mentors and expects to serve well over 100 girls this coming year, and LaQuisha Hall, the creator and Director of Queendom TEA, went to Switzerland to work with over 140 girls from around the world to present Queendom TEA. Evaluation from the program shows that it is profoundly and positively influencing the girls in it. • We have continued to present information to hundreds of community members in and around the Prince George's Co., MD and elsewhere through school and community health fairs (Glen Arden, Bethesda, DC) • We are gearing up for a training for DSS in Prince George's Co., MD and for the Volunteers of America in October, 2010. We're very excited to be making an impact on the systems that are so important to prevention and mitigation of CSA. • Stop the Silence staff members are heavily involved with the National Partnership to End Interpersonal Violence, which is part of the International Violence and Trauma Institute (IVAT). Staff took part in a Think Tank for the Partnership in September, and Pamela Pine is Co-Chair of the Development and Fundraising Committee and also sits on three other committees. The 15th Annual Conference directly following the Think Tanks, was, as always, great. Check out the Partnership (www.npeig.org), which Stop the Silence has a strong hand in helping work on alleviating violence across age groups.
As always, there's more to tell, but I hope that gives you an idea of what we've been doing!
Thank you so much for your continued support!! Your donations mean the world to us -- if you can, please make a tax-deductible contribution to help move our work forward. And, tell me what you think. If you have any ideas about how to make our work even better, reach more people, or capture wider support, call or write me: ppine@stopcsa.org, 301-464-4791.
If you have not already joined our mailing list, please do by going to our Web site (www.stopcsa.org) and adding your name to be included in our mailing. Thanks again, Pam
Pamela Pine, PhD, MPH Founder and CEO Stop the Silence www.stopcsa.org ppine@stopcsa.org 301-464-4791
Links: