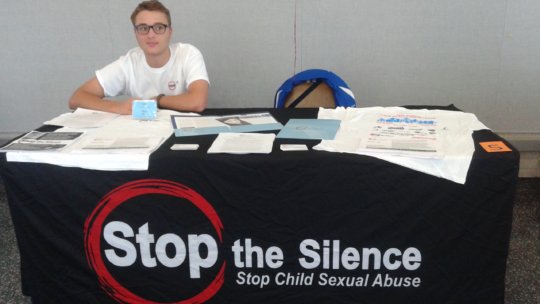 Hello, everyone. Well, as usual, we have been very, very busy over this past quarter - working on some very exciting initiatives.
I still learn or feel something new on a regular basis and try to apply what I can. As I said last time, I've been involved with child sexual abuse (CSA) prevention and healing for 15 years now. WOW! What became most transparent - most felt to me, most real to me – most recently - over the last months - is how hard it must be for all survivors, and what it takes to cope. I have worked with and been friends with many survivors over the past 15 years, and I "knew" many things about CSA, but... While in Cyprus last December, I had a bit of an epiphany of sorts while talking about offenders and survivors' healing. I felt like I started to feel what the aftermath might feel like (I don't know that what I felt was what some or most survivors feel, but I can be pretty empathic.) I walked around with a really, really heavy heart for good while (you know, that feeling like, seriously, your heart is going to break or explode - it truly feels heavy, bloated... wrong, like it, itself wants to cry).
But out of the ashes, as they say... I have learned how to take care of myself better as a result, I have also learned more about letting people in and how, how to support others better, and hopefully, I can do what I do better in the world. Perhaps I now bring a better me to it. :-)
I have to thank you, Amy - and Bob! - for listening to me for HOURS (honestly, if you put the time together, it must be at weeks' of overall time) to help me learn - to help me learn how for me to listen to me! But, I have to thank so many other people - survivors - for bringing so much to me and to the work. In alphabetical order, here are just a very, very few: Amanda, Andrew, Chris, Barbara, Edward, LaQuisha, Matthew, Svava, and so, so, so many, many more. Everywhere I go, every time I open my mouth about CSA, I meet survivors, many who become friends or colleagues. Thank you for helping, thank you for healing, thank you for teaching, thank you for your dedication, caring, hard work, tenacity, and for just keeping on keeping on!
Ultimately, I am happy and excited to be making a difference - I think we are...
Please read on about our programming locally, nationally, and internationally over the past quarter:
First, let me tell ya about... Stop the Silence 5YP - In April 2015 Stop the Silence (Bill Mathis with input from the rest of us) created a draft Five Year Strategic Plan supporting programs and initiatives to achieve is vision and mission goals, and it has been further revised recently. The Plan establishes core themes for advocacy, outcomes and results :
Focused Messaging and Activism
Integrating End-toe-nd Survivor Healing
Engagement with Education: Education in the Community, Education for Authorities, Education for Healthcare
Integrating End-to-End Prevention
Advocating New / Improved Research
Focused Fundraising and Recruiting
The 5YP is aligned to the National Partnership to End Interpersonal Violence's (NPEIV) National Plan themes, but covers topics and outcomes specifically focused on the issues of Child Sexual Abuse Prevention and Survivor Healing. This plan contains the high-level content and objectives for Stop the Silence's Arts4Change initiative, a new program geared to the Greek Community.
Then, for your reading pleasure, here are some details about our hands-on work over the past quarter leading toward our goals and objectives...
LOCAL
In June, we presented to the Prince George's Co. Human Trafficking Taskforce (Prince George's County, MD Dept. of Family Services Domestic Violence and Human Trafficking Supportive Services Division) on the relationship between the issues of CSA and trafficking, and we will be providing a symposium (date TBD) for the Department of Education. The members present were from the Dept. of Social Services, Office of the State's Attorney, Fire Dept., PG County School System, Human Relations Commission, and the Department of Family Services. Contacts there are pushing forward our involvement with other local colleges and universities, Other local focus includes providing information to hundreds (perhaps thousands) of others through university outreach in Maryland, DC, Virginia, and Pennsylvania, houses of worship, community groups, etc., to educate and catalyze community responses.
We are in discussion about further programming and training for the social service and school systems (e.g., nurses) in Prince George's Co. Maryland. We will be providing training for the Public School Counselors (60), Student Pupil Workers (235) and Health and Human Services staff (100) early next year. Health and Human Services is comprised of Health Department, Social Services, and Family Services Departments.
We are thrilled to be taking part in a bunch of tabling for the Combined Federal Campaign (CFC) - we get to educate as well as raise needed funds for our work! (Check out my newest recruit in the first pic below!)
NATIONAL AND INTERNATIONAL
At Stop the Silence at Indiana University, lots is in the works. During the summer months, the group focused mostly on preparing for the upcoming year with the Board of Stop the Silence at IU transitioning and contacting various university departments (Criminal Justice, Psychology, Sociology) for partnerships and reaching out for a new faculty advisor; exploring community partnerships for raising awareness and events; conducting meetings with University sexual assault awareness groups ('Culture of Care at IU', IU CAPS- Counseling and Psychological Services); and, in early September (moving into the Fall), the group has been working with the Indiana University Student Involvement and Union Board to contact more students for recruitment purposes.Stop the Silence at IU has a Fall Fundraising Month scheduled for October with canning at local downtown Bloomington restaurants.
The work on the Arts as Advocacy strategic map, engagement themes and outcomes templates continues. The Stop the Silence strategy mapping and outcomes management proof-of-concept for Road to Change in Europe (May 2013-February 2015) was converted into an online template for long-range planning and program design. Arts as Advocacy is the generic University engagement model that established the basic theme of the Engagement With Education outcomes theme – specific training and education focused on communities, college curricula, legal / judicial and healthcare. As noted above, Stop the Silence expanded this approach (after March) with the Arts4Change initiative focused on fraternities and sororities.
The Arts4Change (A4C) initiative was created as a key part of an overall five year strategic plan (5YP, see above) that

builds on the Arts as Advocacy model for University partnerships, locally-based engagement, and repeatable nation-wide education and activism toward the Stop the Silence vision and mission...

Bill Mathis of CPIC Solutions and our Board Secretary/Treasurer has developed

new Amplify models

(mapping toward objectives and goals) using proven templates from the Road To Change (in the EU) and the Art as Advocacy (U.S. currently) projects.

The A4C plan is built around public festivals to solicit and celebrate various forms of artistic expression

relevant to Child Sexual Abuse prevention and healing. The A4C roadmap included preliminary steps to define goals and establish fundamental messaging and brand images for the initiative.
The 2015 near-term actions include pilot engagement within

new universities and an introductory arts event involving an estimated dozen or so Washington DC area colleges and universities

. Lessons learned will be used to prepare for and stage the inaugural Arts4Change Festival planned for Child Abuse Awareness Month in 2016. THANK YOU STOP THE SILENCE INTERNS FOR HELPING MAKE THIS A REALITY!
The on-line Nanny training is in development and we are working to have a trial period from October 1 forward. This will be a template/model for training for other audiences – the reach is international given that it is online.
Stop the Silence continues to reach out to the world through the media. A recent (September 7) interview with United Kingdom Child Sex Abuse People's Tribunal (UK CSAPT) highlighted Pamela Pine, PhD, MPH, CEO (little old me) of Stop the Silence on a prevention and healing focus. Click here for the finished UK CSAPT YouTube link for the conversation.
We have been honored and pleased, too, to continue to be a part of various international conferences to reach out to disseminate information and catalyze action, like at the Institute on Violence, Abuse and Trauma (IVAT) Conference, the Survivors Network of those Abused by Priests (SNAP) - see pics below - and to share panels with distinguished individuals and share the information that I have. So much to do that it sometimes has me saying "whew," but I am so glad that I've learned so much, shared what I can, and that I get to do it with so many wonderful people! The picture below of the older woman is Rose Schindler, a Jewish survivor of the holocaust - she told her story as she has so many times, keeping the promise to her father who died in Auschwitz to live and "let the world know." So, we all need to try to follow in her footsteps! We are working on it - thank you for joining us in the effort! Next July, I am excited to be going to New Zealand to take part in the Pacific Women's Indigenous Network (PACWin). Yeah!
Please continue to help support the work that we do in advocacy, community outreach, education, program development and training locally, nationally, and internationally. Make a donation to help Stop the Silence this holiday season! We thank you for your support now and always along the way. And, you can click the following link to make a donation now.
There is SO much to do - it WILL take us ALL! It will take us all whether we work together or alone, but together is better. Join us in this movement! Join others! Read about what we're doing - and do join the movement!