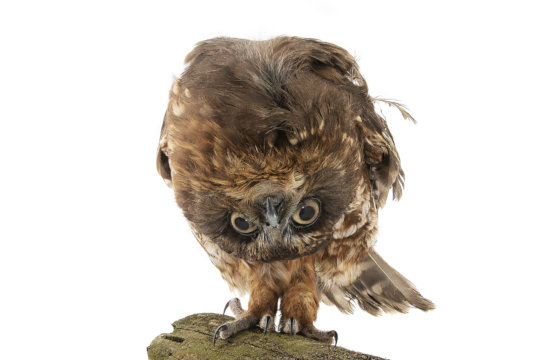 We have recently had a beautiful Boobook owl come into care with Sydney wildlife. The Boobook owl is the smallest and most common owl in Australia.
His story started at a school where he was found early in the morning on the ground being bullied by other local bird species. He was taken to the local vet who then contacted Sydney Wildlife to organise a Carer to come and collect him to nurse him back to health and monitor his rehabilitation.
It became quickly apparent that he was very ill and at stages could not even stand up. He required intensive care and needed to be force fed to ensure he was getting the nutrients required to rehabilitate. Gradually he began to gain strength, put on weight and be able to feed by himself.
What was still puzzling was that, at first, he would always hold his head low and completely upside down. (see photo) After 2 months of regular physiotherapy he started to hold his head higher and it was also turning around so it was now the right way up.
After 3 months, he was moved to our rehabilitation facility as we thought the stimulation of being in a more natural environment would make him use his neck more. A bit of self-Physio.
After only a couple of weeks in the rehabilitation facility, and I think you will agree from the photos, there has been significant improvement in his condition.
We still do not know at this stage if his recovery will be enough for him to be released but he is eating well and continuing to improve. His recovery may take months yet as vets feel there is muscle or tendon damage which takes a long time to treat.
Owls are quite big eaters. He eats 1 mouse and 1 chicken neck a day as well as the insects he catches in his enclosure. As the mouse and chicken necks are not available naturally while he is in rehabilitation, these are purchased frozen and provided to the owl by our volunteers. Your wonderful donations are helping to keep our Boobook and other animals fed and alive.
For this we thank you so very much.