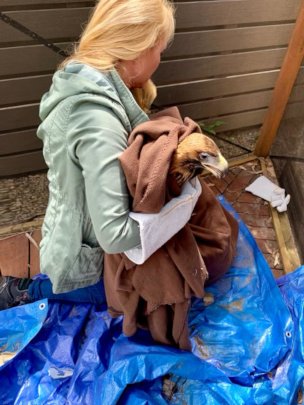 Once in a lifetime you get to cross paths with an animal so majestic that it's almost heart-stopping. Two of our amazing office volunteers - Susan and Katie - took the call from a resident in Mona Vale. Ian was pretty sure he had a wedge-tailed eagle in his suburban backyard. Given that we only have about 2 pairs on the Northern Beaches, everyone was a bit sceptical...
Two Sydney Wildlife rescuers - Susan and Lynleigh - were dispatched to the site and were thrilled (and a tiny bit nervous) to be faced with this incredible raptor! Catching him was going to be a bit of a challenge as he had already started calculating ways of bolting. After some artful 'herding' with giant blankets, Oracle (what we named him) was cornered and our rescuers were able to wrap him up, take control of the talons and get him into a bunker box for transportation to a veterinarian.
The Wildlife Hospital at Taronga was the obvious place to take Oracle as his needs would be quite specific and their team of veterinarians have considerable experience with raptors. He was immediately assessed, x-rayed, given treatment, fed and housed. He was found to have a puncture wound in his mouth and a couple in his chest, as well as an eye injury. He also wasn't able to perch or take flight. They also informed us that he is a young bird - probably not even a year old yet.
Whilst trying to piece together how Oracle came to be in a backyard in Mona Vale, Margaret - another Sydney Wildlife rescuer and photographer - managed to get in touch with some of the other extraordinary photographers from the area. One had witnessed a mid-air fight between the pair of white-bellied sea eagles and the pair of wedge-tailed eagles about 6kms from where we rescued Oracle. Thank you to Biggles Csolander for the amazing images of this encounter. The images show adult birds but we suspect that Oracle had been involved in the melee before these pics were taken.
After 2 weeks in care with the incredible team at Taronga, Oracle was ready for the next step in his rehabilitation process. Lynleigh and Connor collected him for a 3-hour drive to the Southern Highlands where he would have the privilege of meeting the one-and-only Peg McDonald of Higher Ground Raptors. Peg is beyond amazing!
Peg set Oracle up in an aviary with CCTV where she could observe his movements and decipher what exercise regime he required for rehab.
Luckily the name Oracle is gender-neutral as Peg thinks he is a she
This was a great example of many Wildlife organisations working together to provide the best outcome possible for our gorgeous animals.