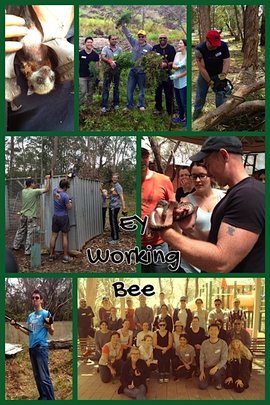 Global Professional Services giant, EY (formerly Ernst & Young) sent a team of professionals to the wilds of "Waratah Park" to get their hands/faces/reputations dirty in a bid to help our beautiful Australian native wildlife.

40+ members of staff ditched their business suits, cappuccinos and lap-tops for tick-spray, gardening gloves and sensible foot-wear to weed, build enclosures and mend fences.
After lunch, the volunteers were treated to a Wildlife Presentation by members of Sydney Wildlife. Many educational animals such as blue-tongue lizards, bearded dragons, carpet pythons and other snakes helped break down barriers with the volunteers.
All in all, a very successful and enjoyable day! One enthusiastic worker was overheard saying: "I'm definitely coming back here again to help. And I'm bringing the whole family! It's so nice to be able to make a measurable contribution."
Unfortunately our volunteers have not been able to complete our quarrantine room yet, sadly due to high demand of sick and injured wallabies requiring this space for treatment.
We presently have an adult male wallaby with one side of his face very swollen. As he is located in the quarrantine area, it is possible to catch him daily and give him antibiotic injections to reduce the swelling. At this point he is making good progress with the swelling subsiding.
Dell (the Eastern Grey Kangaroo from the naming competition) is also old enough now to start her rehabilitation in the grassed enclosure learning to be less dependant on human interaction.
On my daily visit to feed and treat the above macropods I was shocked to find that a large gum tree had fallen onto the macropod fence narrowly missing the quarrantine room and macropods in the yard. The tree had taken down the fence making it possible for the animals to escape, luckily they didn't. We called on the State Emergency Sevices to quickly remove the tree and allow us to rebuild the fence, thanks to this other voluntary organisation it was done that day.
We would like to thank you all for your wonderful support duing 2013 and wish you and your Family all the best for the festive season.