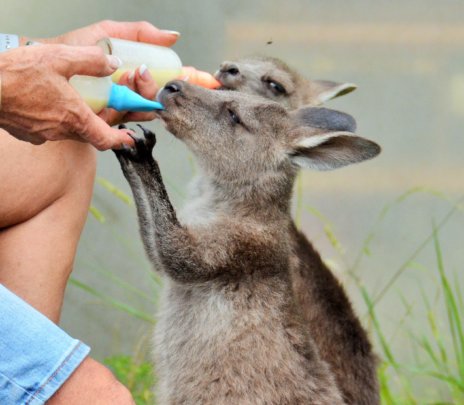 Unfortunately, even though the devastating bushfires have long since stopped burning, we'll continue to see the aftermath for years to come. We're now in baby season for most species of birds and animals, and we're finding many cases of malnutrition due to scarcity of the foliage, flowers and seeds that form the basis of their diets. Even insect eating animals such as echidnas are struggling, because there aren't enough ants and termites around to feed them. Creatures that rely on tree hollows for their homes can't find adequate protection, as we've lost so many thousands of the old trees that provide this. No matter how many new trees are planted, it will be many, many years before they mature to the stage where a cockatoo or possum can live in them. We'll be putting up man-made possum boxes, support feeding wherever possible, and taking many more animals into care than in previous years.
To add to this, there have been new diseases developing from the climatic conditions and fires. We are heavily involved with authorities to find out what the causes are and how to treat them. Some of these diseases are wide spread up the east coast of Australia ( basically where the fires were) so it is very important that we work out what is happening quickly so we can save as many animals as possible.
We have also been catching insects for testing as it is thought that they are spreading one of the new diseases.
Our mobile care unit continues to see lots of wildlife in Sydney and we have been preparing it in case we have another terrible fire season in which we are call on to help our precious wildlife in the country areas.
Of course, Covid hasn't helped. We've had to close the office for our rescue line, but have been able to continue to run the 24 hour service from members' homes. Our training courses for new members have been put on hold due to the distancing regulations, so we're working hard to develop online training. It won't be quite the same as a face-to-face course, but it will help us train the new members we desperately need.
We have had to stop our company working bees at the rehabilitation facility and Kukundi, this means that we will have to now need to do extra hours or pay people to do this work which is an added pressure to our volunteers.
Even though there are now green shoots on burnt trees, and grass sprouting in the woodlands, things are a long way from "normal" for our wildlife and us.
Thank you for continuing to support us during these times as we adapt to the new challenges ahead to provide the best care for our wildlife.