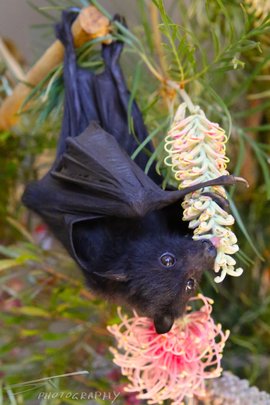 Seasons matter in bat care. Most baby flying foxes are born in a 3 week period in October/November, and are carried by their mothers for the first 5 weeks or so. If the mother gets injured or dies in this time, the pup may survive- this is how most of the babies come into care. Generally their mothers have been caught in netting or electrocuted on power lines. The last of the pups was released in April.

The bats in care now are mostly victims of netting entanglement. Not all bats survive entanglement, and those that do often have severe injuries requiring extensive treatment and rehabilitation. There's a lot of work in rehabilitating injured flying foxes. But fortunately we have some amazing volunteers. If you check the link, you'll find a little video about one of our bat-obsessed vollies: Sarah "Bat-Girl" Curran.

Until the baby season starts in force, it is relatively quiet at the creche and release facility. The daily fruit chop is only about 8kg, down from 30kg or so in peak times. We've spent some of the quiet time making preparations, including training up volunteers to cope with heat stress events, which sadly are becoming much more common.
You can help too, by only using wildlife friendly netting (mesh size less than 5mm), and always reporting bats on powerlines, so we can see if there is a living pup we can save.

Many many thanks for all your help!
Links:
We were recently lucky enough to be visited by Alex and Amanda from Global Giving in the USA at our rehabilitation facility at Waratah Park.
During their visit, we were able to get a better understanding of how Sydney Wildlife can benefit from the partnership we have with Global Giving and the many services and tools available for us to use. They provided great feedback on how other organisations have benefited from their alliance with Global Giving which has given us a few new ideas that we are presently looking into. We are also pleased to report that our project is performing extremely well with a very high rating of interaction both via the Global Giving website and also via our regular project reports.
Whilst we were able to learn a lot from Amanda and Alex, we were also able to teach them about Australia's native wildlife.
They were brave enough to visit our rehabiliation facility during a corporate working bee on a cold and wet Friday morning. They were given a tour of our facilities and were able to get up close and personal with some of our education animals breaking down the barrier between reptile and human.
We would like to thank Alex and Amanda for their continued help and advice.
Stay tuned for our next report and prepare to be amazed as work continues on our facilities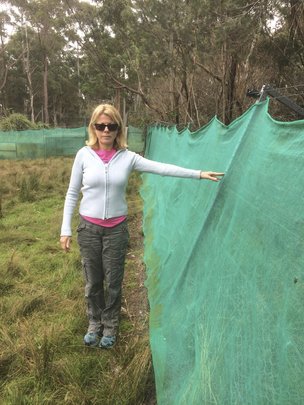 In April, Sydney was rocked by the worst storms we have had in a decade with cyclonic winds and rain which wreaked havoc on Waratah Park and our rehabilitation enclosures. We had multiple trees come down, fence poles snapped, shelters blown over and flooding. Within a week of the storms passing and damage being done, we held a working bee at the park to get everything back up and running again.
With the help of our wonderful corporate volunteers, in one day, we were able to mend the damage done by the storms. This included:
The fencing around the macropod enclosure was reinforced with additional posts put up.
Due to the high winds, the shade cloth that provides a visual barrier for the macropods needed to be replaced around the boundary fences.
The macropod shelters that were blown over were relocated, reinforced and reinstated.
Multiple trees had to be chainsawed into managable pieces and were either removed or used in the exising enclosures to replicate natural habitates.
We set up a turtle enclosure to house a resident turtle of the park that had a cracked shell from a fallen tree during the storms. After treatment and shell repair, it is now doing very well in it's new enclosure prior to being released.
Thanks to all the wonderful help from the volunteers, the park is now sturdier than before the storms hit.
We are working to quickly build some additional facilities so we can rehabilitate other species and give them the best chance in the wild once released like we have been able to do for the macropods.
It's your help and donations that enable us to be able to build and maintain these facilities and for that we are extremely grateful.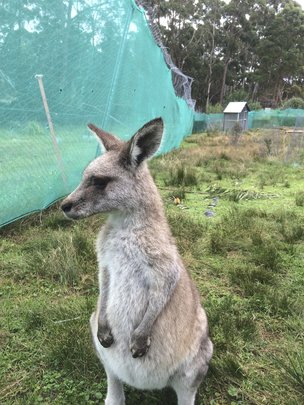 WARNING: Javascript is currently disabled or is not available in your browser. GlobalGiving makes extensive use of Javascript and will not function properly with Javascript disabled.
Please enable Javascript
and refresh this page.