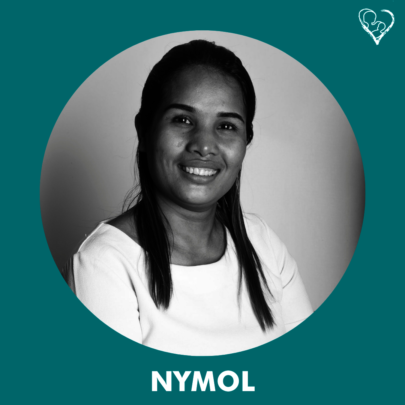 Nymol is a Social Worker and Counsellor. She joined our team over a year ago. She is sharing with you her experience with a young woman named Kunthea*. Kunthea joined our program through referal from a partner organization. When we receive calls for suypport, our Case Manager, Ruthie Giovas, assigns cases to one of our Social Work Team. Here is Nymol's story:
"My name is Nymol, and I have been a social worker and counselor at MHO for almost 2 years. I joined MHO to support women who were shunned from their families for being pregnant and single. My work helps women like Kunthea*, who was referred to us by the Commune Committee for Women and Children (CCWC).
I was her counselor, and met her on her very first counseling session. She told me about her situation: she was living with a man who said he loved her. He gave her a home, money, and found her a job. He said he wanted to marry her, and soon after, he moved in. She felt respected and looked after.
After a few months, she was getting sick. She visited the doctor, who told her she was 5 months pregnant.
When she shared the news with her fiancé, he asked her to get an abortion. She was upset and confused asking why he was not happy. That is when she found out he was already married with 3 children.
She felt hopeless. She was ashamed and embarrassed, she couldn't tell her friends or family.
Her "fiancé"'s wife found out about the affair, and threatened to kill Kunthea. The man's family eventually paid Kunthea $1,000, with the promise not to see him again, and to disappear.
Her ex-fiancé kept trying to contact her, and wanted to continue seeing her. When she refused, he told her employer that she was pregnant, and single. She got fired, lost the apartment she lived in, and ended up isolated and vulnerable. After she moved out, her ex-fiancé stopped calling.
MHO took her in, helping with food and housing. She was provided with counseling sessions, and joined our Pregnancy Support Program.
Four months later, as she felt labour was starting, she called her family. She was scared, but she really wanted to share this special moment with her mother. Her mother came. It was lovely to see them reunited. Kunthea's mother thanked us for helping her daughter, but part of her still didn't know how accept her daughter. They talked, but she didn't offer for Kunthea to come back home.
After maternity leave, my colleagues and I helped Kunthea find a job as a teaching assistant, and she was happy. Unfortunately she had to miss work when her child was sick, and her employer dismissed her. She is a hard working woman, and after being laid off, she slipped into depression, questioning everything. I was there to answer her calls when she needed her spirit to be lifted.
I also started family mediation, and after a few months, her mum changed her mind and decided to take her in. She moved back with her family, and applied for a good government job. She got hired.
She still works there, and is very happy to have found a good job. She is glad both her family and our team are there to support her.
I am very proud of her, for never giving up and how she kept her focus despite her circumstances. I liked working with her, to let her find her inner strength. I am honored to have been by her side and to have helped her get to a place where she feels happy."