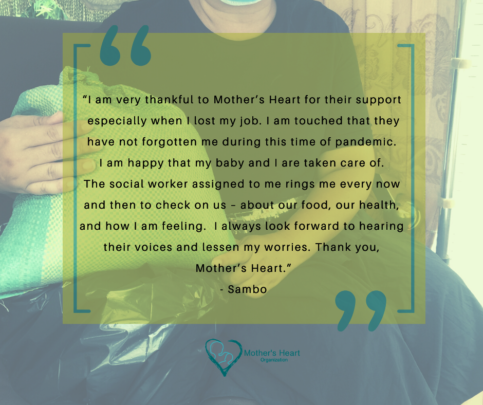 Highlight: From January to June 2020, there is a total of 51 women and 48 children in Mother's Heart Organization's Crisis Pregnancy Support Program (CPSP). Of the 51 women, 9 cases have been closed as they have already achieved independence and no longer needed Mother's Heart's support. There were also 7 new women registered in our CPSP. During the same period, 6 babies were born.
As COVID-19 makes it way around the globe, millions have been infected with the virus and effective treatments and vaccines are still beyond our reach. All of us are impacted by this pandemic and no doubt has put the already vulnerable population at even more risk.
As soon as COVID-19 started spreading rapidly, Mother's Heart Organization took steps to protect the health and safety of our staff, beneficiaries, and community. This includes setting up a precautionary plan/guidelines, including assembling the key members of the senior management team to man the office on a rotation basis and requiring the rest of the staff to work from home. The plan was to move forward yet continue our activities and maintain impact to our clients and community in a remote context.
In March, just within two weeks of the government's imposition of travel and movement restrictions, 12 of our beneficiaries lost their jobs and their sources of income. Mother's Heart acted swiftly to provide emergency support packages (food and stipend for rentals and utilities) to our beneficiaries and their families. The daily social distancing and increase in shutdowns of more and more avenues of employment meant more and more of our beneficiaries are losing their financial independence and the means to support their families during this time.
Every month, beginning in March, our beneficiaries received food packages, including 15kgs of rice and other food items, and a modest stipend to help cover rentals and utilities. This support will continue for as long as our beneficiaries need it, or when access to employment resumes. While this means an unexpected increase in current and foreseeable future expenses as for our organization, we must provide support for as long as it takes. This activity is critical and has impacted our already tight budget this year, but we will continue to find support for this.
Following the guidelines by the Cambodian Ministry of Health and WHO, Mother's Heart temporarily halted field activities as well as face-to-face counselling and maternal education trainings. Due to the large part of the work is on-going psycho-social counselling that require face-to-face interactions, our staff members reach out to our beneficiaries regularly by mobile phone instead. For health checks and other medical requirements, our staff members accompany our beneficiaries to hospitals and health centers following safety precautions.
The uncertainty and fear brought about by COVID-19 has impacted our beneficiaries as it threatened to be a backward step to the progress they've already made or working on before the worldwide outbreak happened. These regular phone calls are critical in ensuring that the young mothers don't feel isolated, alone and insecure; and in helping them manage their expectations, feelings and emotions. We also monitor if they and their babies are well-fed, safe, and secure while weathering this health crisis. We also continue provide them with protective masks, alcohol, hand sanitizer and cleaning kits to accompany our information-dissemination activity to protect themselves and their children from getting the virus, as well as resources on what to do and where to go in case they start having the symptoms.
As of 14th of July, there have been 165 recorded COVID-19 cases in Cambodia. No deaths have been reported. As restrictions ease, air border has been opened and airports resume operations. While public and private educational institutions are still closed, more and more commercial establishments have started re-opening and slowly returning to normal activities, or rather, what is the new normal these days. We have seen some of our beneficiaries return to work, others are still waiting for their employers' call or are being assisted by our staff members in finding new employment. Our maternal education trainings and other activities will resume slowly with utmost safety precautions. We are also fortunate that, so far, there have been no infections amongst our beneficiaries and our staff. For this we are grateful, and we are taking all the precautions we can to maintain this while we continue our work.
Mother's Heart would like to mention our gratitude to donors and supporters who took it upon themselves to support our emergency response activities. We are grateful to you, our supportive community, inside and outside of the country, who have stepped up to the plate and helped raise funds, our July Bonus Day donors, and those who provided in-kind donations. On top of these, we also appreciate very much the encouragement you are giving us. Your efforts are truly inspiring and are helping our beneficiaries go through this crisis, especially when funds are tight.
***
Last month, we celebrated our 10th year anniversary. From a small team of 4, Mother's Heart began operations in 2010 in a rented apartment. That year, there were 7 women in our care. Over the years, our Crisis Pregnancy Support Program was developed and improved that it is at the forefront of maternal and infant health and preventing mother-child separation in Cambodia. Over the years, hundreds of young vulnerable women came through our doors bringing with them their stories. The women's stories differ but one thing they have in common is that they are in crisis. Our work ensures that when they get step out of our doors, they are more secure, more stable, and have the capacity and capability to raise their babies independently than when they walked in. In 2017, we opened our second office in Battambang province to reach out to many women in need without leaving their homes and support system.
We could have not accomplished all of these without you, our donors and supporters. On behalf of the women and children whose lives you have touched and helped transform, and from all of us at Mother's Heart Organization, we thank you so very much from the bottom of our hearts.