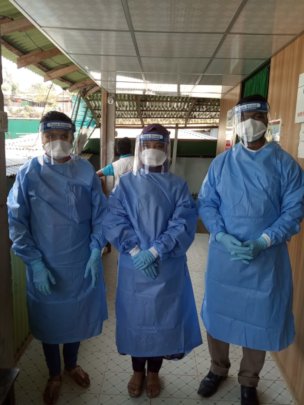 The COVID-19 pandemic has affected the entire world, but has not affected all of us equally. Social and economic factors determine who is most vulnerable to the virus and whose health will suffer most.
HOPE Foundation is putting much effort into extending the services and meeting the needs of the community we serve in this COVID-19 context. HOPE is opening 2 new Isolation Units with 50 bed capacity each, one to serve the host community of Cox's Bazar and another one inside the Rohingya Refugee Camps in the area
In HOPE Hospital, Ramu, the hospital is transitioning into a new context, expanding and remodeling current layout, where the control of infections is the priority.
HOPE Hospital staff are diligently being trained and provided with the tools they need to safely work and protect the patients.
This is critical as the target population served by these centers are high-risk for COVID-19: pregnant women, newborns and fistula survivors. Not to mention many patients who are served possess underlying health conditions.
Inside the Rohingya Refugee Camps, located close to the HOPE Field Hospital for Women, HOPE established a testing and treatment facility for Rohingya refugees and the surrounding area, to test and treat those suffering from COVID-19, and to slow the spread of the virus throughout the densely populated Rohingya camps.
Organizations like HOPE Foundation, which are already deeply rooted in local communities, are in the best position to provide immediate and long-term support for survivors of outbreaks and other crises. Our long-term work in southern Bangladesh has positioned us as a leader in providing consistent, high-quality medical care to those in need.
Thank you, because this is only possible counting with generous people such as yourself.