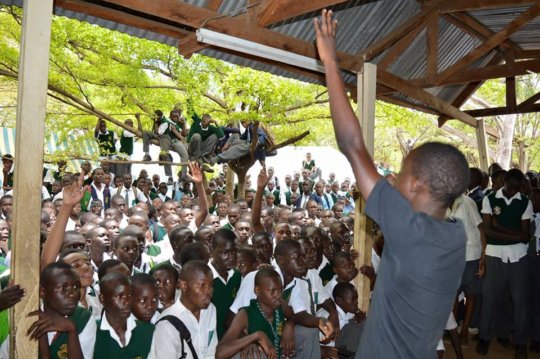 New opportunities continue to unfold for the young people participating in the programs of the Manyatta Youth Resource Centre. Manyatta United's Under-16 team has been invited to participate in SIFC, Södertälje International Football Cup (SIFC 2016). The cup is taking place in Södertälje, about 25 minutes outside of Stockholm, the capital of Sweden, from July 11-16. During the tournament our youth will get to play against competition from over 300 teams, from close to 30 different countries and five continents. The boys would get to visit and participate in a Swedish school for a week, have all of their meals paid for, plus entrance into two amusement parks as well as a music festival.
This is a huge opportunity for our youth as many of them have never even left their home area around Kisumu. Unfortunately, in order to make this a successful event we will have to raise close to $25,000 for airfare to get our team and coaches to Sweden. This is quite a challenge but we will do our best to make it happen!
Three of our U-16 soccer players were also called up to the national Kenyan U-18 football team to participate at the Inter Government Agency Development (Igad) games in Djibouti in January. Ian, Ibrahim and Patrick, who were in the U-14 Kenyan team that travelled to South Africa in 2013 for the Copa Cola International tournament, were selected to join the Harambee Stars camp. Unfortunately the tournament was cancelled due to low enrollment from other countries, but we take the recognition of our three players with pride.
Congratulations yet again to our U-16 football team for winning the 2015 Amshaball Tournament at Kisumu's Moi stadium, just weeks after winning the KYFA finals. They defeated West Ham FC from Nyalenda. These players have come up through the younger teams and have built skills that are now showing so well. The younger players see how their training is paying off.
We also hosted another successful Pendo Moja Peace Tournament. This tournament is held once a year with the goals of promoting peace through soccer and performing arts. Artists from the MYRC entertain guests and spectators as teams play for a trophy and other awards. This year was the first time we had international participants and Fire Soccer FC from Tororo, Uganda ended up winning.
In our Performing Arts section, our artists continue to hustle and get more recognition. Both Nahna and Gabiro are set to perform alongside the famous Tanzanian bongo flava artist, Diamond. They will be performing at the Simba Club in Kisumu February 13.
Gabiro has finished filming his latest song, Ujumbe Remix, and is planning the release party for next month. 2Jincye continues to entertain and inspire youth through their series of concerts at local schools.
School fees continue to be a huge issue, particularly as our girls and boys mature and hope to attend Secondary School. On top of the fees for books, uniforms, and supplies needed in Primary School, Secondary students must also pay tuition. We are determined to build on our success in having all MYRC participants stay in school, but increased, ongoing funding is needed to achieve that goal.
Equip Manyatta Co-Chair Keevan will be traveling back to Kisumu in March. It's always so exciting to see how the programs have grown since the previous year. Going on seven years now! We would never have gotten this far without your generous support. Thank you!