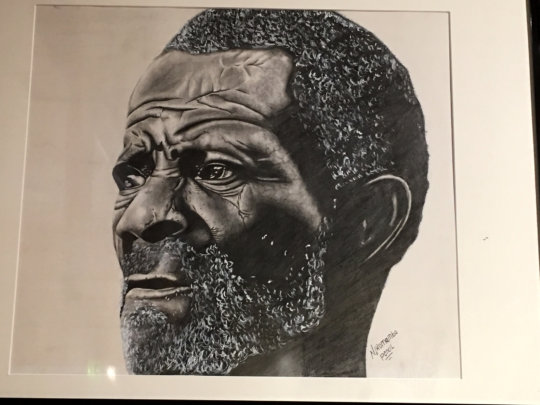 The creative talents of young people associated with the Manyatta Youth Resource Centre (MYRC) in Kisumu, Kenya, on the shores of Lake Victoria, are currently on display on two continents. Along with a vibrant soccer program for all ages of girls and boys, from the beginning the MYRC has had an emphasis on helping young people develop their artistic and creative talents. The MYRC, with strong support from Equip Manyatta, provides youth with the opportunity and tools to perform and record original music and videos; write and perform plays that highlight life in Kisumu; draw, paint, and take photos, and display their work for the world to see. Right now a show in California and a new video release by the singer Nahna in Kisumu are featuring these talents.
Art, accessories, and fabric goods are now on display at one of the largest exhibit spaces in Boonville, CA, hometown of Equip Manyatta's Co-Chair. This is the second show hosted by the restaurant Lauren's to benefit the US non-profit that provides support for the MYRC in Kisumu. Organizer Keevan Labowitz is excited to be presenting photos depicting both Kisumu and Lake Nakuru National Park by GMan; drawings, water colors, and oil paintings of the people and places around Kisumu by Nikomambo, Coster, Vavick and Paul; an assortment of purses made from recycled plastic sacks, water hyacinth cards, and jewelry by Heshima Crafts; and colorful fabric pillowcases and market bags by Garden of Hope. All are locally produced in Kisumu. Titled Life in Nyanza: Youth, Society, Nature the drawings, paintings, and photos show local life, people, and the countryside around Kisumu as recorded and interpreted by its young people. If you are in Northern California, come see the show all November and December and do your holiday shopping while you're there. You can be assured your purchases will be unique, and the proceeds help support opportunities for these creative young women and men.
Meanwhile across the globe in Kisumu, local singer Elizabeth Nahna, who got her start recording at the MYRC studio, has released her new video Paro. Her talent and confidence have grown over the last few years and her voice is pure crystal. She recently was a featured performer at the November 5 Luo Festival Kisumu at the Tom Mboya Labour College. Check out her video Paro at https://www.youtube.com/watch?v=dzV1ftM0vyI&feature=youtu.be. (The preacher in the video may also be a familiar face for you.) Nahna is a prime example of a local young person who was encouraged to pursue her talent and is now establishing a successful career as a singer. Besides regularly performing in Kisumu, the third largest city in Kenya, she also has appeared several times as a featured performer in Nairobi and has even traveled to Sweden to take part in a cultural festival there.
While the MYRC fosters creative talent, it is also a key part of many local improvement programs. It regularly sponsors clean-ups near the office and the soccer pitches at Shaurimoyo Primary School, where the Manyatta United teams got their start. On November 4, MYRC youth participated in a large Kisumu Clean-up Day, sponsored by Kisumu Fashion and other local businesses. It is events like these that help build cohesion among the various ethnic groups and political parties in the local community, and the MYRC is proud to be part of the effort.
You can't think about the MYRC without talking about soccer, of course. With KYFA-sanctioned boys teams U-12, U-14, U-16, U-18, and a U-16 and Free Age team for Ladies, the MYRC provides anyone with an interest in developing their athletic skills the option to get out on the field and play competitively. Our teams are regularly at the top of their division. The Senior Men's team, comprised of young men who have come up through the MYRC soccer program, is a powerhouse in the Provincial League.
As we enter the final months of 2016, we are grateful for the opportunity to bring together so many talented, creative, and energetic young people. The adults who help, encourage and mentor them for only a tiny stipend to cover expenses are contributing so much of themselves for the good of their entire community.
It is only with your help that these many young people are able to learn new skills, express their talents, enjoy being part of a team, and grow up with a better future. Please help us continue to build on this success. THANK YOU!