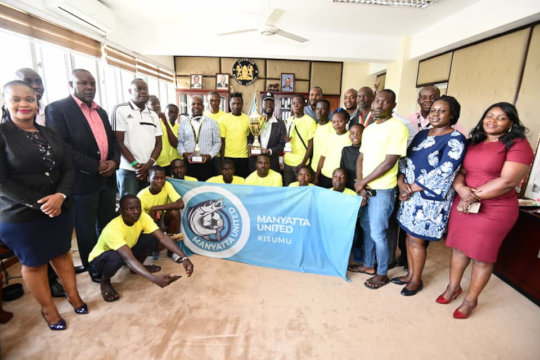 The Manyatta Youth Resource Center in Kisumu, Kenya is an ongoing project of Equip Manyatta with different programs actively growing and changing throughout the year and over the years. When the MYRC was founded, we wanted to set long-term goals that would make an impact for the youth living in the slums of Manyatta. Years of development have seen youth trained in sports and the performing arts take off on careers of their own. Our offices have moved, grown and are now situated in the heart of the Manyatta slums where they can work more directly with the community they serve. Our projects don't have an end-date, so the ongoing help from supporters on Global Giving is critical to our fundraising plan.
Our senior soccer player, Austin, is an example of how our long-term project has been important to helping youth find opportunities through talent development. Austin was our youngest player in 2009, when the first teams for Manyatta United were being formed. Starting at age 9, Austin has passed through our u-10, u-12, u-14, u-16, u-18 and our Senior Semi-Professional team. His patience and hard work paid off when he was signed by Coast Stima FC in the Kenyan National Super League. When playing for Manyatta United, Austin was often approached by other local youth teams to come and play for them, but he always turned them down because he felt that Manyatta United was his home. We know from his time at Coast Stima FC even more opportunities will come for this young star. Austin is the younger brother of Sydney who also played for Manyatta United and was signed by Kenyan Premier League team, Tusker FC.
Another former Manyatta United Player, Tobias, has also been making professional moves. He was signed onto the reigning Kenyan Premier League champion team, Gor Mahia, after having an impressive season playing for Sony Sugar FC. Tobias helped Sony reach the top five teams on the table and is now tasked with cementing Gor Mahia's midfield. Tobias is a product of Manyatta United FC and joins several other alumni who now also play in the Kenya Premier League. Sydney plays for Tusker FC, Yusef for AFC Leopards, John for Chemilil Sugar FC and Ian plays for KCB FC. If the Manyatta Youth Resource Center was not running a long- term project, these youths might not have had the nurturing and development they needed to reach their potential. They received consistent opportunities from the MYRC to keep working and training and competition that prepared them for the top levels of Kenyan professional soccer. As these players reach the highest ranks, others are also getting opportunities abroad. All of these players inspire our youngest members to follow in their footsteps or even surpass them. We hope to continue providing support to these youths and building upon what has already been done.
Our national champion team from the Chapa Dimba na Safaricom tournament received further recognition when they were invited to pay a visit to the office of the Governor of Kisumu. Our team, as well as our coaches and General Manager Oballah, met with his Excellency the Honorable Peter Anyang' Nyong'o, who is the father of actress Lupita Nyong'o. They presented their trophies to him and also explained the many challenges they face as one of the top teams in Kisumu County. As our team continues to show they are professionally competitive, the financial challenges also grow. Proper facilities, the travel budget, equipment and support also become a greater challenge as the level of competition grows. We thank Governor Nyong'o for taking the time to meet with our team and offer his congratulations.
In September, our senior men's and women's teams participated in the annual peace tournament at Jomo Kenyatta Sports Ground to mark International World Peace Day. The tournament was dedicated to world peace and the dream of a world without war and violence. Our ladies team won the tournament after several impressive victories over their opponents.
Our Performing Arts department has also led to professional growth for its members by supporting the production of music videos, performances and interviews. After beginning her training with the MYRC, today Nahna supports herself through her music and has traveled to Europe twice to participate in programs sharing culture, music and dance. Gabiro also supports himself through his music now and has recently self-released a new video titled "Kus Kus". You can watch this video by following this link. He would love your like and comment! https://www.youtube.com/watch?v=jOSl2TY2hGU.
Our Performing Arts program also continues to produce new short videos in its Anita Series and has also started a new series titled, "Njoria", which is a crime drama that chronicles the lives of young people. This story is told through their perspective on how they live the ups and downs of their daily lives. You can watch an episode of "Njoria" here". https://www.youtube.com/watch?v=k8m9JgWIuSY&feature=youtu.be&fbclid=IwAR0UpJdaPCvnBYBtnCWsLnncWnJdALX2rcYZmipKx0HllxGtdhM5RMPKyYM.
If you are interested in seeing our champion Chapa Dimba teams and their journey through the tournament click on these links. In them you can hear from our players and General Manager Oballah about the hard work it took to take the national trophy during Chapa Dimba. The Manyatta United Journey: https://www.youtube.com/watch?v=pjDz3H28RAY&feature=youtu.be&fbclid=IwAR3SN68AsH7mPgn0NBLmIUO0Xp0lzNrFP2Tx7P5eE3-BAB53F8fFZfhbshQ.
And a short documentary about the team and the Manyatta Youth Resource Center:https://www.youtube.com/watch?v=t4c8Dj2pJIA&fbclid=IwAR063ms7VziBDAkVNt5J7QadLKZEKD2m2TYC3icI-NOvz-LCb4jxes8vyew
It cannot be expressed enough how much we appreciate every bit of help we get from supporters like you through Global Giving. We also must be clear that our financial challenges continue, so we need your continued support. If you are interested in a specific program at the MYRC we are very open to ideas. We value your continued support, and we hope that with your backing the MYRC will continue to provide positive, life-changing programs for youth in Kisumu, Kenya, on the shores of Lake Victoria.