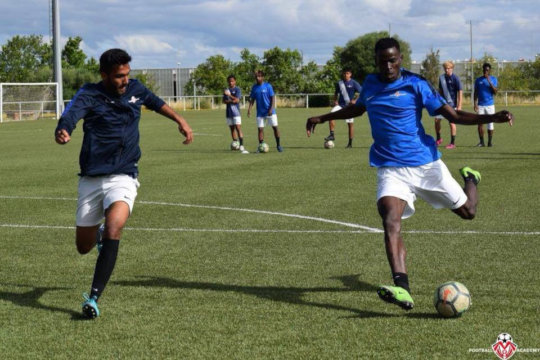 The Manyatta Youth Resource Center celebrated its ninth year as a community-based organization in Kisumu, Kenya this July! As the MYRC enters its tenth year, it is safe to say that we continue the commitment to our mission and have significantly surpassed our original program goals and expectations. Starting with a small group of u-14 soccer players and a few musicians, the MYRC, with principal funding from Equip Manyatta, today supports over 150 youth soccer players as well as actors, musicians, visual artists, activists, students, and young entrepreneurs.
Our youth participation continues to grow and recognition from the community is also increasing. We have parent and school involvement with our programs. Our performing artists are being recognized as rising stars. Our sports teams are producing many players who are now playing at professional levels. Government entities are scheduling visits when they are in the area. We host guests from around the world who come to play soccer, make music, art and theater with us. Unfortunately, our ultimate goal of being financially self-sustaining has not yet been realized and our goal of taking our own team to a professional level has been delayed by a lack of funds as well. A lot has changed over these last nine years, but our commitment to positively impacting youth in the slums of Kisumu has not. With your help, the MYRC has been able to continue providing its programs and help youth in a variety of ways.
One of the most exciting experiences for our youth is getting to interact with visitors who come to spend time with the MYRC and participate in its activities. We always welcome guests and are continually looking to host internships within our programs. We had the opportunity to welcome back visitors from Tornbjerg Gynasium in Denmark who came for a second visit. They enjoyed playing soccer and interacting with the community. We also continue to receive visitors through the YMCA in Kisumu. A new group from Norway came to our training ground and donated new soccer cleats, while another visitor from Britain donated jerseys for our under-12 team.
The MYRC received another very special visitor who is also a clear example of how our program is changing lives. An increasing number of our youth soccer players are moving on to play at the professional level and most recently a player we call Rambo, who had travelled to Spain to train with Real Betis FC as well as Seville FC, returned to inspire the young members, telling them of his experiences. Rambo was on our original u-14 team (see photos of Rambo through the years) and continued to play with us into our semi-professional adult team. When Rambo went off to college in Nairobi, he never missed a chance to come back and train with his old team when he visited Kisumu and even played in some matches during his holiday breaks. We are hoping Rambo will return to Spain to play for one of the clubs there. When Rambo returned recently to Kisumu, he spent time at our training grounds inspiring our players. He is a young man who was once facing similar circumstances as theirs, but through his own hard work and the training he received from the MYRC, he has earned an opportunity of a lifetime. Three other players who were on our original u-14 soccer team now play professional soccer in the Kenyan Premier League, for Thika United, Tusker FC and Sony Sugar FC.
It is no surprise to us that our players are starting to get such recognition, because we have seen them train and grow from a young age into adulthood. Our adult semi-professional team, which is made up of our former youth players, continues their season unbeaten, after playing 11 matches. You can read about our latest match by following this link: http://www.soka.co.ke/news/item/unbeaten-manyatta-united-keen-on-promotion. We feel confident that our players have the quality to play in the next division up, but we are not able to raise enough funds to see that season through. We believe that taking our players to the next level is an important step to getting our players more opportunities to be recognized and given a chance to play professionally. We continue to look for a sponsor that can support our senior players. Please contact us if you are interested in helping make that goal a reality.
Since we began in 2009, we have had a partnership with the local school Bishop Abiero Shaurimoyo Primary School. We have held our trainings for the u-12, u-14, u-16, and u-18 teams here since we started. We always want to recognize and thank Shaurimoyo Primary for allowing us to train and host matches. We have conducted community clean ups, tree plantings and fence building around Shaurimoyo. We recently donated soccer uniforms to their school's team and have donated balls, boots and goal nets in the past.
In our Performing Arts section, our drama team has continued with production of their mini-series titled, "Anita." So far the group, organized by their group leader Ramsey, has produced 5 episodes, and they are getting a great deal of experience with all the different facets of its production. By supporting this group of youth, the MYRC is helping them learn and improve their skills in video editing, cinematography, acting, sound editing, screen writing, organizing, directing and so much more. Through experiences at the MYRC, young people in Kisumu can hone their talent, develop their goals, and develop skills that would otherwise be out of reach for them. You can view some of the latest episodes by following this link: https://www.youtube.com/channel/UC4-cy_whYsS2_ocwGPoGL9w
The MYRC began their tenth year by taking part as a host of an annual peace tournament. Started by the MYRC in 2009 as the Pendo Moja Peace Tournament, each year we have put on a tournament that uses the venue of soccer to teach about peace and conflict resolution. This year we partnered with several organizations to make it a larger and more impactful event. This year's theme was, "Local Action Towards Peaceful Co-Existence."
Throughout the years our commitment to our programs has been steadfast, and our focus on building a more peaceful and just society has been maintained. We believe that our youth are the leaders of tomorrow, so if we can teach them lessons of peace and co-existence while also inspiring them to follow their dreams, we will have a much brighter future in Kisumu, Kenya and the world. Thank you so much for all of your support!