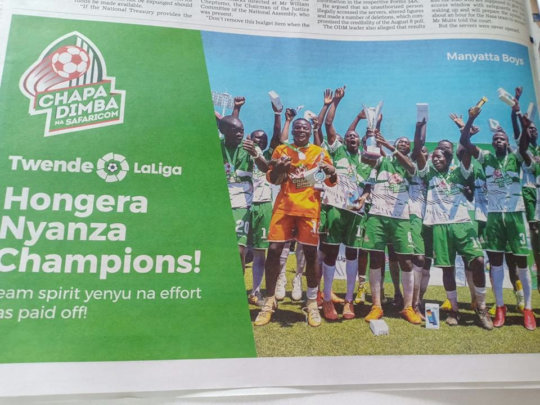 As the year presses forward, so do the youth and adult leaders at the Manyatta Youth Resource Center in Kisumu, Kenya. The MYRC is not a seasonal program-- its activities run year round. Since our founding it has been our goal to keep youth active in a safe and nurturing environment. The slums of Manyatta are a difficult place to grow up and youth need positive outlets and opportunities to build on their talents.
The MYRC gives youth a place to gain exposure to new ideas and new methods for approaching their challenges. We continue to host international interns and guests, and most recently ten people visited from Iceland while working on a documentary. Our general manager, Oballah, hosted them during their tour and also accompanied them to the town of Butere to assist them in their mission. While in Kisumu, they offered advice to our Performing Arts Group about film production and provided business ideas that might help boost our ability to fund projects and become more self-reliant.
The Performing Arts Group also recently had the opportunity to meet with the Kenya Film Classification Board Regional Manager at our resource center to discuss projects and explore new opportunities. The Regional Manager wants to work in partnership with the group to help make projects that promote Kenya and emphasize the positives that exist.
The Performing Arts Group continues to make new episodes of their miniseries, "Anita," and is currently working on the tenth episode. Though the topics of this miniseries are often not cheerful, the group hopes to show some of the difficult realities many of them face everyday. They did take the Regional Manager's advice though, and have started a project called UWEZO, which will be an informative and educational film that highlights talent in the Manyatta slum and how the community can embrace and support that talent's growth.
Our young soccer players were excited by the recent visit of Patrick O, a former Manyatta United player, currently playing for Kenyan Premier League side Sony Sugar FC. Our former players always stop by the training ground to motivate our young players and they often suit up and practice with their former team. Patrick brought a new pair of boots with him and donated them to the captain of our junior team. As our younger teams prepare to start their season in the Kisumu Youth Football League, they were inspired to train their hardest for Patrick and show off their skills. It is motivating for our youth to see success stories and Patrick feels great to be able to give back to his community.
Our Senior Team continues to demonstrate that the Manyatta United training system helps develop strong soccer players who can compete at high levels of competition. The ManU Senior Team recently won top position in their semi-professional league. Now, this team has won first place at the Safaricom Chapa Dimba tournament and our Senior Ladies team won runner-up in their competitions. This was the largest competition either team had played and well over 1,000 people attended most matches at the Moi Stadium throughout the tournament!
Our players were also recognized for their skills and feats on the playing field. In the semi-finals, Manyatta Ladies forward, Cynthia, scored a hat-trick (three goals) and was named Player of the Match. Manyatta Ladies cruised to the finals after winning their semi-finals 6-0, but were defeated by a strong side there, taking home the second place title. After the tournament's final, in which Manyatta United Men beat Nyamira Springs FC by 5-0, our striker Benson won the Golden Boot, an award for the top overall scorer of the tournament. Benchidi was given the award for Most Valuable Player, and Ibrahim O won the award for Best Goalkeeper of the tournament. Each player was given a trophy and a check for KSH 30,000. This was not only a huge motivating moment for our players, but it will also have a huge impact on their ability to support themselves and their families.
Chapa Dimba is a series of tournaments in which the top teams win a trip to Spain to play there. Having taken the Nyanza region championship, our Senior Team has the opportunity to participate in the next level of the tournament in Nairobi. This is a major challenge for our group. Even though we are highly successful on the pitch, funding transportation to Nairobi and costs, including meals and accommodation, is extremely difficult. We need your support to help take our teams to the next level!
When our youth are given the opportunity to show off their skills they are highly successful and favorably recognized. It is only the financial restrictions that hold back our achievements. You can be the person to help ensure that our Youth Teams finish their seasons this year without any hold-ups. You can be the reason our Senior Team gets to travel to the next level of the Chapa Dimba tournament and eventually win a trip to Spain. Your support can mean so much to our youth and their futures. We thank you now for the support you have given and ask that you continue to give so that our programs will continue to thrive.