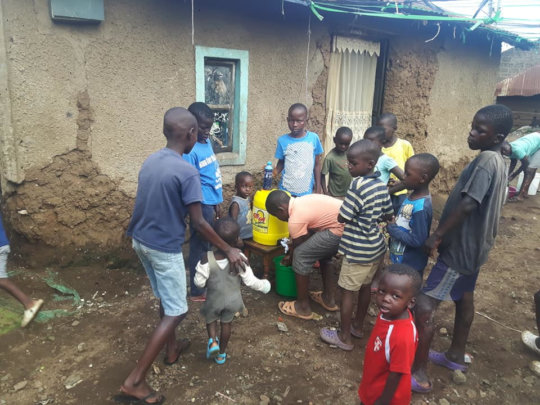 In Kisumu, Kenya everything is shut down. Much like the rest of the world, business as usual came to a halt as movement became restricted to prevent the spread of the deadly Covid-19 virus. This pandemic presents a massive danger to those living in informal settlements throughout Kenya, including Manyatta, Kisumu. Social distancing is a major challenge as houses are built closely together and whole families pack into one-room homes. Unsanitary conditions surround those living here and outbreaks of illness were already commonplace before Covid-19 came into the picture.
With testing unavailable, it is difficult to know the total number of people infected and it will be difficult to create a management plan if large numbers of people in the slums do get sick. In addition to the dangers of the Covid-19 virus, people in the slums also have to face the issue of how they will earn an income, feed their family, and keep a roof over their families' heads. For families that live hand-to-mouth or rely on an income of $1-2 per day from sales in the marketplace, the future is uncertain but undoubtedly frightening.
As a trusted community organization, the Manyatta Youth Resource Center (MYRC) has an important role in providing factual information to its members and the surrounding community. Educational activities that focus on sanitation and health are of the utmost importance during this time. From young to old, community members benefit from understanding how they can stop the spread of disease. Our General Manager Oballah has organized a hand-washing station and program within Manyatta. Along with other MYRC leaders, he is talking with children and their families about why washing their hands is important and how to properly wash one's hands. Oballah continues to make soap and water available for community members, including at the small eatery near the MYRC office. The MYRC leaders and members will continue to find ways to make an impact during this crisis and continue to find ways to operate safely.
Before the quarantine, the MYRC was moving along as usual. We were preparing for our upcoming leagues in KYFA as well as the semi-professional district league. We organized a back-to-school tournament hosting several under-12 and under-10 teams as students prepared for schools opening. Many students attend boarding schools and travel long distances away from home. Tournaments like these not only help increase the players' skills, but they help ease some of the anxiety many students feel about leaving home again.
We also participated in a tournament and educational forum to mark International Women's Day. Our ladies team competed in several matches and also participated in a lecture promoting equal rights and women's rights.
The MYRC had started to offer free photography lessons to youth within Manyatta. Under the guidance of experienced members, youth were given MYRC cameras to take around Manyatta and capture their experiences. Our photography project also includes film. Our members continue to produce episodes of their YouTube miniseries, "Anita." Ramsey, Anita's creator and the MYRC film director, also took two trips, one to Rwanda and another to Uganda, to participate in a film conference and a film festival. He met people from around the globe who shared his interests and they collaborated together to build each other's expertise.
Many guests also visited us as well. Students interning with the YWCA hosted small projects and helped out at the MYRC center. Mr. Phil Hindson brought several sets of jerseys to our organization and donated them to our ladies team. Several former Manyatta United players who have moved on to professional soccer careers also visited us. When our youth meet success stories such as Sydney, Benson and Marvin they stay motivated to continue working hard.
One success story from Manyatta is Akinyi. Akinyi started with the MYRC as a soccer player and played with us for several years. She had a competitive spirit and a perseverant attitude. As Akinyi played for MYRC, she eventually became involved in the sport of boxing. She was recognized as a determined and talented athlete. Today she represents the country of Kenya as a boxer. She recently flew to Senegal to compete in the Olympic qualifiers there. We are proud to say she and her team qualified for the second round of qualifiers. Akinyi still communicates with our manager Oballah and comes into the center when she is around. She recognizes that the MYRC gave her a safe and stable place where she could exercise, compete, and build herself as an athlete. We are proud of all that Akinyi has accomplished so far and look forward to following her career.
For now, the Manyatta Youth Resource Center has ceased all normal activities. The MYRC typically organizes events and programs that involve sometimes hundreds of people. Our drama, film, dance and soccer teams are all on indefinite break. Our recording studio's doors are closed. This crisis presents the MYRC with an uncertain future. Our organization relies on income generated from events and victories in competition. All income generation has halted. As a community based organization, the MYRC recognizes our obligation to help within Manyatta. Members and leaders continue to ask the question, "What can I do to help my community?" Our group must still be present and create innovative ways to make an impact.
Though our projects are at a standstill for now, the impact that our programs have had are felt today and will be felt into the future. Players with professional soccer careers trace their start to the MYRC. Akinyi, a professional boxer, built her aptitude for success with the MYRC. Ramsey was given the opportunity to travel to Uganda and participate in a film forum because of what he created with the MYRC. As we take a break from normal activities it doesn't stop us from looking to the future. Our programs must go on to provide a focus for hope.
We really need your support and donations to keep our organization alive. We will be relying on donations now more then ever. Please help with whatever you are able and please spread the word to family and friends. From the Manyatta Youth Resource Center and Equip Manyatta, thank you and Stay Safe and Well!