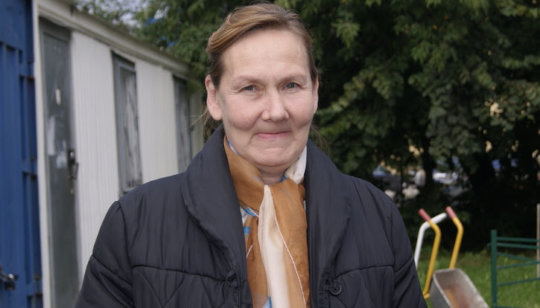 Dear Friends,
I would like to start this report by highlighting the statistics for the past few months. With the help of our donors, volunteers, and social workers, we have been able to provide
- 3,271 meals in August
- 12 employment oportunities
- 549 counselling sessions and 34 legal advices
- laundry services to 782 people with the help of a partner-organization
- accomodation for 55 people in our rehabilitation center in September
The highlight of our September newsletter was a story about Maria. She came to Nochlezhka in November 2016 when she ended up on the street after her husband's passing. They lived together for a couple of years, but when he died, his relatives asked Maria to vacate the apartment. Maria, 57, used to have her own flat in St. Petersburg, but when her daughter got married, she did not want to feel like an inconvenience to them, so she left, leaving the place for the newlyweds. Not wanting to feel like a burden to her own family, she spent two months on the streets before coming for help to Nochlezhka. We had a vacant spot in our shelter and happily offered her accommodation. With the help of our social workers Maria got back on her feet. She was able to get a Russian passport (she only had a soviet one before), start receiving pension, get her employment record straight and look for a new job. During the time spent at Nochlezhka, Maria worked as a cleaner and moved into a newly rented apartment just a few days ago. She hopes to find a job as a cleaner at a museum or a receptionist.
Another great achievement that we are proud of is the new heating tent that started its work on October 1st, offering a warm and safe place to stay overnight for up to 15 people (see photo). The tent will be in function until March 31st.
With the help of another kind soul we got a step closer to buying a new bus for our Night Bus project that goes out at night to feed homeless people. Pavel generously donated 175,000 roubles towards purchasing a new vehicle for Nochlezhka. Here is his story: "My story is pretty simple. Last May I had an accident when paragliding in Dagestan and broke my spine. I needed money to pay an operation, so my friends collected 116,000 roubles as part of what was needed. I did not know how much I had received from who and I didn't seek to find out too much, it was a friend of mine who raised the money. Then I thought I wanted to somehow pay the world back for this act of kindness, so I sent you 150,000 roubles and put 25,000 more into one of your collection boxes. So, in the end, I added 50% of kindness to the original 116,000 roubles."
Isn't it wonderful to see such gestures of kindness? Thank you for being with us.