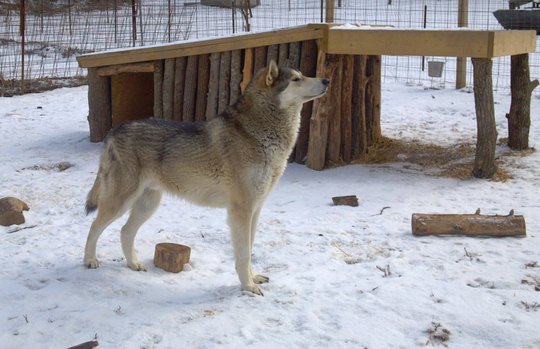 Wow, we are glad that February is over, as we got our whole winter in one month. Below zero temperatures. Snow. Ice storms. High winds. We had it all. It became apparent that we really need a tractor to maintain the driveway, so that will be our next project!

The animals are well prepared for the cold temperatures and all snuggled in their straw lined shelters. They love to play in the snow. After the melt came the mud, but they seem to not mind as much as the two footers do.

We have changed foods around a little and added more animals to Taste of The Wild Premium dog food. As our animals age, their nutritional requirements change, and we must adapt accordingly. Also, prices have increased greatly with Diamond Naturals now $28.00 per bag, Chicken Soup changed to a 30 pound bag, leaving us with a loss of 5 pounds per bag. When we are able, we supply marrow bones for vitamins and enrichment, and your donations make that possible.

More than half of our residents are over the age of 10, with several turning 14 or 15 this year. We are thankful to YOU, our supporters for this monumental feat. It is through your support, we can provide nutritious food and supplements to our animals, which is the reason behind their longevity.

Thank you all for your continued support, and we are sending Joyous Howls to you and yours!

Arrrrooooooooo!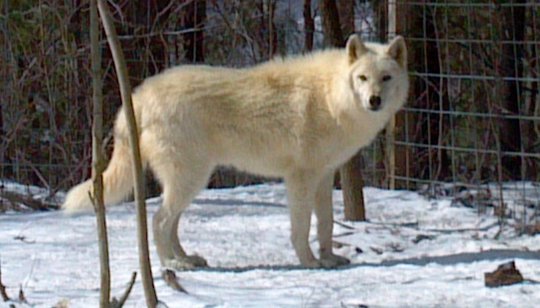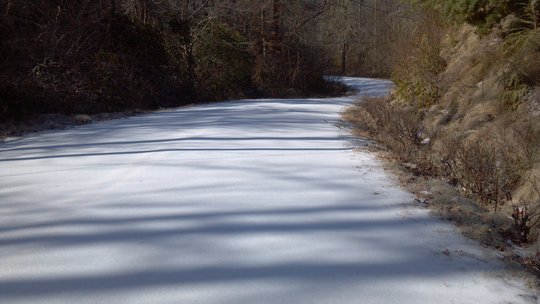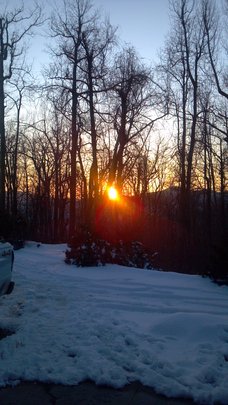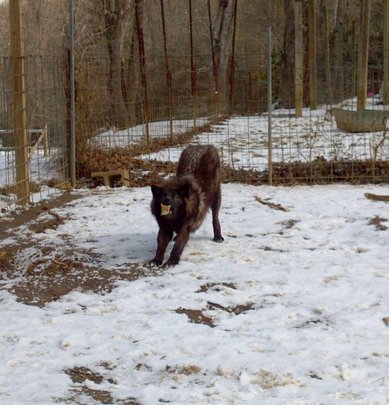 Links: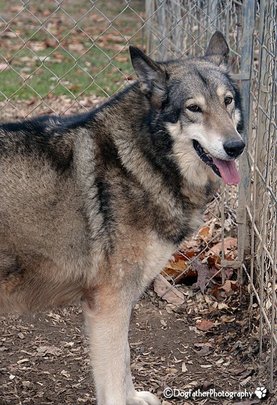 Arrrroooooo! Greetings in the song of our people! Arrrroooooooo! We Howled for Food, and you have answered!

It is the Howliday Season here at Full Moon Farm Wolfdog Rescue and Sanctuary, and we want to share with you some highlights of 2014.

We said hello and goodbye to quite a few seniors this year. Since our start in 2002, the cycle of life and death plays out. We rejoice in all of life and our memories give us strength to continue our mission of saving and sheltering 'abused and refused' wolfdogs.

Recap:

Three puppies were rescued from a hoarding situation in TN. Uno, Dos and Tres were given love, good food and restored to health, socialized by volunteers and placed into other facilities to be ambassadors for their breed.

Two seniors, Cyrus and Ursa are thriving after their rescue when their owner became ill. Cyrus likes to sing, and starts a good deal of the community howls here. He is a resource guarder, so we have to be diligent with Ursa, food and water buckets.

Bob, a husky mutt from a hoarding situation in KY has filled out, but is still socially awkward with people and is a work in progress. A striking boy with one blue eye and one green eye, he gives mixed signals in his interactions.

Mika, a 6 month old pup found her forever home at Full Moon Farm in October, after being shuffled around four times in her short life. She has been paired with River The Ambassadog to learn trust and human interactions.

Niki, Joe and Tiny came in from a facility in IL where the owner passed away. Niki and Joe are loving and social. Although never trained to leash or given manners, they are responsive to all the volunteers and eager to give kisses! Tiny, well, as we say around here, 'Bless Her Heart'. She is small and from what I was told, she didn't look wolfy, so she was kept alone and not given much interaction with humans. She is unsocial and desires no people contact. Once she is spayed, she will be paired up with a 'hands off' male and allowed to be what she is in a large enclosure in the woods.

Our Season Greetings to all of you, our supporters for allowing us to do our work for them. May 2015 bring Joy to all of us and all of you. Arrrooooooo!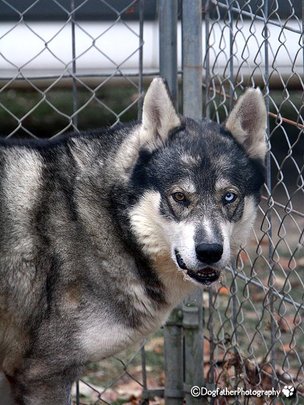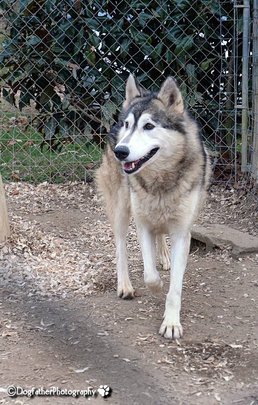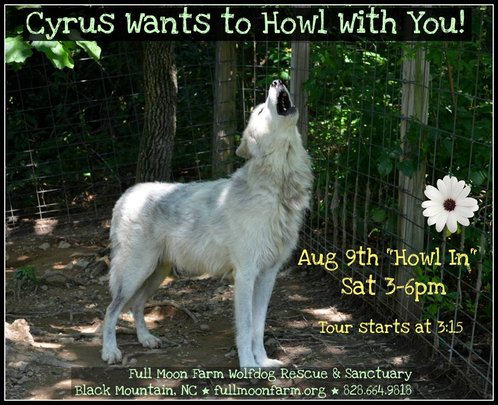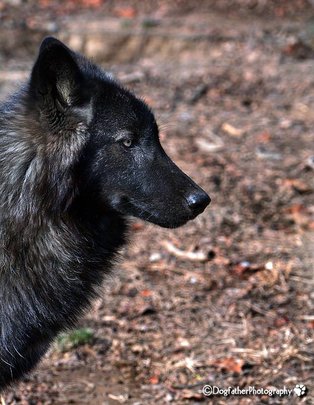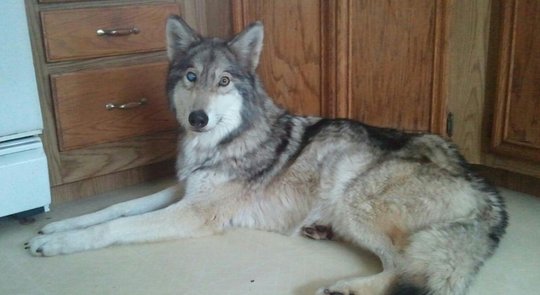 Summer is winding down and winter coats are coming in. All the woofers here at the Farm have been well fed by your generous support. And for that we are gratefully sending you a Howl, or the song of our people! Arrrooooo!

The average age of our residents is 11 years old, but feeding a high quality kibble, we expect most of them to see 14 or 15 years of age.

Early spring brought us Mystic, now known as Honey. She is blind in one eye from having been hit with a stick and was severly malnourished. Estimated to be 5 years old, she is very fearful of men. With good food and lots of love, she is a beautiful girl and grateful for your support.

We started the summer with two new rescues, both aged 13. Their owner was injured and unable to return home to care for them, so Cyrus and Ursa came to live at Full Moon Farm. They are a quirky pair, preferring men to women! Cyrus has a wonderful howl, and he does Howl for Food! Every day. :-) The minute he hears the doors to the feed shed, he starts howling the most beautiful, baritone howl.

In August, we brought in three puppies from a sad situation, and we are working on getting them healthy again. Uno, Dos and Tres are settling in and warming up to a few people. These animals had never been outside in their 4 months of life!

As we head into fall, we are keenly aware that the weather is changing, and we will need to keep 500 pounds of dog kibble in reserves, at all times, so when the snow flies, we are able to feed our 60 residents.

Blessings to all for your continued support and faith in us as caretakers of the refused and abused wolfdogs.

Hugz and Howlz from all of us at Full Moon Farm!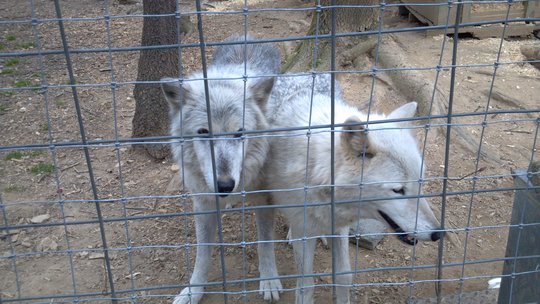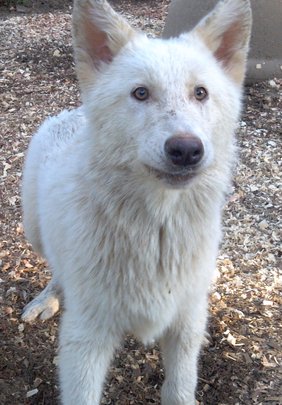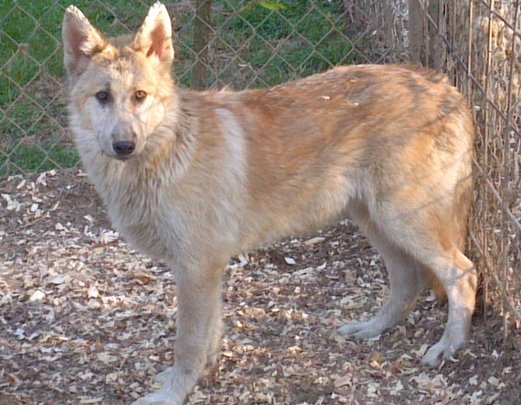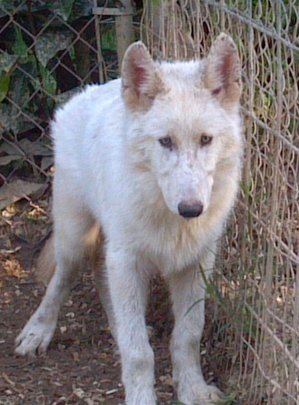 Links:
WARNING: Javascript is currently disabled or is not available in your browser. GlobalGiving makes extensive use of Javascript and will not function properly with Javascript disabled.
Please enable Javascript
and refresh this page.