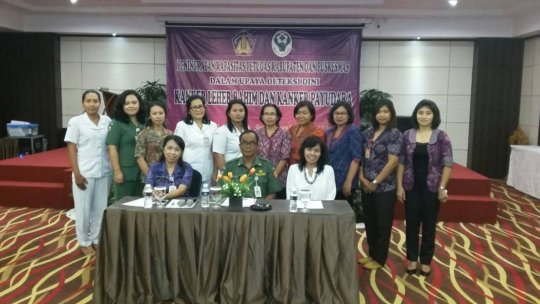 IVA and Cryotherapy Training
This year, Yayasan Rama Sesana (YRS) have started socialization of our new See & Treat program for cervical cancer screening, which has proved successful in contributing to cervical cancer prevention in Indonesia and many low-resource regions around the world. This program uses the acetic acid to see changes on the cervix. If the result is positive, the patient is directly treated with Cryotherapy. To increase the capacity of staff and serve the client with professional and competent, YRS are invited to follow the training of VIA and Cryotherapy by the Bali Health Department at the end of August. Through this training, YRS can carry out See & Treat program on both current clinics and also on the mobile clinic services.
YRS Clinic at Pasar Tiara Grosir
2016 was a miserable year for YRS and a year to YRS to start from the beginning point as the same as when YRS first began 12 years ago. How does this happen, because all that has been built up over 12 years was lost in a fire disaster at Pasar Badung on February.
YRS are still trying to revive the awareness of reproductive health the communities at Pasar Tiara Grosir after the fire. The last few months YRS build a temporary Based Clinic at Pasar Tiara Grosir in Denpasar (where the vendors at Pasar Badung had been relocated). YRS trying to more stable provide a medical services at Pasar Tiara Grosir.
At the beginning after a temporary Based Clinic at Pasar Tiara Grosir finished, we just provide general health services and outreach to the vendors. This is because the services at Pasar Tiara Grosir still in the stage adaptation with the old clients of YRS. But now, YRS Clinic at Tiara Grosir provides as the same as Pasar Badung services such as reproductive health examination of STI lab, VIA test, Pap test, HIV test, and breast cancer screening. YRS clinic is open every Monday to Friday from 9am-5pm on the 2nd floor of Pasar Tiara Grosir.
During the Tiara Grosir clinic was began the operational as much as 298 clients visit the clinic for check their health. We are proud of these achievements and we are very grateful to our clients who are very loyal with YRS.
In addition to medical services, to increase visits to the clinic YRS staff also provide education with spirit and motivate vendors to remain conscious towards reproductive health. We are determined to continue helping the low-income women of Bali's traditional market communities.