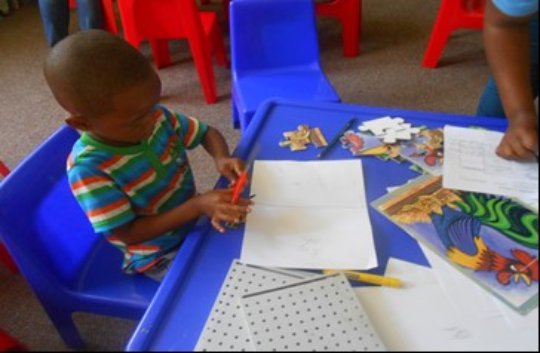 Afrika Tikkun invests in the Early Childhood Development of young children as we believe it is a crucial time when ideally children are nurtured physically, emotionally, cognitively and socially. The protection and development of children at an early stage, not only safe guards their own well-being but is also the best guarantee of future peace, security and prosperity for the community at large.
For the last 22 years, Afrika Tikkun has worked to redress the consequences of institutionalized oppression in South Africa. Afrika Tikkun serves the most disadvantaged communities of South African townships where the children are deprived of basic resources.Regardless of all the challenges in the communities we serve, Afrika Tikkun has made a significant impact in the lives of our beneficiaries.
One of our proud beneficiary is young Sibusiso who joined our center at the beginning of March 2016 and it was his first time attending early childhood development program. When he joined, he could not hold a scissor properly or follow instructions from his teacher because he was not English literate. But through our programs and activities he was able to learn, develop social skills and has started interacting with other children. Sibusiso has made impressive progress towards becoming school ready.
Afrika Tikkun's unique Cradle-to-Career development model enables its 550+ employees to deliver services addressing holistic educational, medical and economic needs of marginalized youth from early infancy through adulthood, inspiring and enabling them to become productive citizens and leaders.Because of our early intervention, we are able to achieve our goal of creating the next generation of productive citizens. Afrika Tikkun's Early Childhood Development centers are state-of-the-art facilities with a curriculum that produces quality school ready children.
The objectives for our Early Childhood Development are:
To provide children an opportunity to develop in the areas of numeracy and literacy, through play and creative activities
To improve the health and wellbeing of children, through access to adequate nutrition and health services
To ensure children are given age-appropriate computer skills development
We appreciate the contribution of donors like you who enable us to provide quality early childhood education to the most impoverished young population of South Africa. We hope you will continue your support so that together, we can empower the youth of South Africa in becoming productive leaders of tomorrow.
On behalf of our 20,000+beneficiaires, we thank you for your generous contribution!