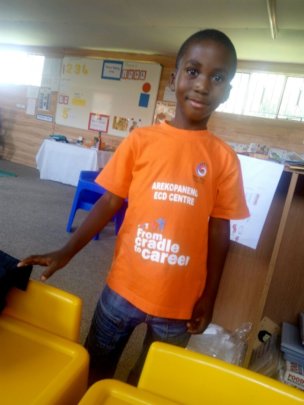 Over 58% of South African children from birth to 6 years old come from families that cannot afford quality Early Childhood Education. This means many young children will start primary schooling without critical foundations linked to their social, emotional, physical and cognitive development. Without a good foundation children are more likely to struggle with schooling because they are not able to cope with the pressure associated with learning. Moreover, this results in high numbers of school dropouts in the long run, which in turn leads to a high rate of unemployment, crime, prostitution and substance abuse in adulthood.
Early Childhood Development is the first and most critical stage in our Cradle to Career 360 model. During this stage a solid educational foundation is laid in the lives of young children.
One Sphamandla is 6 years old who lost his mother at the age of 3. He was left in the care of his grandmother Norma. Norma is Sphamandla's legal guardian and takes care of all his needs along with 12 other family members who are mostly orphans. The family survives on social grant money. Norma depends on her daughter Nomvula for help with taking care of the family. Nomvula is a cancer survivor and the breadwinner in her own household of 4 children but helps her mother whenever she can. Due to the family's background, Norma could not afford to put Sphamandla in any day care services.
When the family was introduced to Afrika Tikkun and its services the family was excited because it meant that Sphamandla could attend an Early Childhood Development Program for free of charge. He joined our Arekopaneng Center when he was only 4 Years old. Additionally, his family began receiving assistance by way of food parcels and household donations.
At first, Sphamandla was anti-social and he found it hard to talk to people and make any friends. The program helped him develop social, motor and cognitive skills which resulted in him making new friends and doing well academically once he started school. Even though he has had a rough start to life, Sphamandla is now a happy little boy and dreams about travelling the world. His family is grateful for the assistance and the fact that Sphamandla's is showing improvement in every aspect of his life.
We would like to express our deepest gratitude to you for supporting our mission and for investing in our kids. With your ongoing support, we will help1,040 children in 2018, who are enrolled across all our 5 centers situated in the most impovershed communities of South Africa.
Thank you!