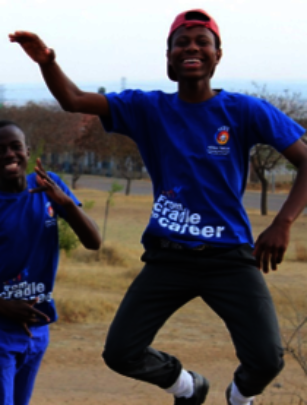 Prime comes from a place where drugs and violence are a norm for young men his age. From an early age, Prime observed his close male relatives abuse women. Not understanding this behavior, Prime lost trust in men, became reserved and lost a lot of confidence.
"I did not know what to do and felt helpless. I remember every time I wanted to protect these women I was called names and told I was letting women control me" said Prime.
When Prime was 14, he enrolled in Afrika Tikkun's Child and Youth Development Program and found so many young people who shared his ambitions and dreams of bringing a change in his community. Soon after being part of the program, the previously shy boy started making friends and interacting more with his peers. The turning point in young Prime's life was when he attended a camp organized by Afrika Tikkun for young men and women to address social challenges in their communities. At this camp, Prime learned that being a man means to protect those around you, that no matter what another person does to you, it is no reason to be violent towards them.
Prime currently attends the Physics and Math's Saturday classes at our center which has drastically improved his academic outcomes. He has also learned to turn negative energy into positive by channeling it towards things he loves such as cycling and dancing. Prime dreams of traveling the world and is working hard towards becoming an Astronomer.
With the help of donors like you, Afrika Tikkun is preparing young people with education and life skills they need to reach their full potential and effectively break the cycle of poverty. The Child and Youth Development program has been structured to empower young people to form agency and address the social challenges they face in their communities. Following are the five pillars of the program:
Empowerment - Designed to facilitate children, youth and their families to work together as agents for change within their homes and communities.
Innovation - Designed to provide tools that inspire innovation and creativity among children, while introducing critical thinking skills.
Care For Yourself - Incorporates active interventions that promote individual wellbeing through sports, creating awareness around basic nutrition, physical education, and individual value.
Grow Your Future - Creates opportunities for exposure to the world of business, and equips youth with the basic skills for socio-economic integration.
Inspired Learning - Provides tools, resources and innovative approaches to education.
On behalf of our Afrika Tikkun family, I would like to thank you for believing in our mission and for investing in our young people. With your ongoing support, Afrika Tikkun will be able to provide resources and services to more young people like Prime, enabling them to follow their dreams and become productive South African citizens.
Thank you once again for your generous contribution!
Warmly,
Mehdeen Sehgal