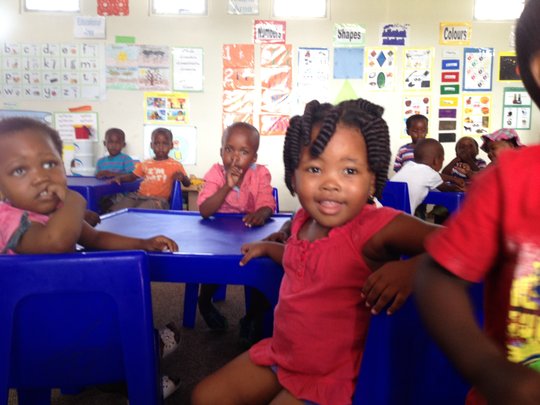 The following is a postcard from Chi Nguyen, GlobalGiving's In-the-Field Representative in South Africa, about her recent visit to Afrika Tikkun.
Today, I was able to visit Afrika Tikkun's two project sites in Cape Town, located in the townships of Mfuleni and Delft. Sweet Laura Markovitz, Afrika Tikkun's Development Executive, showed me around the stunning schools they have been able to build and we were able to see the beautiful, shining faces of what had to be over 100 children. These children's faces and bodies were not gaunt, but full, bright, and smiling because they are provided 4 meal times a day thanks to Afrika Tikkun and their generous donors. For many, this is all the food they receive in a day. Because their bellies are full, they are able to focus and learn in class.
But Afrika Tikkun's commitment doesn't stop there. They have adopted a holistic approach to helping the communities that they serve. They do home visits and family support services, so that the children's minds can focus in class rather than on the problems going on at home. Afrika Tikkun as a whole has a huge heart - there is little they wouldn't do for these children.
In addition to primary care and education, they also run a Youth Development Program, where 350-400 youth from the surrounding community can come for a place to play sports, theater, or do arts & crafts. They also provide a full, hot meal to each and every one of these children; similar to the younger ones, this may be the only place these youth receive a meal every day as well.
Afrika Tikkun also does an amazing job of bringing the rest of the community in - 80-90% of their employees are members from the community, and all members of the community are welcome to come to the center at any time for free access to the computer and WiFi. In addition, they hold computer literacy classes and workshops on how to acquire jobs. They store CVs so that they can send them out for any member who would like to apply to a job. Their vegetable and fruit gardens that provide the necessary ingredients for the children are farmed and run by community members.
We concluded my visit with two home visits, where we were able to meet with a few of the beneficiaries of Afrika Tikkun's efforts. A few of these community members, HIV & TB positive, receive full body washes, food parcels to take with their medicine, and a bit of help around the house, among other things. One beneficiary commented, with a smile, that her personal Afrika Tikkun healthcare worker would often come even on the weekends to check on her. Afrika Tikkun really does care.