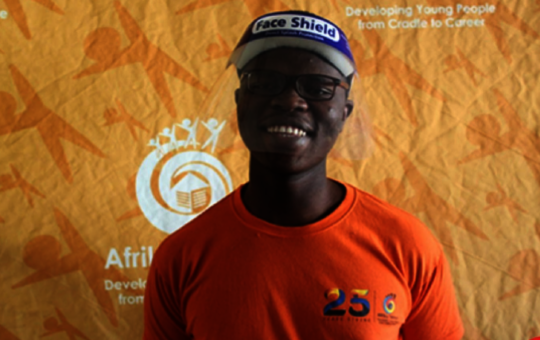 Having access to technology means our students can access education and resources they need to become competetive in the job market.
Tumisang is a 17-year-old grade 11 Maths and Sciences studetnt at Mphethi Mahlatsi Secondary School. As part of Afrika Tikkun's career development focus in October, Tumisang engaged the Gradesmatch website, which aligns learners with their ideal careers based on their academic performance. Gradesmatch also assists learners in choosing higher education institutions.
Tumisang would love to study Actuarial Science or Law at the University of Witwatersrand or the University of Cape Town. He's drawn to Actuarial Science is because he strongly believes black representation in the industry is still very low, something he sees this as an opportunity. On the other hand, Tumisang's interest in law stems from his consistently good performance in history. He also loves critical thinking, public speaking and debating.
At Afrika Tikkun's Arekopaneng Centre in Alexandra, Tumisang's participation in activities like Spelling Bee, and Quiz and Debate and has helped build his confidence, developed his critical thinking skills, sharpened his public speaking and oral presentation skills and forced him to be more solution-oriented.
While he was grateful for the insight presented by Gradesmatch, Tumisang was disappointed when Afrika Tikkun couldn't host the annual Career Day because of the national lockdown. "I believe learners should be motivated about subject choices in grade 9 and more of them should pursue maths and science because it helps in problem solving,'' Tumisang stated.
Thank you for your investment in the future of our young people! Your donation is helping many young people like Tumisang to access online learning and quality education.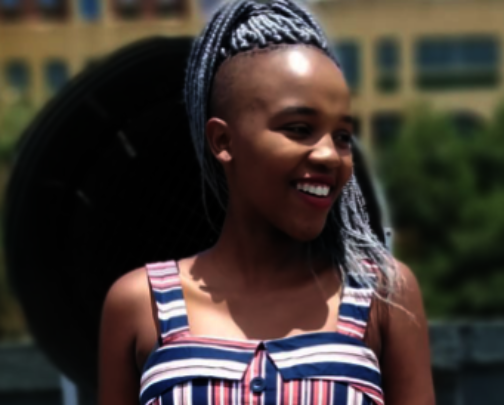 Growing up in a less privileged community is an obstacle to humanity. A community where one has their own differences that one is forced to make them their greatest strengths. I fell pregnant at the age of 18 years just after I matriculated. I won't lie i was afraid… But abortion was the last thing on my mind even when I knew the consequences of keeping the baby. Life threw lemons at me nonetheless, I survived. I've always known what's best for me and the key was to never stop looking for more inspiring ways to help me become a brand that I am today. That's how Afrika Tikkun came into the picture.
I joined Afrika Tikkun in the year 2019 just when my son was 2months old. I joined as part of the Career Development Program and later on graduated and formed part of the alumni where we are geared into the world of work. This program assisted me with the skills that made me more employable. After graduating, I was placed in a retail company called Retail Training Dynamics. That's where I met an amazing lady named Lizanne. She played a vital role in my life. Since it was a Learnership, i did my practicals at a Builder's warehouse store working as a merchandiser under Kmarkt Retail Services. And then again I met Tumelo, Kamohelo and Gina. These people made life worthy. They gave a great sense of belief that whatever I put my mind into is possible. As Gina would say, "Do not overthink it, breathe" . In the period of five months they gave me an opportunity to hold in for Gina while she was on maternity leave till her return. I worked as an administrator under the YES campaign. It's been an absolutely amazing journey ever. I learnt so much but I believe there's room for more improvement.
I've encountered some problem in the YES program. For instance, people I worked with in the store had their own opinions like I slept my way to the top. As much as it hurt, I turned a blind eye and let them be with their opinions. Others would go as far as speculate that I'm less fit for the position I was given. We live in a world where our level of intelligence is measured by how we speak English.
Overall I can say that if it wasn't for Afrika Tikkun I'd probably be telling a different tale. I'd like to thank all the people that were in my corner always. People that taught me the value of life. My goals right now would be to study further and secure a permanent job.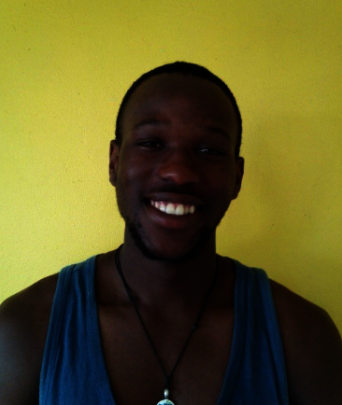 It is becoming increasingly important to provide disadvantaged youth of South Africa with access to latest technology. With the help of donors like you, Afrika Tikkun is able to empower young South Africans with the education and skills they need to reach their full potential and become competetive in global market. By supporting our project you are helping Afrika Tikkun provide young people in the most disadvantaged communities of South Africa with access to digital learning with the help of tablets.
Take for example the story of Jerome. Jerome is 20 years old and lives in Alexandra. He is currently enrolled in the Youth Skills Development and Placement (YSDP) program at one of our center. When he was growing up he remembers a crèche near his house which used to provide free food for the community. They would ring a bell to invite people from the community to come and share food. From this experience, Jerome realized that he wanted to be both a social worker and business owner in the future. He says that "you don't need to go to school to know how to love people." He knows that helping people is something that's in his heart. After finishing high school Jerome wished to learn new skills and enrolled at Afrika Tikkun to gain more knowledge. "I felt ignorant before, but since I came here I have learnt so much," he said. The YSDP course has taught him a range of new skills, including basic computer skills. Lynda.com became increasingly helpful during the course because he watched the tutorials about Microsoft Word, PowerPoint and Excel to improve what he had already learnt. The tutorials repeated the knowledge that he had already learnt, but also added new skills and information. Jerome is also interested in filmography and Lynda.com gave him the opportunity to expand his knowledge of film, TV, photography.
Thank you for investing in the future of young people like Jerome!
WARNING: Javascript is currently disabled or is not available in your browser. GlobalGiving makes extensive use of Javascript and will not function properly with Javascript disabled.
Please enable Javascript
and refresh this page.