In May I traveled to Nicaragua with the president of Self-Help's board. We spent special time at the children's feeding centers where we provide nutritious porridge with vitamins to alleviate malnutrition. During one of the visits the president noticed one little girl who stood out from the rest. She sat in a corner showing all the physical signs of malnourishment. As we went to leave the president brought this to my attention, wondering why our program wasn't having a favorable impact on her. We went back inside and spoke with the educators about the child. We learned that she was not one of the children participating in the feeding program, but rather a child from a remote mountain village. She had come with her mother who had business to attend to in Los Chiles. Her mother stopped at the center, asking the staff to watch over her daughter while she did so. As we left Los Chiles, we couldn't help but remember how virtually all of the children were once malnourished like this little girl, and thankful that Self-Help is making a difference. We were pleased to see healthier children at the feeding center, yet reminded that our work continues. Thank you for being a part of our efforts to alleviate malnutrition among youngsters in Nicaragua. Note: The photo shown is of the center, however, because the little girl is not one of our participants it was not appropriate to take a photo of her.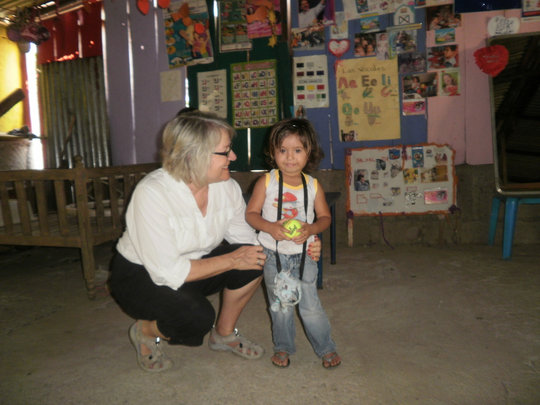 During my recent visit to Nicaragua I visited the children's feeding centers to see firsthand nutritional improvements among the children. Several U.S. sixth graders decorated recycled tennis balls that we distributed to the children. I was pleased to observe that the children were more alert, had more energy and had greatly improved hand-eye coordination. It was wonderful seeing how thrilled the kids were these presents.

However, one little girl, Celine, quickly went about gathering balls, and hoarding them in her little arms. She was very reserved, shy, and compelled to keep all of them. I quickly learned that Celine had come to the center through her aunt who was now taking care of her. Unfortunately, her mother had given up her four children because she was unable to take care of them.

At 3 and one-half years, Celine arrived at the feeding center only able to speak two words. She had never known such a thing as three meals a day, but rather if there was any food to be eaten. Now, at four years she is becoming more assured that she will get at least one good meal each day. The staff continues to work closely with her to increase her vocabulary, and to establish trust so that Celine can develop into the beautiful child that is within. I am confident that during my fall trip Celine will have developed by leaps and bounds, physically, mentally, and socially.
Because of your gifts, Celine has a new beginning, as do hundreds of other children. Thank you for being a part our of Self-Help's efforts to alleviate malnutrition among youngsters.
Erica gives hope to Jessica
Akua Erica, 37 and a mother of three, became a beneficiary of Self-Help's Ghana Micro Credit program in 2009. She was a hairdresser and had witnessed improvement the program had made in the lives of her community members.
One late afternoon in 2009 she pleaded with the leader of Adom group who allowed her into their group. Erica used her loan to purchase wig/weave-on, which attracted more customers to her salon. Her savings went up in a matter of months and living conditions of her family also improved. She has taken 3 loans so far. Today Erica and her family no longer live in a single room. They live in a chamber and a hall (2-room apartment). She purchased a good used double door refrigerator which she plans to use to sell 'ice-water'. In recounting benefits derived from becoming a member of the program this is what she had to say;
"....my greatest joy from joining the program is my ability to provide health care and support for Jessica.." Jessica is Erica's second child, 4 years old and suffers from Autism. Erica and her baby move from one health center to another in search of a cure. "...at first Jessica could not do a thing on her own, but now she is able to feed herself...I am confident she will continue to improve...."
WARNING: Javascript is currently disabled or is not available in your browser. GlobalGiving makes extensive use of Javascript and will not function properly with Javascript disabled.
Please enable Javascript
and refresh this page.