Seylin Blooms
Six month old Seylin Torrez Pineda was wilting just like a flower that droops without sunshine and water. After being abandoned by her mother and put up for adoption by her father, Seylin was listless, malnourished and sad when Martha Gladis Pineda adopted her in 2007.
Her new mother immediately began bringing Seylin to the CICO No. 2 feeding center in El Sector, Los Chiles where Seylin was able to begin a regime of essential vitamins added to maize (QPM) porridge. Within months Seylin was no longer wilting. According to Alexandra Montiel, feeding center worker, Seylin was beginning to bloom and grow into a beautiful, healthy and properly nourished 2 year old little girl.
"Seylin came to the center a sad little girl with no energy to play or socialize. We wondered if she even knew the language as she was not speaking like other children her age," says Montiel. After a few months of eating and drinking our cereals and cornbread containing protein enriched QPM corn, Seylin had gained 5 pounds and had moved into a healthy weight range according to the nutritional growth chart.
By the time Seylin was 4 years old she was playing with the other children and speaking like a normal child her age. According to Seylin's adopted mother, Seylin is now able to do so much more and is so much happier. "I am so thankful that Self Help International is helping Nicaraguan children get the nutrition they need for healthy development."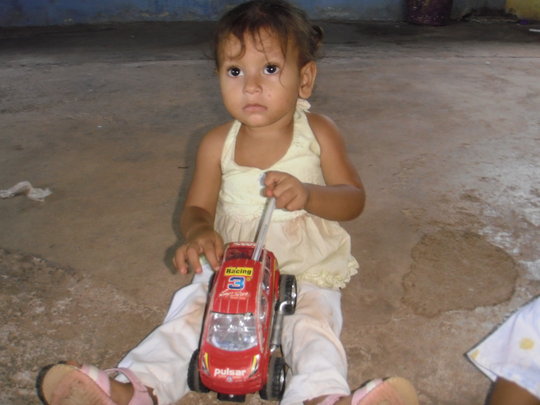 Nataly Gains Weight and Energy
Nataly's mother brought Nataly to the Cico Bodegon (daycare and feeding center) in Las Azucenas, Nicaragua in May of 2010. She was worried about the toll that constant hunger was having on her daughters, especially her 4 month old, Nataly. Nataly de los Angeles Castellon Garcia was extremely underweight, malnourished and lethargic.
When measured based on 100 point malnutrition and growth assessment scale, Nataly was a 10. Her physical and mental condition was extremely serious. Daycare and Self-Help staff immediately recognized the urgency of Nataly's situation and began feeding her QPM porridge in small amounts at intervals throughout the morning. Nataly's mother was informed of the grave situation and was encouraged to bring Nataly to the feeding center as often as possible.
Nataly's mother complied and brought Nataly and her sister to the center five days each week. In the following seven months Nataly gained almost 8 pounds. By the time she was 15 months old, Nataly was a healthy, 22 pound baby and closer to the normal range with a score of 30! While she still has a ways to go, Self Help is thrilled with her progress. Nataly's 4 year old sister has also gained weight and, according to their mother, both girls are becoming more active and energetic.
"Nataly is gaining weight and has a lot more energy," says her mother. The daycare center's staff says it is gratifying to see healthier minds and bodies that are curious and energetic.
"This highly digestible protein supplement literally saves lives. Furthermore, measurable improvements in nutrition and childhood development occur, thanks to supporters of the Self-Help International's feeding program for young children", says Merry Fredrick, Self Help International Executive Director. "Kudos to our donors who care about those less fortunate."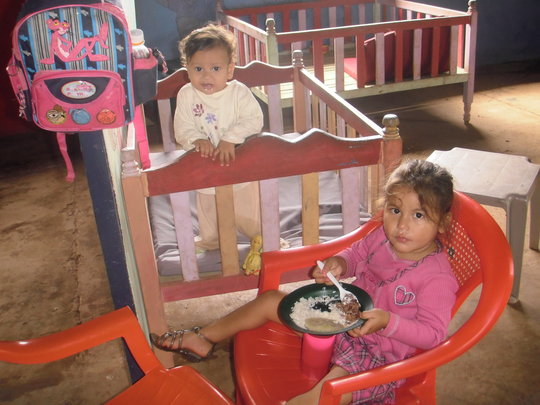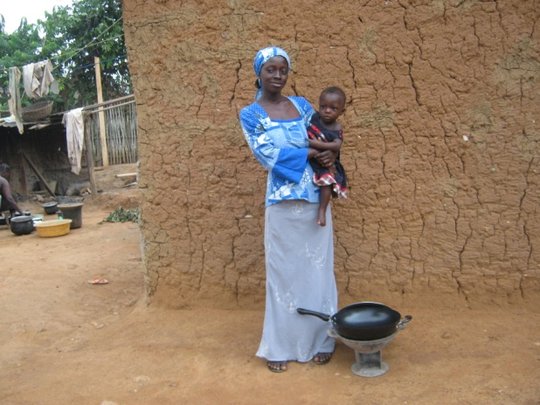 Young Mother Grateful for a Micro Credit "Legacy."
Afia, a 22 year-old, single mother, did not know how she was going to support herself and her new "bouncy" baby girl. She was forced to leave a seamstress apprenticeship in the nearby town of Kumasi when she discovered she was pregnant.
After moving back home with her mother to Kyereyaase, a farming community in Ghana, Afia became discouraged with the lack of opportunities. "I became frustrated and confused as a single parent with virtually no support from anyone," she says.
Help came from a knowledgeable and familiar source. Afia's mother, a successful micro credit beneficiary herself, suggested Afia attend a Self Help sponsored training workshop designed to teach Kyereyaase women how to diversify their businesses. The training focused on how to make pastries, meat pie, doughnuts and plantain chips.
Shortly after the training, Afia's mother decided to give her daughter start-up money with profits from her successful business funded by Self Help. With GH50 ($33), Afia was able to begin preparing and selling pastries in her community. Ten days after starting her business she was able to buy a frying pan and coal pot.
Today Afia spends about $13 a day and receives between $17 and $20 a day, more than a 30% profit! "Today I am thankful to God and Self-Help for the opportunity given me to enable me to help myself," says Afia
WARNING: Javascript is currently disabled or is not available in your browser. GlobalGiving makes extensive use of Javascript and will not function properly with Javascript disabled.
Please enable Javascript
and refresh this page.