This past October, 30 women in Kwaso, located in the Ashanti region of Ghana, successfully completed a 3 day training program. This special training taught the women how to make bar and liquid laundry soap. The group's name, "Nokware" translates to "truth" in English. They decided they would brand name their soap "Nokware" as well. Each bar weighs 135 grams (4.8 ounces) and sells for .40 Cedi (29 cents) and the liquid soap is sold for 2 cedi ($1.45) per liter. The Nokware laundry bar soap comes in two colors, white and yellow.
The women's goal was to find a way to add value to their products and potentially increase their income. Training was aimed at helping the Nokware group acquire additional knowledge and skills in order to deepen their understanding of existing business operations which will help them reach their goal. They are excited to begin selling soap because it provides an opportunity to address the seasonal challenges which have slowed down their palm oil business for years. For women over the age of 50, they find respite in being able to do a job that is less strenuous than farming.
Theresa Owusu, pictured in orange and green, 'dragged' her husband to the 3 day training event. She said, "this is a dream fulfilled, for many years we waited for an opportunity like this, many thanks to Self-Help International".
Stories of development like these are made possible through the continuous generosity of all of Self-Help's donors.
After much hard work and battling through a very rainy few months, construction has been completed for the 30 de Mayo Daycare. Thanks to some very generous donations from board members and anonymous donors the daycare center is ready to accommodate 50 children ages 6 months to 6 years 5 days a week. Meals made of Quality Protein Maize porridge with added vitamins and minerals will soon be served all 5 days to help the children grow strong both mentally and physically.
Most of the people of the 30 de Mayo village attended the inauguration to open the daycare center. Also able to attend was executive director of Self-Help International Merry Fredrick, country director Jorge Campos, Vice mayor, Cora Lazo Vargas, Manager of Municipal Services of San Carlos, Everaldo Vargas, and Head of Mi Familia of Rio San Juan, Dinoras Avalos. The center will provide a place not only for the children to receive care and an education but also a place for the community to gather when needed. Everyone is very excited to have this new building as a part of their village.
It is wonderful to have the building completed but there are still some important items needed to make it fully functional. In the first picture below you can see the children are sitting in chairs which they brought from home. Self-Help would like to provide tables and chairs for the children to use as well as a bowl, cup and spoon for each child for meals. A kitchen equipped with a clay stove and kitchen utensils will provide a place for the mothers to cook meals. There is no toilet near the daycare. Building a latrine improves the sanitation and hygiene practices of the children helping to keep them healthy. Potable water is one of the best ways to improve sanitation and health especially within an underprivleged village. The closest access to potable water is a half a mile away. Being able to access a well will provide potable water for drinking, washing hands and doing dishes.
With your continued help we will soon be able to provide a fully functional daycare center for these children.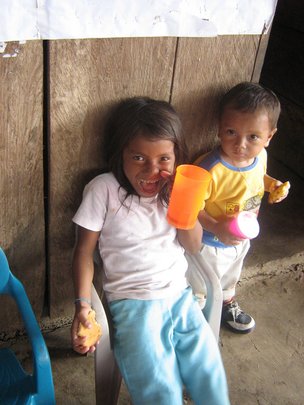 Our recently added vitamin and mineral packets have already shown such a huge change in the children in our feeding centers. Because the additons are so new we don't have numbers to give yet on the actual change in health however, based on the results of our previous centers who have added the packets, we are more than encouraged. From a general look of lethargy when the program first started to children running around and gianing weight, we are thirlled with the progress being seen.
Executive Director Merry Fredrick returned from a 2-week trip to our programs in Nicaragua on October 1st. Her first visit was to be at the inauguration of a brand new feeding center in 30 de Mayo, located outisde of San Carlos, Nicaragua. This is a very poor village that was using a family's home two times a week to provide meals and education for younger children. However, after generous donations and grants these mothers will be able to provide better education and meals FIVE days a week. For such a poor village this is a big improvement which will lead to healthier children and give mothers the time they need to work on farms and trade work. Being able to add vitamins and minerals to this village's feeding center will make such an impact. Such a small price to make such a big difference! We are excited to acquire more funds to continue and expand all of our feeding centers' reach.
WARNING: Javascript is currently disabled or is not available in your browser. GlobalGiving makes extensive use of Javascript and will not function properly with Javascript disabled.
Please enable Javascript
and refresh this page.