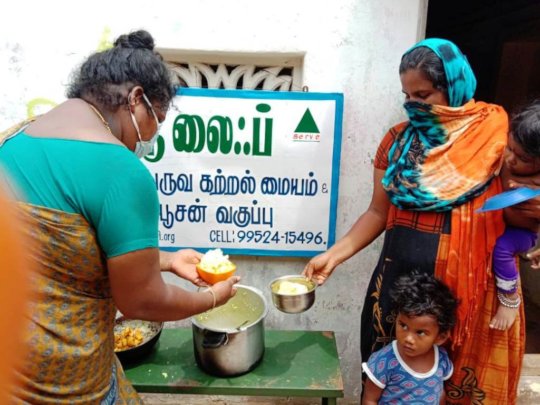 Dear Donors,
Hope you are all safe and healthy. Wishing that we all be saved from this pandemic.
The outbreak of pandemic COVID-19 has worst affected the families, New Life works with.
New Life's early learning centre and coaching classes had to stop functioning since March 17th. In most of the families, the breadwinners are either daily wage earners or low profile job workers. The pandemic has affected the income of these families worstly and they had been striving hard to feed their children when the lock down was announced by the Government. Tamil Nadu was locked down since March 24. And the lock down for all works was lifted on May 11th in Trichy. However the public transportation started functions with safety restrictions from June 8th. Till then it had been a great struggle for the poor to go to work.
Knowing the suffering of the people, we mobilised money to supply relief materials for these families. We succeeded in supplying 60 relief kits in April 2020 to the families of our children benefitted by early learning centre and coaching classes. The relief kit contained 9 items (rice, dhal, chickpeas, tamarind, masala powders, oil, soap, etc).
There is still a restriction for the children to come to school. So to support these poor families whose economy has been greatly affected, New Life started giving (only) food to our early learning children from June 8th. All safety measures are ensured to see that we provide safe and nutritious food to our children. We pray that the world will soon recover from the effects of COVID-19 and start functioning normally. We are waiting to see our beautiful children coming back to our learning centre and coaching classes soon.
Aathika's (name changed) mother says that, " My husband is working in a shoe shop and I roll beedis. We had no work and thus no income during this Corona widespread. My daughter is studying in the early learning centre of New Life. The kit supplied by New Life was very helpful to our family. And now they are providing food to our two small children. This has reduced our burdent to a great extent. I thank New Life and its donors for helping us."
We thank all our donors for their valuable support to our organisation to provide food to the poor kids in spite of all odds and economic crunch during this pandemic. Kindly spread words about our work to your friends and relatives so that we can continue to provide food to our children.
Thanking you once again.
Stay safe!
With regards