Frede is a long-time member of our women's group who make beaded craft products that we market in the United States. Over ten years ago, she chose her son Vincent, to be part of our child sponsorship program. Recently, Vincent graduated from the university with a degree in Human Resources.
In spite of this achievement of having a university graduate in her family, Frede and the family are still stuck in the slums of Jinja. Land is so expensive and so scarce within the Jinja urban area, that there is no way Frede can escape from the slums without someone to help her.
She has been saving some of her bead earnings as well as other earnings from her business since late 2012 so that she can use the money as a down payment on a home as part of our women's home ownership program.
Your support and generosity continues to help women like Freda be able to achieve their dream of having their own special home and moving out of the slums forever. We hope to start building the first phase of homes later this year. In the meantime, we continue to work diligently on road access to the property as well as seeking the best source of power for the homes to be built.
Links:
Thanks to your help, girls like Jully are able to stay in school--even when tragedy strikes. Jully was lucky. She was already in our sponsorship program when her mother passed away late last year. But many other girls are not so fortunate. With your help through this Globalgiving project, if we hear of a girl in our sub-county who suddenly loses a parent or guardian, we can step in and assist the family to keep the girl in school on a temporary basis until a more permanent sponsor can be found.
The ability to quickly respond in such emergency situations in many cases allows the girl to continue in school without interruption even when her family life suddenly changes. In Jully's case, we were able to place her in our boarding section at school since her new guardian was very overloaded and otherwise unable to send her to school.
We appreciate your continued help which allows even more girls to be helped immediately when they might be in the midst of a crisis and likely to drop out of school.
Thank you for making a difference in girls' lives!
Links: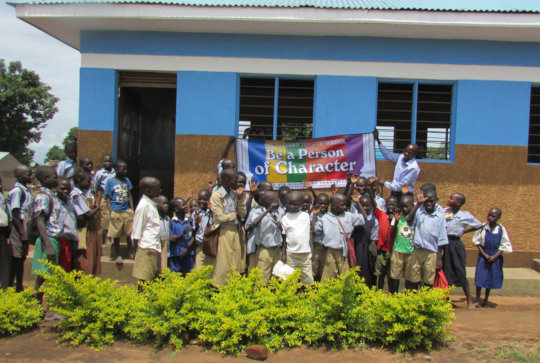 In early January, we received an outside donation that completed the initial $4000 project funding and enables us to begin construction on our library building. We expect that construction will begin in early February. While finalizing the building plan earlier in January, we talked more with both our school teachers and the school's management committee.
Based on those discussions, we determined that having a small cemented veranda outside the building along with metal shutters for all windows would be very desirable in keeping the library secure and clean, and also offering a small meeting space on the veranda which would not disturb library users inside the building.
Based on this, we added another $800 to our original budget for the one room, and are still needing donations for the $800. The good news is, the main building construction can begin and even be completed with these two latter items being added at the end or as soon as possible after the funds are raised.
We still expect to achieve our original goal of having the library building ready to use by the start of the second school term in early June. The attached photo shows some of our excited school students. There are no books in their community, so having a library at the school is incredibly exciting!
We thank you for your support in accomplishing this project. If you know of any friends or family that might want to help with these last two items, please feel free to share this email with them!
Links:
WARNING: Javascript is currently disabled or is not available in your browser. GlobalGiving makes extensive use of Javascript and will not function properly with Javascript disabled.
Please enable Javascript
and refresh this page.