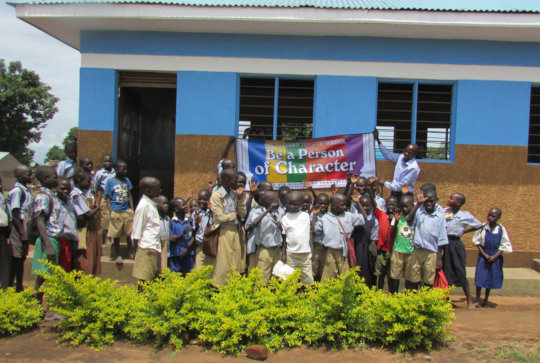 In early January, we received an outside donation that completed the initial $4000 project funding and enables us to begin construction on our library building. We expect that construction will begin in early February. While finalizing the building plan earlier in January, we talked more with both our school teachers and the school's management committee.
Based on those discussions, we determined that having a small cemented veranda outside the building along with metal shutters for all windows would be very desirable in keeping the library secure and clean, and also offering a small meeting space on the veranda which would not disturb library users inside the building.
Based on this, we added another $800 to our original budget for the one room, and are still needing donations for the $800. The good news is, the main building construction can begin and even be completed with these two latter items being added at the end or as soon as possible after the funds are raised.
We still expect to achieve our original goal of having the library building ready to use by the start of the second school term in early June. The attached photo shows some of our excited school students. There are no books in their community, so having a library at the school is incredibly exciting!
We thank you for your support in accomplishing this project. If you know of any friends or family that might want to help with these last two items, please feel free to share this email with them!
Links: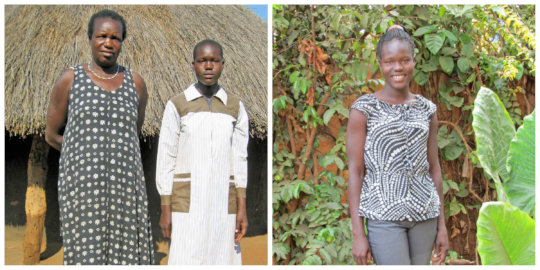 Our Girls' Education Initiative continues to provide a pathway for Uganda girls to gain access to a secondary education and vocational training. We thank you for your continued support for helping girls stay in school.
We hope that they can follow the path of Gladys, one of the girls who has been in our sponsorship program for the past ten years. Gladys is now completing her university program to earn a diploma in the business field. Before she joined our program in 2008, she had dropped out of school because her mother could no longer afford it.
We are excited to see Glady's future unfold and hope that she can be an inspiration to other girls following in her footsteps. We hope that some of the top performing girls at the northern Uganda primary school (see photo) where we distributed sanitary pad kits this past summer can become part of our sponsorship program in 2019.
Sixth graders took their very important national exams in November. They will learn their scores in mid-January. This will determine whether they can continue on to secondary school and what school will want to give them admission. There are eight Agwata girls who took this exam along with many girls from other nearby schools where Outreach Uganda distributed sanitary pad kits these past two years.
We'll keep you updated. But please spread the word. Your help is critical to being a stepping stone for girls to stay in school until a longer term sponsor is found.
Thank you!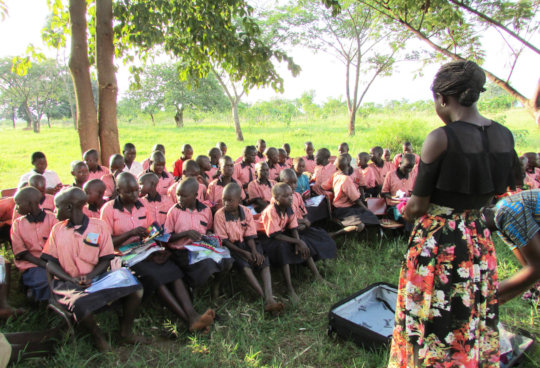 Links: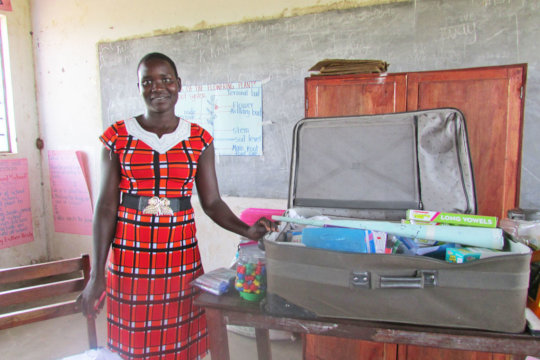 We are one third of the way to having our libary fully funded. Our goal is to complete our fundraising for the library addition no later than early January so that we can begin construction on the library in January. We estimate that it will take 30 to 45 days to complete. This would mean that students and teachers could begin using the library no later than the beginning of the 2nd term of school which starts in early June.
We have alwo written a separate grant request asking for funding for the necessary furniture, shelving, and equipment to be used inside this room. We've attached a photo from July of our first grade teacher, Irene. Irene was showing us how she stores reading books for her students right now--in a suitcase which is quite cumbersome to use and does not store very many books. We currently have 300 primary reading books on hand in Uganda. There is just no place to store them where they can be easily accessed by students and teachers until the library addition is completed.
We thank you so much for your early contributions to this project. We hope that this will in turn excite other donors to come on board with additional donations to complete it. If you know of any connections to school librarians or library associations that might want to join in helping, please let us know.
Links:
WARNING: Javascript is currently disabled or is not available in your browser. GlobalGiving makes extensive use of Javascript and will not function properly with Javascript disabled.
Please enable Javascript
and refresh this page.