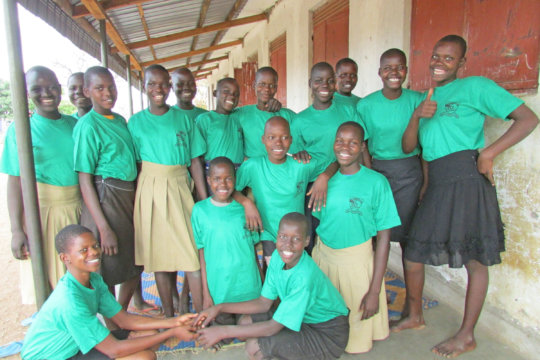 The 2nd term of Uganda's school year began on May 27th. The Agwata School's 6th grade class has 13 girls in its class of 24 students. These girls are very appreciative of being able to board at school during this term. Your continued support makes it possible for all girls to board at school regardless of whether they have a permanent sponsor or not.
Your support helps pay for food and supply costs to support the unsponsored girls at school during the school term. There was a severe drought in this area of northern Uganda duirng the last half of 2018. This meant very little harvest at year end. Parents are struggling now to provide food for their families until the 2019 harvest later this year. This makes it especially important and valuable for the 6th grade girls to stay at school where they receive three meals per day.
Boarding at school is not a luxury. The students follow a rigorous schedule of studying while they board at school. This provides them ample time for extra lessons from the teachers as well as time to revise their notes and study with fellow students. The girls hope that their extra study time will pay off when they take their very important year end exams at the end of November.
Thanks so much for your generous contributions which help make this possible!
Links:
Exciting News: Our local builder began construction on the library building in late February. The foundation has been set and the walls are almost complete. Later next week, we expect the workers will be working on the wood beam which will support the iron sheet roof.
In the meantime, we are holding discussions with the teachers as well as others involved with the school, to share views on how the library should be organized, what are the high priority uses expected of the library plus what kinds of books and resources are wanted in the library.
As mentioned in our prior report, the school decided it wanted to add a second small office to the library building. It is being constructed but final finish work and cementing plus installation of metal shutters may be postponed until such time that we raise the remaining amount of funding.
If you have friends or family members that might want to help us complete these final steps, please share this project report with them too!
Our goal is to complete the library building in May so that students and teachers can use the library begining with the 2nd school term which begins on May 24th.
We thank you for your generosity and support!
Links:
Thanks to your help, girls like Jully are able to stay in school--even when tragedy strikes. Jully was lucky. She was already in our sponsorship program when her mother passed away late last year. But many other girls are not so fortunate. With your help through this Globalgiving project, if we hear of a girl in our sub-county who suddenly loses a parent or guardian, we can step in and assist the family to keep the girl in school on a temporary basis until a more permanent sponsor can be found.
The ability to quickly respond in such emergency situations in many cases allows the girl to continue in school without interruption even when her family life suddenly changes. In Jully's case, we were able to place her in our boarding section at school since her new guardian was very overloaded and otherwise unable to send her to school.
We appreciate your continued help which allows even more girls to be helped immediately when they might be in the midst of a crisis and likely to drop out of school.
Thank you for making a difference in girls' lives!
Links:
WARNING: Javascript is currently disabled or is not available in your browser. GlobalGiving makes extensive use of Javascript and will not function properly with Javascript disabled.
Please enable Javascript
and refresh this page.