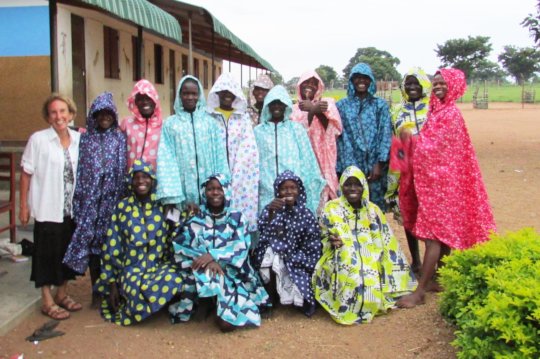 I just returned from spending five weeks in Uganda, including three weeks at the northern Uganda school where we have 13 sixth grade girls boarding. Through your support, as well as help from other donors, we purchased rain coats for each of the girls plus English textbooks and math sets for the new library. The girls can study in the library outside of class time each day. So it is very helpful having the textbooks readily available.
Books are very rare in Uganda, even at schools. We're quite excited that the school library is complete, and stocked with an inventory of 1800 books of all types for students in kindergarten to 6th grade. One entire shelf contains pupils' textbooks which are concentrated initially on 5th and 6th grade. We hope to expand this further next year.
Thanks so much for helping make the girls' learning more productive as they continue to study for their very important year-end exams in November.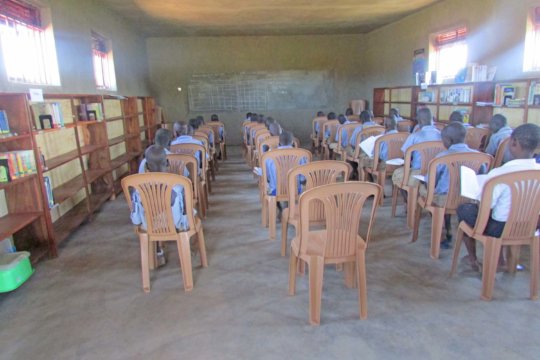 Links:
Super excited is how students and teachers feel about the new library! we're happy to report that the new library opened as planned on July 20th just one week after the new school librarian began work. Our U.S. librarian volunteer, Kiersten helped train Lucy, the new library for two weeks in July.
The ten new book shelves as well as the librarian's desk and chair arrived while we were there. A local carpenter from Kitgum had to build the furniture to our order. Four long library tables should be delivered by next week. Students will be using plastic chairs until we can afford longer lasting wood chairs.
We are in the process of counting all the library books but think there is around 1600 books on the shelves. There are all kinds of books: teacher resource books, teacher guide books, pupil text books, classroom sets of books, reading books from America, Ugandan readers, student resources, even some picture books with few words for the very earliest readers in P1 (kindergarten). 1600 might seem like a lot of books but it's not so much if you consider that there are 600 students and almost 20 teachers and staff that will use the library.
Teachers have already signed up their classes for special weekly times to use the library. Our oldest students in P7 (6th grade) are very excited to have the privilege of using the library by themselves for additional study time. The teachers are using the second room as a teacher resoure room which is where the laptops will be stored once the solar system is completed by the start of the 3rd term in late September.
Funding is still needed for three important items that remain to be completed:
inside and outside painting of the llibrary
purchase of additional pupil textbooks for all classes in their four main subjects of English, Math, Science and Social Studies.
Thanks so much for helping to the teachers' and students' dream of a library become reality. If you know friends or relatives that love reading, books and education, please let them know about our project.
Links: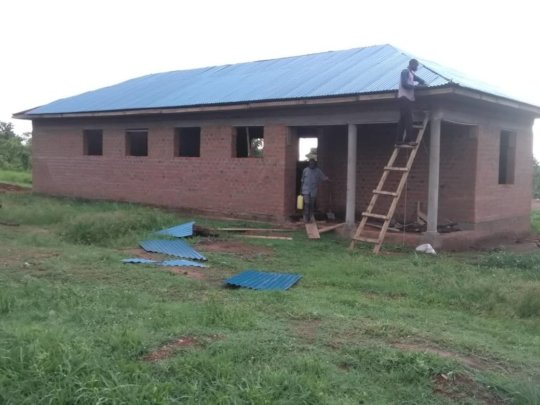 Workers made steady progress on the library during April and May in spite of quite a few days of rain. The roof was successfullly completed in May. Work continues in June with windows being installed this week.
We were all relieved when the windows were finally done because lack of electricity in the town where the windows were being welded delayed their installation by a couple of weeks. As soon as the windows are in, final finishing work will take place inside the building. Your support of our library project on GlobalGiving has made all this possible!
The library will give both teachers and students access to the many books that donors have provided for the library including a up to date encyclopedia set which is very important in an area which does not have any easy access to the internet.
We are raising additional funds to purchase Ugandan textbooks and other resources including maps on Uganda and East Africa. Students will be able to access these study materials during their free time. This is important because most students have no personal textbooks.
We hope that the final library funding can soon be completed. If not, then cementing of the outside veranda may be delayed. Nonetheless, the library can still be used.
We plan on traveling to Agwata by mid-July to help the new librarian set up the shelving and organize books on the library shelves. We'll keep you posted and have lots more photos in July once we arrive on site!
Links:
WARNING: Javascript is currently disabled or is not available in your browser. GlobalGiving makes extensive use of Javascript and will not function properly with Javascript disabled.
Please enable Javascript
and refresh this page.