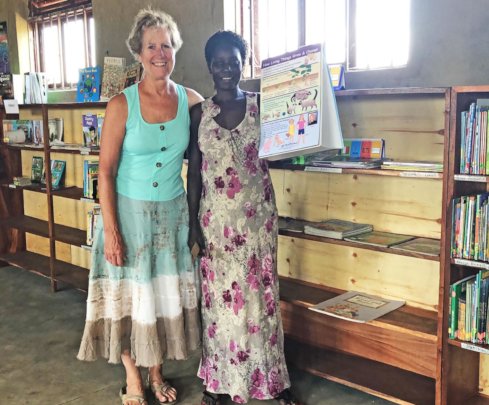 The Ugandan school year begins today, February 3, 2020. This will be the first full year of use for our library that was completed and put into service in mid-July 2019. Over 600 students and 18 teachers will be using the library this year! Most of the teachers and older students use the library daily for their studies.
I'll be traveling to Uganda again with two U.S. volunteers in a couple of weeks. And we'll be bringing over 400 donated U.S. reading and picture books with us.
But there are two things we can't bring from the U.S. that are some of the most important things our library should have:
Ugandan textbooks for students to use and study from outside of class time
Ugandan social studies and history books and maps as well as other cultural books
Both of these items are very important for Uganda libraries. Books are in short supply in Uganda and most students have no books of their own. Students share a very limited number of books in class. They can only check out books from the library for homework purposes.
As we mentioned in our last report, we have most of the 6th grade textbooks needed but very little textbooks for other classes. We are hoping to raise the needed money to purchase these textbooks through this GlobalGiving project.
We thank you from the bottom of our hearts for your support so far in helping make the library a reality, and for beginning this process of acquiring more textbooks. Please reach out to your friends and family if you know teachers, librarians, book lovers and others who would be willing to help with this awesome textbook purchasing project. It will be a wonderful conclusion to our library project to make sure it is as effective and well utilized as possible.
Please share and help us achieve our goal to fill the empty library shelves. Help our Uganda students have the learning materials they need to excel and achieve their dreams!
Links: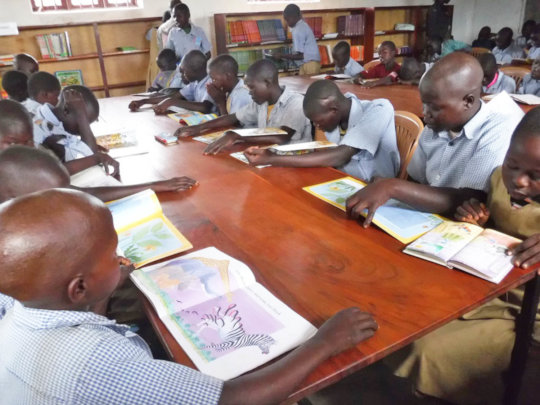 Since our last report in late July, the painter has completed painting of both the interior and exterior of the library. The one remaining item still to go as funds become available is to purchase textbooks for the main class subjects in the 1st to 5th grade classes.
Before the library existed, there was no place to store textbooks. And there was no money for textbooks either. This is a typical situation in many primary schools in Uganda. Consequently, only the teachers had the necessary teacher books along with one or two pupil textbooks so they could write examples and problems on the blackboard.
As you can imagine, this is not a good situation. It is one reason we were so excited to be able to help the community build a library for its school. Now there is ample shelving available to store many textbooks. This means each class of 50 to 60 students can come to the library and each student will be able to study from their own textbook. Teachers will also be able to check the textbooks out of the library and take them to their classrooms during instruction times.
Currently, we have about 80% of the textbooks needed for 6th graders. But almost no textbooks for other grade levels. Our textbook shelves are 80% empty. We are hoping for a grant to purchase 5th graders textbooks. We hope that remaining funding needed for 3rd and 4th grader textbooks can be raised as part of this project. Textbook prices vary depending on grade level and subject but usually are in the $7.50 to $10 price range.
We appreciate your invaluable support in constructing the library and helping with its final finish work. If you have friends or family that you think would love to help complete this project with the textbooks, please share this opportunity with them!
Thanks again!
Links: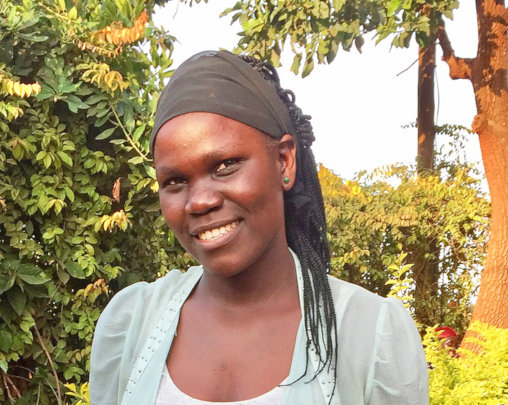 I'd like to introduce you to Adeno so you can see first hand, how your donations are impacting girls' lives. Adeno joined our sponsorship program very early in 2008 when she was still in primary school. She is very thankful to her sponsors that she has had this opportunity in her life.
Adeno comes from a large family including her parents. Her mother is one of the women artisans in our Jinja craft group. Her family lives in a single rented room in one of the worst Jinja slums (her home is shown in the 3rd photo). Adeno attended the nearby government primary school. Even that would have been impossible without her participating in our sponsorship program.
When younger, she dreamed of being a teacher. But when she finished 10th grade, she decided to branch to vocational school. She even received a scholarship for her tuition to join a catering course. Sponsorship means she could board at the school where she could focus totally on her studies. She excelled in her studies.
This past summer she decided to pursue a two year associate's degree course in travel and tourism. During her 2 month break from school, she joined us in Agwata village for four weeks as our paid chef. She started her degree course in September thanks to continued support from Outreach Uganda's child sponsorship program.
This may not seem extraordinary. But comparing Adeno to other girls who grew up in the same slums, most are married with a couple of children. They have no means to support themselves or their families and no prospects for a future.
Because Adeno has completed 4 years of secondary school and will most likely complete 2 more years of schooling, we know that statistically per the UN:
She is 60% more likely to find work
She is 66% less likely to marry at a young age
She is 60% less likely to have children before she reaches age 18
When she becomes a mother, it is 50% less likely that any of her children will die before age 5
She is 70% less likely to die in child birth
Thank you for your support to enable more girls like Adeno to enter our sponsorship program and develop into hopeful young women like Adeno.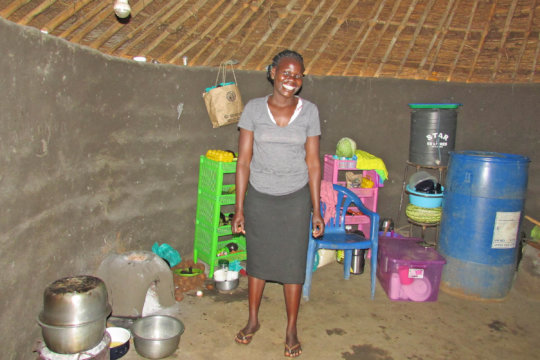 Links:
WARNING: Javascript is currently disabled or is not available in your browser. GlobalGiving makes extensive use of Javascript and will not function properly with Javascript disabled.
Please enable Javascript
and refresh this page.