As many of you know, our program Skills for Success (S4S) intends to transfer 5 skills to all NDG students.
With the arrival of the pandemic it has been challenging to continue with this task. However our teachers have done an amazing job.
This year we are happy to be sharing with you some advances of how our students have had the chance to access more tools to develop their technology skills and their emotional intelligence.
Starting with technology skills we have amazing news! With the money raised on Giving Tuesday we bought the first 45 tablets, covering all students from highschool. We are using a special platform that allows our students to work with technology from home and helps the school to avoid the use of lots and lots of paper. Our students come to the school to get content updates every 15 days! We are still fundraising to buy more tablets and cover secondary school, 6th, 5th and 4th grades from primary school.
In other news, our psychologists have been implementing new ways to help the students deal with their emotions at home. The new project consists in asking the kids to create different containers and tools for different emotions, for example a bottle of tears, a bottle of calmness, the wheel of anger, and a diary of emotions. Kids are asked to write down what makes them feel each emotion and put it inside, this way they become more conscious of what they feel, why and and it is easier for them to find solutions or seek help.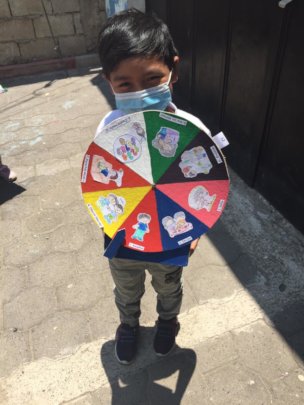 Guatemalan students cannot come to the schools yet to continue their education in a "normal" way due to the incresing COVID-19 cases. However, taking all the care possible and with permission from the education authorities we have had a few opportunities to have some of students at the schools for reinforcement in academic matters.
Just as before, we continue handing out worksheets of every subject to our students every two weeks. Teachers have found better ways to teach their own students through the worksheets and have found support from some of their parents. However we still have parents who cannot read or write so they have the chance to ask the teachers for any help if needed.
Our students from highschool have been using their new tablets for quite some time now and they get content updates every two weeks as well!
In other news, in the last three months 788 bags of food have been distributed within the NDG families that need them the most. We have found a new supplier who provides us with bigger bags that include fresh veggies or fruits.
We want to thank every one of you who has donated for making this possible!
We want to start by thanking every one of you who has donated!
Thanks to you, the 4th of March we handed out the first 45 tablets! The activity took place at our Secondary/ High School from 8 to 12.
Our teachers worked a lot preparing a handbook for every single one of the students and took the time to explain to them and their parents how to use the tablet, how to take care of it and most importantly how to benefit from the tool.
The level of excitement we feel with this change is beyond description.
We plan on keeping this fundraiser open until we can cover all the grades down to 4th grade so that our students can grow up in a technological environment starting at an early age.
We are looking forward to getting feedback from our students and their parents so we can share it with you!
WARNING: Javascript is currently disabled or is not available in your browser. GlobalGiving makes extensive use of Javascript and will not function properly with Javascript disabled.
Please enable Javascript
and refresh this page.