Happy New Year from All Hands and Hearts!
It is hard to believe that we are already into the month of January, now two weeks after our incredible Hurricane Michael Recovery Program came to a close. This program was so special to our staff and volunteers, and I can only hope we have done an adequate job of sharing a piece of that with you. Thank you for sticking with us from the beginning, and for choosing to support our efforts in Bay County - to say we will miss this resilient community would truly be an understatement.
Even as we celebrate the impact our team has made over the past year, we recognize the great need that still exists in the aftermath of Hurricane Michael. For this reason, we are working hard to procure the funding which will allow us to reopen a response program in Jackson County this April. Stay tuned for more information!
For the 18 homeowners and their families we were able to reach during this most recent phase, our work has meant their ability to move back into fully repaired homes safely and comfortably. We are forever grateful to have been a part of that experience, and for your support which helped make it possible.
Our final project, which took place at a local Boys and Girls Club facility, is one that we hope will bring a splash of color into children's lives for years to come. After determining that the facility needed the external walls to be patched and painted, our teams decided to get creative and design a project plan that would allow the kids that attend this facility to have a hand in the repair work. The team designed a beautiful mural for the primed wall, which some club attendees helped us paint! It was an incredible opportunity to do something special for the CEO, his team, and the kids they serve every day. To read more about the project, check out this link.
We are proud to report to you that our team in Florida empowered 577 volunteers to make a difference in the lives of 805 people. We look forward to updating you as we work to re-open this spring!
On behalf of everyone at All Hands and Hearts, thank you.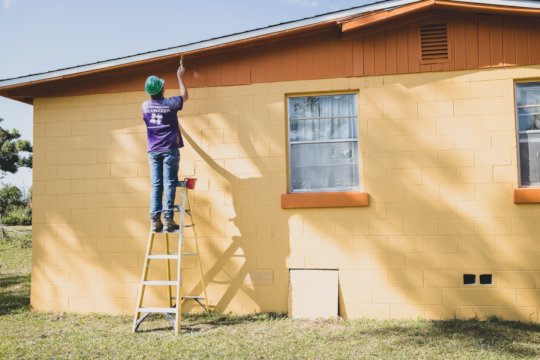 Links: