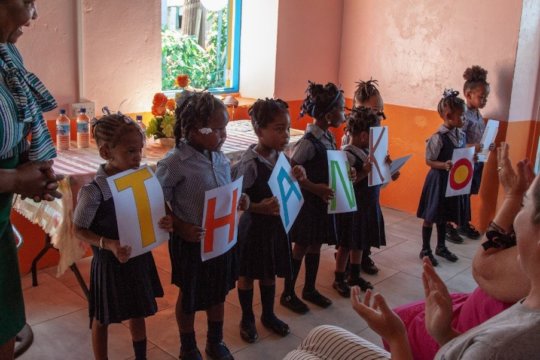 Hello Donors!
Since our last update, though only a few months ago, we have quite a bit to share with you! Our teams have been working hard on the recovery programs in Dominica, St. Thomas, St. John, and Puerto Rico.
In the USVI, our teams are continuing to work closely with community partners like My Brother's Workshop to make sure we assist as many people as possible. Gradually, the scope of work is becoming more recovery based. With every project our teams complete, whether it's roofing, mucking and gutting, school retrofitting, or even the installation of mold resistant materials into homes, our beneficiaries take one more step closer to fully realized recovery. To date, over 7,226 people have been positively impacted by our work here and, with your generous and ongoing support, we are excited to see this number continue to grow. In Puerto Rico, our teams are adjusting as we experience a couple of exciting program changes. After over 66,712 combined volunteer hours, programs wrapped up in Barranquitas (on December 21st) and Toa Baja (on January 7th). Even as these programs close, we are thrilled that our work in Puerto Rico will continue through September 2019 as our teams work hard to put hurricane resilient roofs on homes and complete some special community projects as well.
As mentioned in our last update, we have designated isolated pages on GlobalGiving for both our work in the USVI and Puerto Rico where you can find the most up to date information on the work we are continuing to do in both places. For this update, we would like to specifically highlight our work in Dominica, which has officially wrapped up!
Finishing our program in Dominica is bittersweet for all of us at All Hands and Hearts, but we are extremely proud of what our field teams were able to accomplish on the Island. During our time in Dominica, and in addition to storm resilient roof work and a wonderful community project (the Liveier Tadour Water Source project), five schools were completed helping 170 students return to safe and comfortable learning environments. Most recently, we were able to celebrate the completion of Charlotte Pre School (finished January 19th) and Morne Prosper Primary and Pre Schools (both finished January 10th). One of our volunteers, Tim, is a Landscape Architect by trade and put his skills and knowledge to good use at the Morne Prosper project. After the completion of the structural work for both the Primary and Pre-School, Tim designed and implemented some wonderful ideas with a group of volunteers, aptly named "Team Awesome". His plans included a cricket field, an octagonal bench surrounding a large (Delonix regia) tree, a large staircase linking the lower ground to the new school buildings, and a community garden in the shape of a flower (each petal offering a space for every grade to grow plants and vegetables to represent Morne Prosper as an agricultural village).These beautiful additions acted as a small farewell gift to the communities in Dominica, and will serve as a reminder to the children of Morne Prosper what is possible when they work together! At the center of this work were "Build Back Better" techniques, used to ensure that the schools and roofs are resistant against future hurricanes and earthquakes. Having worked closely with the Ministry of Education, other NGOs, the schools and the local communities, this essential work created much safer homes and more appropriate learning environments, which also serve as evacuation shelters for the surrounding communities. Attached below, please find a short video capturing what our teams were able to accomplish in Dominica. We are forever grateful for the overwhelming support we received from you, the GlobalGiving community, to continue this vital work.
From all of us at All Hands and Hearts, thank you!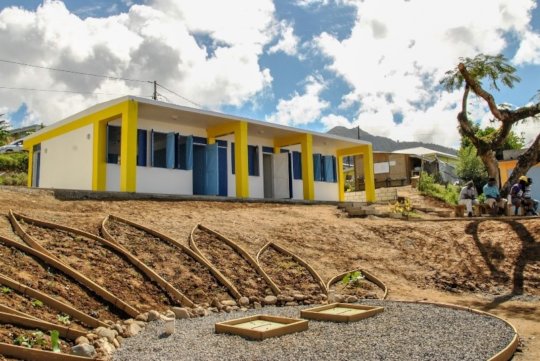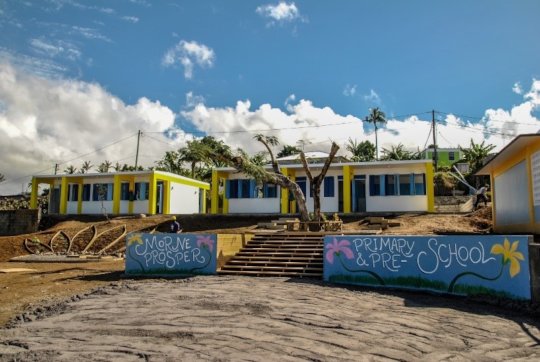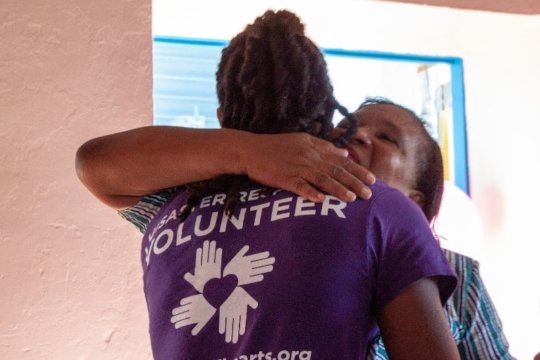 Links: