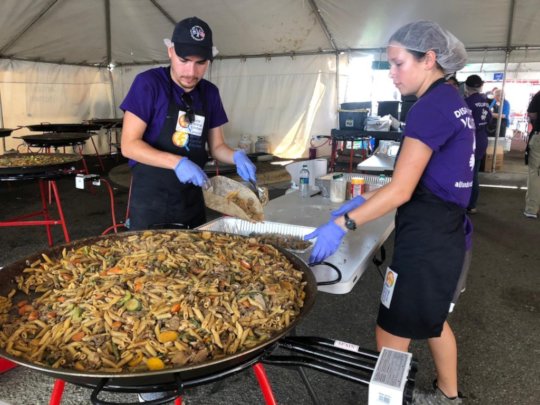 Since late December, Southern Puerto Rico has been trembling with earthquakes. There have been over 1,200, including a record-breaking 6.4 magnitude quake on January 7th - Puerto Rico's strongest in over a century. We are happy to report that although our Hurricane Maria recovery teams based out of Yabucoa felt tremors and lost power and water in the area, they were not directly impacted by the earthquakes. After a series of assessments, staff members have determined that the best way we can support earthquake response efforts at this time is to partner with other organizations on the ground who could use the helping hands of our concerned volunteers. For example - we have developed a satellite project, partnering with World Central Kitchen as they serve more than 9,000 meals a day to 90 locations in 11 municipalities. Volunteers are assisting in the preparation, cooking and serving of meals. We are continuing to evaluate relief efforts as they progress to determine if there are any additional ways we can help as our program rapidly approaches its close date.
We continue to provide recovery assistance to homeowners in Yabucoa, Puerto Rico; addressing the unmet needs of homeowners still struggling to recover. In December, we hosted a Community Resource Fair, with the help of Saint Vincent De Paul, Salvation Army and SBP, where we welcomed over 200 families. The event was open to the public and local groups set up booths offering workshops and information on a number of recovery topics, from home repairs to mental and physical health.
We are incredibly sad to be leaving Puerto Rico at the end of March - choosing to extend our program in spite of funding challenges we have faced was a decision rooted in the fact there were (and are) so many families in need of help, now over two years after the Hurricanes. We are grateful to have stayed as long as we have - Puerto Rico is truly a place we can call home. To date, we have completed 590 roofs, positively impacting the lives of over 7,800 people.
Your support of our efforts here and in other areas of the Caribbean over the past couple of years has meant so much to us. Your trust in our organization makes so much of this work possible!
Thank you, from the bottom of our hearts.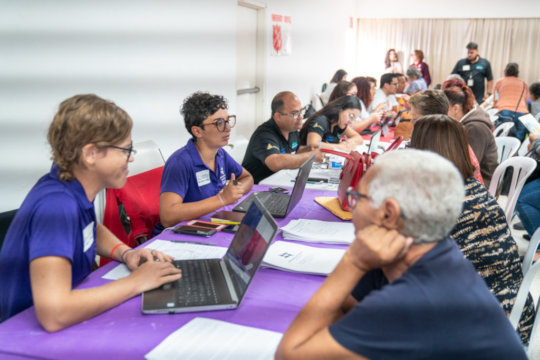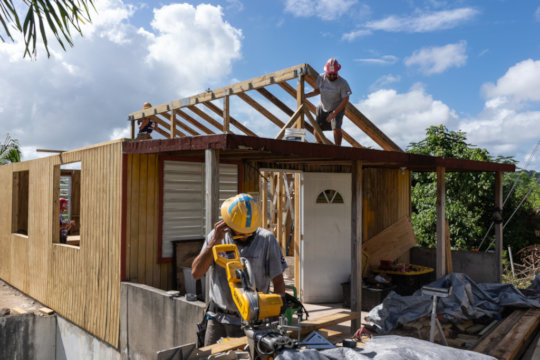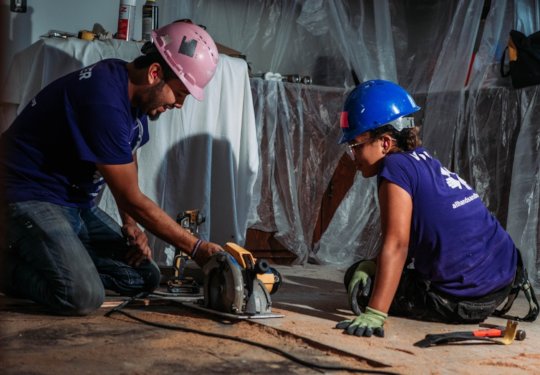 Our Hurricane Harvey relief programs in Houston and Coastal Bend had a successful holiday season filled with love, laughter and continued hard work in the community. We are excited to highlight our work with Rockport Hands of Hope, Habitat for Humanity and the Navajo Nation, in partnership with whom we completed 24 homes. By emboldening the skills of each organization, we could each specialize in a particular phase of work to accelerate the completion of those homes so families could move back in faster. The holiday spirit didn't stop there: when they weren't hard at work in homes, our volunteers and staff hit the pavement to distribute turkeys to Houston families, and serve hundreds of meals at the 76th Annual Jim Salem Dinner in Coastal Bend. We know that every step we take together to care for our communities adds up.

As we begin a new year, our programs are looking to make 2020 another year of putting families back into their homes. We are excited about our new partnership with Interfaith Action of Central Texas (iACT). By working together, we aim to help an additional 10 families move back home. To date, our teams have completed work on 91 homes between both programs, and are in various stages of rebuild on 8 homes, continuing to implement resilient design techniques. The use of water-resistant products, for example, allows homeowners to be better prepared for future disasters.

In addition to our traditional recovery work, we continue to partner with other local organizations in an effort to expand our impact on affected communities. In Houston, we've continued to support Food Not Bombs by distributing food to communities in need, while in Coastal Bend we've continued to work on community beautification projects with Keep Aransas County Beautiful. Volunteers worked on their off-days in an effort to preserve what is incredibly important to the community. Their hard work lends itself to our mission of community renewal above and beyond our traditional recovery work.

Thanks to the generosity of GlobalGiving and donors such as yourself, All Hands and Hearts has been able to help families get back into their homes for the holidays, and plan to continue rebuilding in Texas well into the new year. Josefina, the owner of a recently completed home, expressed her thanks: "You don't ask for anything in return for the work — you are special people. I am excited and forever grateful to you for all you have done".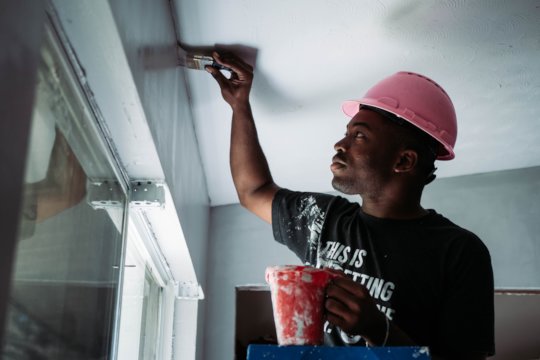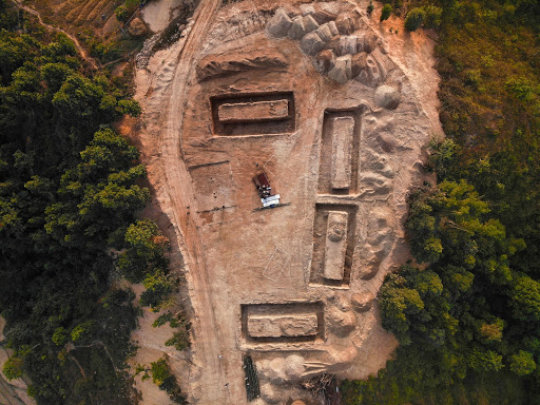 Greetings friends and supporters of our Nepal Relief Program,
We are so excited to enter our fifth year of school rebuilds in Nepal, as our teams rapidly make progress on three new project sites. The first site is nestled in the Makwanpur District, which is one of the most heavily impacted Districts following the 2015 earthquake. Here, the team is working on the Shree Manakamana Basic School which serves ECD through eighth grade. When their work is done, 140 enrolled children will have access to their brand new school.
The second and third sites are situated in the rural municipality of Marin (which is in the larger Sindhuli District, located approx. 5 hours outside of Kathmandu). Here, teams are working on two new schools, namely the Shree Thakureshwor Ni Ma Vi school, and the Shree Janakalyan Ni Ma Vi school. We aim to have both schools finished by mid-May 2020 when we will open the doors to a combined 338 students.
Continued support for our work in Nepal helps us provide desperately needed improvements in addition to the structural improvements already in motion. Examples include new clean and reliable water sources, safe and gender-appropriate sanitation facilities, hygiene and hand wash-stations, and even structurally sound playgrounds. Each of these elements has the power to improve the health and well-being of these children, allowing them to focus on the joys of childhood and learning. Thank you for following the progress our teams have made in Nepal, and for supporting their work on the incredible 21 schools that have already been completed.
I look forward to updating you again soon!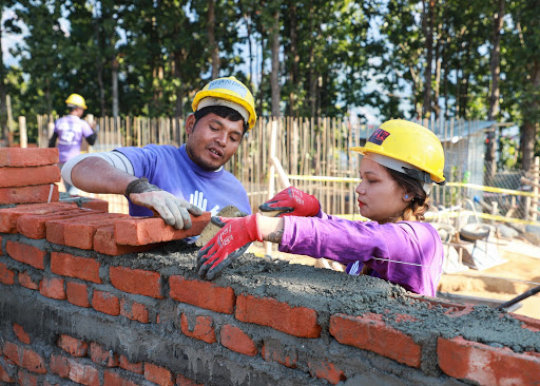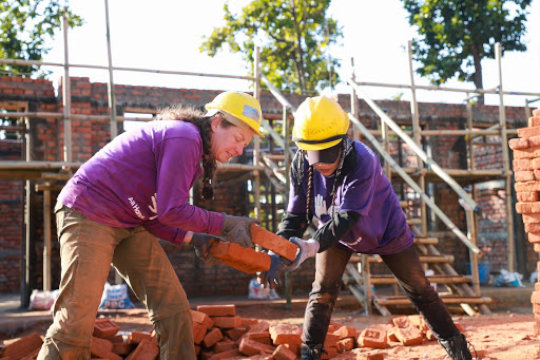 Links:
WARNING: Javascript is currently disabled or is not available in your browser. GlobalGiving makes extensive use of Javascript and will not function properly with Javascript disabled.
Please enable Javascript
and refresh this page.