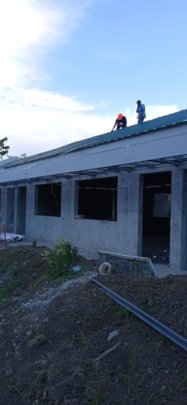 Hello Friends,
After what has been a 6-month operational pause for All Hands and Hearts, I have some great news to share with you about the work that has been going on "behind the scenes" in the Philippines. Though we could not engage our volunteers and a full team of staff during the pandemic on this program, we have been able to receive some incredible support from a small team of locally based AHAH staff and masons to continue construction at Dadda and Agani elementary schools.
This small team has faced a number of challenges along the way, including extreme shortages in materials, but they have continued with optimism and are still on track to finish both schools relatively close to our originally projected completion date. Now, the team is working with local community members to design a drainage solution for Dadda elementary because part of the school structure sits at the bottom of a small valley. We hope to complete both schools by the end of October. As the year comes to a close, our team will start identifying where we could begin a "Phase Two" of school rebuilds next year, returning even more kiddos back to safe spaces where they can learn and grow!
Thank you for following our progress - I look forward to updating you again soon!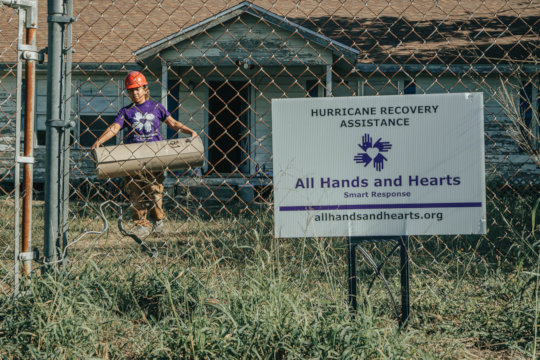 Greetings Friends,
This past August marked three years since our work first began in Coastal Bend following Hurricane Harvey. What an incredible milestone, which you helped make possible!
We are VERY excited to provide you with an update, now just a week away from the official end of our operational pause. As our team worked through the summer months to map out what the reopening of our programs would ultimately look like, we knew our traditional volunteer model would need to be revisited. Not only were we considering things like the structure of our base itself and how we could alter the layout to encourage safe disatancing, we also felt we needed to identify a way to minimize risks for our staff, volunteers, and beneficiaries over extended periods of time. In order to address this concern, our team came up with a new volunteer recruitment and engagement strategy called DM12.
DM12 is a 12-week service commitment to communities impacted by natural disasters. The group structure, with participants arriving/departing program and working on the same 12-week schedule, reduces potential exposure points to COVID-19. This initiative will replace our regular volunteer application and acceptance process until we are safely and effectively able to mobilize and engage volunteers on an individual basis.
A small group of staff have been in Texas for the past month working on base adaptations and making preparations for incoming volunteers. With assessments already underway, I am excited to report that we are officially accepting volunteer applications for the Texas DM12 initiative and we are on track to begin working again this October.
I look forward to updating you again soon. Thank you!
Greetings Friends,

In our last update, we talked about our hope that following the announcement of our operational pause, we would be able to have a small team continue working on the schools we had started earlier this year. Though the continued spread of the global pandemic meant our teams would have to wait until after monsoon season to continue working on Janakalyan and Thakureshor schools, we tried to find a creative way to continue making a difference for the people of Nepal in the meantime.

In May, we provided equipment and funding to support an emergency quarantine center in Dudahuli, Sindhuli. This region had insufficient medical facilities to cope with the existing demand and impact of COVID-19. Our Partnership and Project Development teams have worked closely with local partners and the government to identify a healthcare facility that can be transformed to increase resilience to events like Covid-19 and provide much needed additional medical services to local communities.

Sadly, the number of cases of Covid continues to grow in Nepal and travel restrictions have been extended until mid-September. For this reason, the approval progress for the health post and the commencement of the finishing work at Janakalyan and Thakureshor schools have both been delayed. Our team will continue to communicate closely with the government so both projects can continue as soon as our teams get the green light to return to work.

Thank you for your support, and I look forward to updating you again soon!
WARNING: Javascript is currently disabled or is not available in your browser. GlobalGiving makes extensive use of Javascript and will not function properly with Javascript disabled.
Please enable Javascript
and refresh this page.