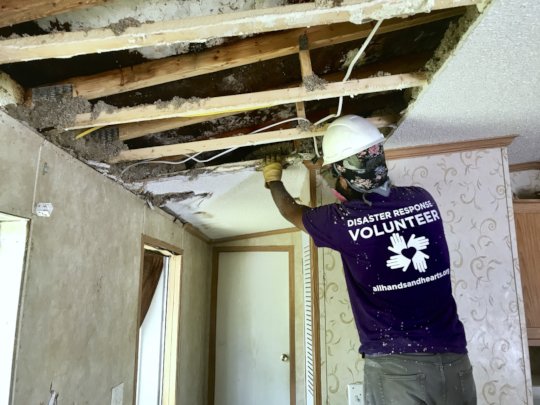 Hello Donors!
Recovery work is in full swing in North Carolina, and we are excited to update you on our progress! It's almost been nine months since Hurricane Florence made landfall, and there is still a great deal of work to be done. We are working in the New Bern area, working hard to clean up water damage and conduct the critical repair work that will return families to the comfort and safety of their homes. The optimism and hope that these communities have is contagious, and we are truly honored to participate in the work that is helping make recovery a reality for them.
When our teams started this phase of work, they quickly realized that roofing would be a significant obstacle. According to Skip Lee, Chief Building Inspector for Pamlico Co., approximately 85% of the 7,000+ roofs in Pamlico County were impacted by the storm. Even if a roof sustained minor damage, we have to make sure there is no chance that it could leak water into the home the next time it rains risking the development of mold. Roofing work can be expensive for homeowners, and it doesn't typically fall under our scope of work - but, we recognized that finding a way to incorporate this kind of work into our own would make a big difference for homeowners feeling "stuck" in their recovery timeline. So, we started the All Hands and Hearts Roofing Pilot which now includes staff with roofing expertise! We hope to repair 15-18 roofs in tandem with our typical scope of work, allowing us to help even more homeowners and their families move forward with recovery faster. So far, the team has successfully finished six roofs (shingle and metal based), with another four added to the queue!
Another focus for our team this quarter has been the use of resilient materials and techniques on projects. We recognize that the areas in which we work may eventually face a new flood event. Our goal is to take steps now that will better prepare homeowners - so, should they experience flooding in their home again, they are better equipped to deal with the damage quickly, easily, and inexpensively. One example of a resilient building material we use is styrofoam insulation; not only is it a very effective insulator, but it is also exceptionally water resistant. Other resiliency techniques we are utilizing include raising the outlets to four feet high, using AC window units instead of ground duct HVAC systems, and creating a moisture barrier at 4 feet (to prevent water soaking higher into drywall).
To wrap things up, I want to share the latest numbers "from the field" with you! Since our last report, we have worked on 168 homes, helping 478 people!
Thank you for helping make this incredible impact possible.