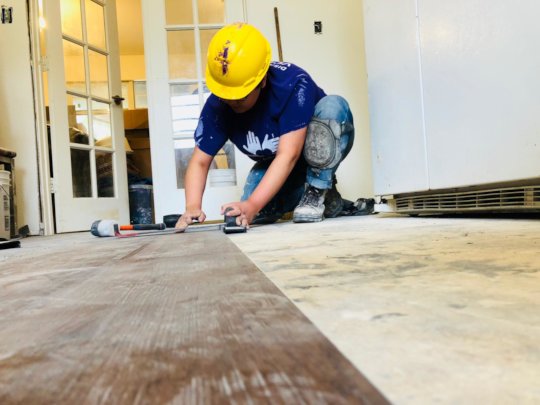 All Hands and Hearts is still going strong in Texas – to date, we have completed rebuild work on 44 homes in the Houston and Coastal Bend areas, with 12 homes currently in progress. Because of you, and the added support of GlobalGiving's Hurricane Harvey funds, we have been able to continue helping families return to their homes.
We have also coordinated with other organizations and long-term recovery groups to combine efforts and bridge the gap for recovery services in the community. Most notably, we began a pilot home for resilient design in tandem with West Street Recovery and other organizations across Houston, and are beginning to implement the same techniques in Coastal Bend. Our program team is taking a highly focused approach on enhancing interior resiliency to future flood events. The approach takes a set of strategies – including laying waterproof vinyl flooring, installing styrofoam insulation, and building muckable walls – to prevent future mold growth and reduce overall costs of rebuild if a home floods again in the future. These partnerships help create a more collaborative space across repair and rebuild groups to better develop resiliency across all active organizations in the communities in which we serve.
Thanks to the continued generosity from GlobalGiving and donors like you, All Hands and Hearts will continue rebuild efforts well into next year! The life-changing impact that you have helped us accomplish cannot be overstated – Maria, whose home was recently completed, said "Since Hurricane Harvey, I've been doing all the repair work myself as a single mom, not knowing anything about building or construction, so it was such a weight off my shoulders to have All Hands and Hearts working here at my house".
On behalf of our homeowners and the All Hands and Hearts team in Texas, thank you for your unwavering support!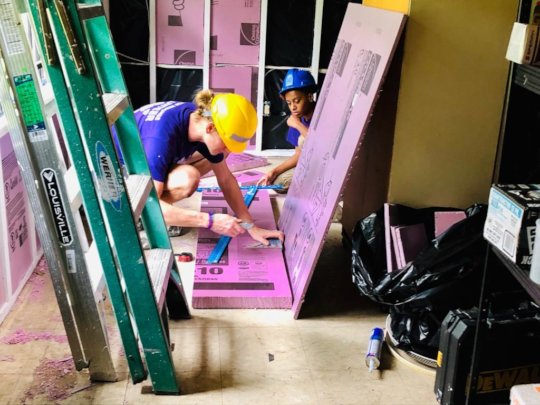 Hello friends!
We are truly thrilled to report to you that we are entering our 5th year in Nepal! Starting back in 2015, our goal has been to help rural communities in Nepal (with limited access to the resources they need) recover from the devastating earthquake that impacted over 5 million people. We are so thankful for the support we have received from supporters like you that has helped us stay this long, and we are happy to provide a quick update on what's new and next for All Hands and Hearts in Nepal! Linked here is a story written by a long-time All Hands and Hearts staff member about our time in Nepal to-date. Stay tuned - we will be updating our project page soon to reflect the ways our efforts in Nepal have evolved, especially following our merger with Happy Hearts Fund in 2017.
This past season, our teams completed work on the following schools:
Ma Vi Secondary School

Saraswati Basic School

Shree Jana Jagriti Secondary School

Uccha Ma Vi Higher Secondary School
Additionally, all four participants in our Female Masons Training program successfully acquired their certifications!
This fall, the Masons Training program will continue in tandem with school rebuilds. Forward-looking, we currently have three schools in our queue that are in dire need of assistance with their rebuild and recovery process. Upon completion, the schools will be safe and structurally sound for years to come. We are set to begin working on two schools in the Sindhuli district, as well as one school in Makwanpur beginning in October!
Until then, happy summer from All Hands and Hearts!
Warm summer greetings from All Hands and Hearts!
It has been a busy couple of months for our hardworking Florida teams. Rising temperatures have made field work a bit more challenging, but program staff members have been taking extra care to ensure everyone is staying cool and hydrated during the workday.
June brought an exciting period of transition for All Hands and Hearts, as our "response" phase wound down, and our "recovery" phase ramped up! We will continue doing response scope activities as needed, but we are excited to be conducting repair work as well. In fact, we are eager to return to the Boys and Girls Club to complete some work in our recovery scope as their staff is working hard to prepare for the upcoming school year. We are hopeful that they will be ready to re-open their facility to the incredible population of students they serve this fall.
Sometimes progress can feel slow on a storm recovery program, especially since we are cognizant of folks that have been waiting more than six months to find the support they need. This is why our teams work hard to build and maintain partnerships at the local level. These partnerships allow us to identify where our services are needed and create the space for collaboration (with Habitat for Humanity, for example) so we can maximize our impact on the ground. Beyond field partnerships, we feel it's also important that we connect with the very communities that we are working to help. In just a few days, our Florida team will be hosting a BBQ for the homeowners with whom we have worked. Gatherings like these are a great way to reflect on the progress we have made, and also to show the community how grateful we are that they have welcomed us so graciously.
To date, we have worked on 169 sites and impacted 701 individuals. As always, thank you for supporting our ongoing efforts, and for following our progress here on GlobalGiving!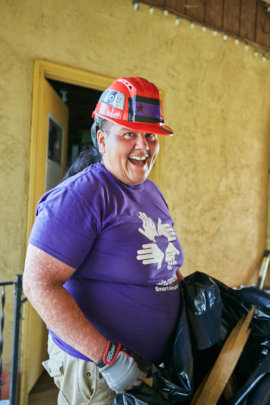 WARNING: Javascript is currently disabled or is not available in your browser. GlobalGiving makes extensive use of Javascript and will not function properly with Javascript disabled.
Please enable Javascript
and refresh this page.