Hello All Hands Volunteers Donors!
It has been an incredibly busy couple of months for our team of volunteers on the ground in Nepal. Monsoon season has hit with tremendous force and work has become increasingly difficult in the rugged Nepal terrain. Our volunteers are pushing through though and continuing to lift the spirits of the Nepalese families. The rebuilding of schools is critical in the process of beneficiaries returning to a sense of normalcy and we have teamed up with local organizations to construct 5 schools in different villages in Nepal. Three of the five schools are underway and work is being completed every day in order to provide the children the proper space to learn.
We are expanding to hard hit villages to ensure that those that are most in need are being assisted. As mentioned before, the monsoon is making it difficult to access certain areas but the issue has been solved by creating "mobile sites" that house about 20 volunteers and a team lead. These mobile sites operate separately from the base and allow the volunteers to cut out the long travel time to remote areas in Nepal. For 2 weeks the volunteers work out of the mobile site which keeps the volunteers safe and completes the work much faster.
At our Prithivi location the first floor of one of the four classroom buildings is nearing completion. Excavation for the second four classroom building will be finished in the coming weeks. At our Jalpa location the two classroom retrofit of the damaged Room to Read school is complete. The new three classroom building is nearing completion, with the brick walls complete up to the lintel band and preparation underway for laying the roof trusses. Door and window frames have been installed. Bricklaying has begun at our Bachchala location for the first four classroom building, and the site has been backfilled around the foundation. However, extreme monsoon activity at this location -- flooding and landslides – forced the team to spend significant amounts of time repairing road, campsite and worksite damage. Then, within days, new downpours have undone the improvements or created new issues, requiring more time away from school construction.
The progress being made in Nepal is outstanding and we are continuing to work with our amazing partners on the ground to assist the victims of this disaster. Your continued support is greatly appreciated and invite you to stay up to date with our work by visiting our website, many thanks!
Links: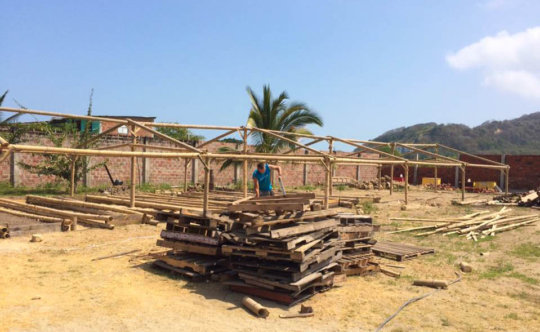 Hello donors!
All Hands has been on the ground in Ecuador since April and an enormous amount of progress has been made. The thousands of people that were affected by the earthquake are beginning to recover and regain a sense of normalcy. We have demolished and rubbled 16 homes to date, with 1 home in progress. To date we have completed 14 temporary structures using bamboo. In order to reinforce these structures to prevent damage in the event of a future earthquake we use rebar in the walls. This forces debris to fall outside of the structure rather than in to the structure during the earthquake. We have reinforced 23 structures with rebar to date. In order to supply our ever-growing need for bamboo we are looking in to a collaboration to build a bamboo treatment center that would provide the bamboo necessary to construct shelters. This center will not only treat bamboo, but will also build local capacities with bamboo construction, treatment and masonry. We have also received approval to build a Temporary Learning Center in San Miguel de Briceño.
With over 16,000 homes destroyed or damaged homes there is endless amounts of work to be done. In many areas that are difficult to access we are helping out in various different ways, including assisting the 200 families living in the Saman Internally Displaced Peoples Camp. Drainage ditches have been created to combat the flooding that has occurred due to earthquake and worsened by storms. These ditches also surround the camp in order to prevent flooding there and mud buildup. Inside of the camp we have constructed wash tables for sanitation purposes and a permanent fence to aid in security.
We are greatly appreciative of your donations and hope that you continue to support our mission in Ecuador. We would not be able to sustain our programs without donors like you. For any additional information please visit our website!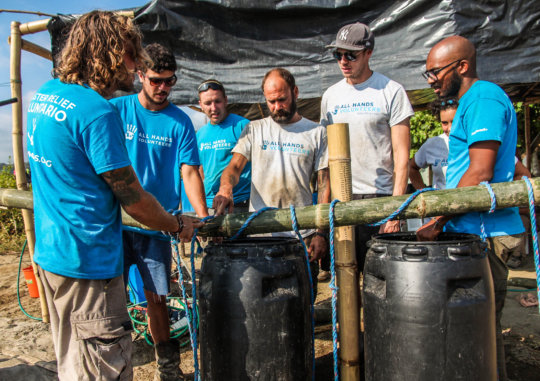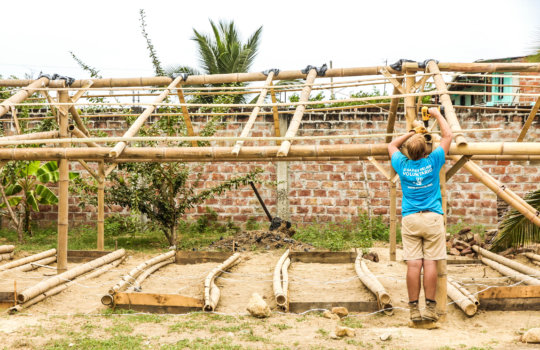 Links:
Malawi experienced a nation-wide hunger crisis that created a desperate need for help. All Hands attempted to partner with the local Muona Foundation to provide 5 kg of maize seeds each to 500 families in the Nsanje district of Malawi. This project would have been able to keep people from experiencing the effects of cyclical hunger, malnutrition and debt.
Unfortunately, as can happen with any project that relies solely on funding from donors, support was scarce and we were unable to meet our goal and carry out the project. Without the proper attention from national and international media many of these issues throughout the world go unnoticed and the people most in need fall through the cracks. Our project on Global Giving attempted to highlight the major need that exists in this area but we were unable to reach our goal.
While our efforts with the Muona Foundation were unsuccessful due to lack of funding in the amount of time we were given, we hope to make a difference in the future and assist the vulnerable victims of hunger in the world. We thank all those who donated and continue to support our organization and mission.
WARNING: Javascript is currently disabled or is not available in your browser. GlobalGiving makes extensive use of Javascript and will not function properly with Javascript disabled.
Please enable Javascript
and refresh this page.