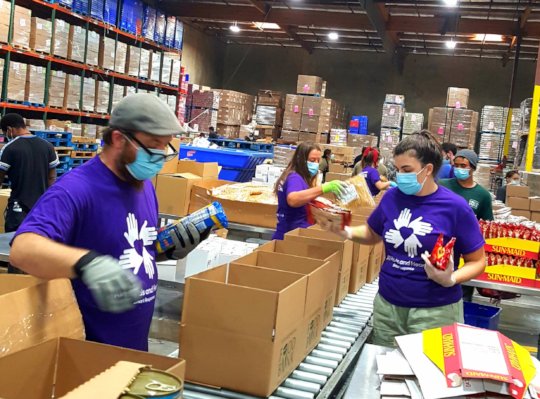 Happy spring!
Our second cohort of volunteers arrived at the end of January, a group that is inclusive of two AmeriCorps NCCC teams. Following a period of mandatory quarantine, the volunteers continued supporting the essential work of our partners, CORE and LA Regional Food Bank. For the duration of March, we're also assisting with vaccine distribution at Kedren Community Health Center; a clinic focused on serving underserved populations. Among other efforts to support the local community, the team made a PPE donation to our Skid Row partner in the Mayor's Office. So far, our teams have helped feed 530,192 people, and facilitate 345,219 COVID tests!
While COVID-19 cases remain extremely high in Los Angeles, we are pleased to share two pieces of positive news: 1) that CORE has been administering COVID-19 vaccinations as well as testing since late January, and 2) that we have decided to extend our program until July given the significant, ongoing needs of the County in response to the COVID-19 crisis.
Thank you again for generously supporting our COVID-19 relief efforts in Los Angeles. I look forward to updating you again soon!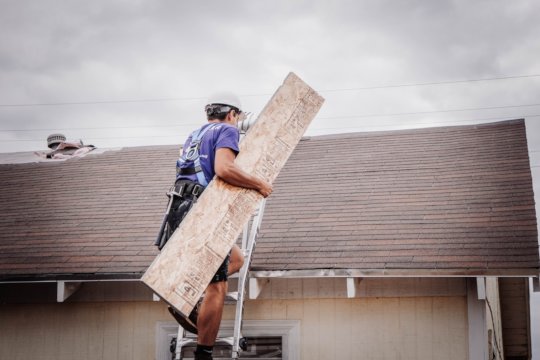 Greetings Friend,
I am excited to share with you that our first cohort of DM12 volunteers arrived safely at the end of February, after some minor delays due to Winter Storm Uri. Following a period of mandatory quarantine and onboarding training, they donned their work-boots and are making great progress on our worksite queue, alongside our staff. Since the program reopened after the Christmas break, a total of seven sites have been completed!
Back in December, the team worked on the home of a wonderful woman named Tiwona. She was eager to repair the hurricane damage on her home as she had plans to turn her extension into a women's shelter; a cause close to her heart. The team completed a muck and gut on her home before Christmas and is delighted to return this month to start working on mold sanitation and roof repair.
"She is such a strong woman, a pillar in the community who just wants to give back. The team continues to be moved by her level of comfort in sharing her story with us. We can't wait to get her a little closer to moving back into her home"
- Hana Wilder, AHAH Program Director
The team has also been busy carrying out improvements at our base of operations. Our next cohort group will be working from May through July, and once base improvements are complete we'll have the appropriate space to welcome an increased number of volunteers.
We are so grateful for your support of our efforts, and I look forward to updating you again soon!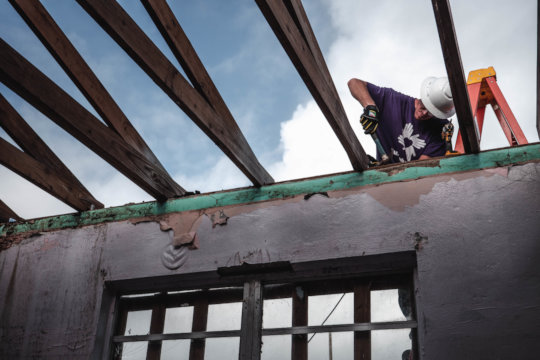 It's hard to imagine that this time last year, we were preparing to pause our operations in The Bahamas due to the spread of COVID-19. We are so grateful that we were able to return early last fall and end the year on such a positive note having made some incredible progress at ECC and CAPS.
Last month, we welcomed our second group of DM12 volunteers to Marsh Harbour who will be continuing with the resilient roofing program that we started last year. Thousands of homes in the Bahamas were damaged by Hurricane Dorian, and support with roof repairs remains one of the biggest unmet needs. Our roofing program aims to help address this need, and to increase the resiliency of homes by reinforcing the roofing structures. With so many homes requiring support, our Program Development Team has developed and implemented a new home selection process to help us prioritize those with the greatest needs. This team is also continuing to work on two structures at ECC, which are both coming together at a rapid pace!
One major update I would like to highlight is that this month also marks the opening of our second program in the Bahamas! Located in Dundas Town, this program will double the capacity of our team and the number of families they are able to help.
Thank you for your past support of this program - together, we are making a meaningful difference!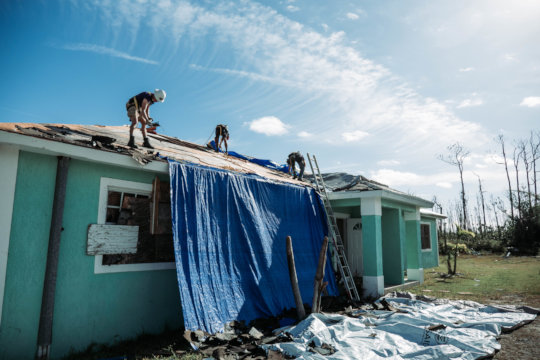 WARNING: Javascript is currently disabled or is not available in your browser. GlobalGiving makes extensive use of Javascript and will not function properly with Javascript disabled.
Please enable Javascript
and refresh this page.